FreeWare 11-02-07
VistaBattery (For your Laptop Running Vista)

Free


This application causes your laptop to automatically do a couple of different things
when the power cord is unplugged from the wall. This tiny program will save up to 70% of your battery
by disabling those nice, but greedy Vista features. It will automatically change your power scheme to
"power saving" mode, and it disables the Vista Sidebar, Aero, and Desktop Search. All of these nifty features
can be resource hogs… and that includes your battery.

iGrab
Lets you select songs on your iPod, grab them, and transfer them to your PC. Pretty simple, really!

[161K] [WinXP/Vista]
Free
Drive Image XML
How can you say anything bad about a program that's free? Even if it weren't, I wouldn't.
I've used DI XML a number of times several years and for basic imaging from within Windows, you can't beat it.
It creates images with or without unused sectors (the former are larger, but great for transferring a partition
from a rapidly failing drive to a good one for data recovery), and restores them whole or retrieves only selected files and folders.
Version: 1.21
Price: Free
Operating Systems: Windows XP
Go to the download page now:
Drive Image XML

Vista Shortcut Overlay Remover
Who says that every download has to be an earth-shaking application that changes the way you compute?
We sure don't. Sometimes, in fact, the best downloads are simple, one-trick ponies that accomplish just one task,
but do it particularly well. That's why we love the free Vista Shortcut Overlay Remover
Version: 1.3
Price: Free
Operating Systems: Windows Vista
Go to the download page now:
Vista Shortcut Overlay Remover

Spiceworks IT Desktop v1.7.14130 [5.95M] [Win2k/XP/Vista] Free
A free network inventory, monitoring, and help desk application. It combines the features needed every day
to a manage a network in a small or medium-sized business.
http://www.spiceworks.com/
SafeSpace v1.2.77 [10.57M] [WinXP/Vista] Free
Eliminates the problem of malware by creating a secure barrier between your computer and the internet,
protecting you and your personal information against known and unknown malware threats.
http://www.artificialdynamics.co.uk/content/products/register-personal.aspx
PDF-XChange Viewer v1.026 [11.91M] [Win2k/XP/Vista] Free
Allows users to view Adobe compatible PDF files and perform additional functionality. Features available include viewing,
printing, exporting PDFs to numerous image-based file types, and more.
http://www.docu-track.com/home/prod_user/pdfx_viewer/
Pidgin v2.2.2 [11.61M] [Win98/ME/NT/2k/XP/Vista] Free
A multi-protocol instant messaging client for Linux, BSD, MacOS X, and Windows. It is compatible with AIM
(Oscar and TOC protocols), ICQ, MSN Messenger, Yahoo, IRC, Jabber, Gadu-Gadu, and Zephyr networks.
http://www.pidgin.im/
SpamExperts Desktop v1.2.0.22 [7.53M] [Win2k/XP/Vista] Free
An antispam filter that automatically intercepts e-mail before it reaches your POP3 or IMAP compatible e-mail client.
http://www.spamexperts.com/solutions/smes-private-users/desktop.html
File Renamer Deluxe - Freeware
If you need to rename multiple files, folders or set the ID3 tags of MP3 files, this program will do the job quickly.
OS: Windows 2000/XP/2003 Server/Vista
Any Weblock - Freeware
Block any Web site and display a fake error page.
OS: Windows 2000/XP/Vista
ScrubIT - Freeware
Block access to malicious Web sites and fix domain misspellings.
OS: Windows 2000/XP
Thunderbird Portable - Freeware
Take your e-mail client and address book on the go with your favorite portable storage device.
OS: Windows 95/98/ME/2000/XP/Vista
Timesaver Software
Free
CCleaner
Remove useless files from several applications, including Microsoft apps.
PureText
A fast and easy way to paste plain text — without all that formatting, into any Windows program.
FastStone Image Viewer
Convert, edit, and view images in all major graphics formats with this powerful freebie.
Copernic Desktop Search
Plumb the depths of your computer with this powerful search tool. Ycopy
File copying tool is great for large scale copying and will skip files it can't handle without coming to a halt.

XP Cursors
Here's a well-designed cursor set that would be fine for the office. Most of the cursors,
in Kelly green and gray, are animated yet unobtrusive. For example, the text cursor is a small I-beam
that changes from blue to green; and the pointer, an easy-to-find stylized green arrow, is not animated.
The files come in an executable that installs the cursor set and makes the scheme available for selection
in Mouse Properties, Pointers.
Version: 1.2
Price: Free
Operating Systems: Windows NT, Windows 2000, Windows Me, Windows XP Go to the download page now:
XP Cursors

AutoSizer v.1.61
Automatically resize programs for you, keeping them at a specific size or keeping them maximized.
One popular use is to keep Internet Explorer Maximized when you go on the web. It works with most programs,
including Notepad, web browsers, and many others. Free

TeamViewer 3.0 Free
Desktop sharing has never been easier: With TeamViewer you will be able to connect to the desktop of a partner
anywhere on the Internet.
TeamViewer also works in the other direction: Show your own desktop to a partner over the Internet and demonstrate
your own software, solutions and presentations.
Remote Control without Installation
With TeamViewer you can remotely control any PC anywhere on the Internet. No installation is required,
just run the application on both sides and connect - even through tight firewalls.
Remote Presentation of Products, Solutions and Services
The second TeamViewer mode allows you to present your desktop to a partner.
Show your demos, products and presentations over the Internet within seconds - live from your screen.
TeamViewer has a personal version - for personal use only and is FREE for non-commercial use.

Photobie 4.4 Free
Photobie is a complete image editing software customized for photo retouching. Photobie is free to use and to distribute.
Unlike other commercial and free image editing softwares, Photobie is more like a homemade cookie, which has much more flavor.
Photobie developers intend to build an easy-to-use and feature-packed tool for graphics amateurs. Although, it is not yet a perfect tool for professionals,
it does contain many handy tools to help professional to achieve simple task quickly. Photobie is featured with an unique intuitive layer manager,
which enable our users to handle multiple layers with ease for advanced image editing. It beholds a wide variety of painting tools that are crucial
for photo retouching. Photobie supports Photoshop filter(.8BF) plugins, which means that our users can apply thousands of free filters to their images.
Meantime, Photobie provides an advanced screen capture tool, the simpliest gif animation tool, and a photo framing tool.
Photobie integrates an image directory browser with batch resize/rotate, full screen slide show features.

Flock 1.0 Final Free
Flock is an amazing web browser built on fast and secure Mozilla technologies. View
and share photos with an innovative new photo bar in the browser. Subscribe to your
favorite websites to get the freshest content automatically, in summaries that are
easy to save and blog. Search more quickly, more effectively, and more richly with
the innovative Flock Search Toolbar. Download the Flock beta and you'll be spreading
the word that there's a new way to web.

8hands
This is a small and friendly desktop application that presents a concise summary of all your online social-networking activities
(your MySpace and Flickr profiles, or your blog) with useful statistics (the number of friends in each network, activity meter).
With 8hands you can always stay connected to your favorite networks and your network friends without having to check your
various profiles on each and every site. 8hands will notify you upon receiving any comment, message, friend request, new video,
or any other event on your and your friends' profiles.
This new version improves support for Facebook and Flickr.
[10M [WinXP/Vista] Free
SafeSpace - Freeware
Protect your PC from online threats by placing internet facing applications into a virtual environment.
OS: Windows XP SP2/Vista
Winamp Lyrics - Freeware
View the lyrics to MP3 files as you listen to them.
OS: Windows 95/98/Me/NT/2000/XP
DomainScan Light - Freeware
Monitor networks and changes on devices in an easy-to-learn user interface.
OS: Windows 2000/XP/2003 Server/Vista
Microsoft SharedView - Freeware
Share documents and screen views with groups of friends or coworkers in different locations.
OS: Windows XP/2003 Server/Vista
Ping Test Easy 3.18 - Freeware
Check network connection, watch the network, and test the connection speeds of various locations.
OS: Windows Me/2000/XP/2003 Server/Vista VisualRoute 2007 Lite Edition 11.1b - Freeware
See Internet connection routes and performance to identify where problems occur.
OS: Windows 2000/XP/Vista
Get the scandoo plugin!
I don't often endorse plugins. Scandoo is one of the exceptions. It can keeps you safe
when browsing the net. Free

iISystem Wiper
If you're looking for a free way to protect your privacy by cleaning traces of your Internet activity, and Windows use,
iISystem Wiper is worth a try. It cleans your history list, your Autocomplete data, temporary files, cookies,
Microsoft Office activity, and even traces of file-sharing activities. It'll also clean similar information from Windows Media Player as well.
Version: 2.4.1
Price: Free
Operating Systems: Windows NT, Windows 98, Windows 2000, Windows Me, Windows XP
Go to the download page now:
iISystem Wiper
Foxit Reader
Are you tired of Adobe Reader hogging almost 23MB of your disk space, always phoning home for updates,
and not providing such swift performance? (Browse to "Before They Spoiled the Software" at find.pcworld.com/58949 for details.)
Make the switch to Foxit Reader, a willowy, 2MB download that's fast, free, and more versatile than Adobe's bloatware.
For instance, with Foxit you can annotate a PDF with text or graphics, and save the PDF forms you fill out.
Version: 2.2
Price: Free
Operating Systems: Windows 98, Windows 2000, Windows Me, Windows XP, Windows Vista
Go to the download page now:
Foxit Reader Looking for manageable Windows updates even without an internet connection. Free
Our offline update 3.0 script collection downloads the entire body of updates for Windows 2000, XP or Server 2003
from Microsoft's servers in one fell swoop and then uses them to create patch packages on CD, DVD or USB stick.
Those in turn allow you to update as many PCs as desired.
The new version "offline update 4.01" support also MS Vista and Office 2000, Office XP, Office 2003 and Office 2007

PDF-XChange Viewer
This program allows users to view Adobe compatible PDF files and perform additional functionality.
Features available include viewing, printing, exporting PDFs to numerous image-based file types,
page commenting and annotations, type directly on a PDF page, simple find, and advanced search.
[11.91M] [Win2k/XP/Vista] Free
ClamAV is a free anti-virus engine that is supported by the open source community and it can be installed on OS X, Windows, and Linux.
For OS X users, ClamXav is great front-end to use with the ClamAV back-end.
For Windows users, ClamWIN provides an easy to use front-end for updating the AV engine and performing scans on your Windows system.
For Linux users you can download the ClamAV engine itself and install it on your system.
Karaoke Camstar Recorder - Freeware

Use your Webcam to create your own karaoke music video to promote yourself or just have fun.
OS: Windows Me/2000/XP

Split and manage downloaded files and accelerate downloading speed.
OS: Windows (all)

Partition your physical server into multiple virtual machines.
OS: Windows 2000/XP/2003 Server
Create an installer which will also create an uninstaller to remove the installed application.
OS: Windows NT/2000/XP/2003 Server

101 Tips On Search Engine Optimization - Freeware
Learn how to optimize and get your Website top search engine rankings.
OS: Windows 95/98/Me/NT/2000/XP/2003 Server

Block access to malicious Web sites and fix domain misspellings.
OS: Windows 2000/XP
Track your overall bandwidth use and the bandwidth usage of each computer on your home network.
OS: Windows XP
Track your CD collection, find video files by locators or media types.
OS: Windows (all)
Protect and control your email, passwords and important files.
OS: Windows 2000/XP/Vista
Axence NetTools - Freeware
Monitor your network and local connections, scan ports, and manage Windows remotely.
OS: Windows 2000/XP/2003 Server
76 keyboard shortcuts for moving faster in Windows Vista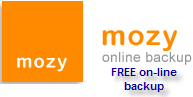 mozy Free Safe Secure online back-up
I use this every day to keep my important files safe.

Giveaway of the Day


Thanks to ZDNet, PCWorld , Lockergnome.com and many other sources for this nice collection.
You'll find more FreeWare at MySharedFiles