FreeWare 01-04-08
WallCooler Free
This program makes remote working easier than ever: access remote files, applications,
or network resources from anywhere. All Windows based applications are supported,
no need to use special applications or synchronize files: MS Outlook, Remote printing,
Windows File-Sharing, Windows Remote Desktop or Remote assistance, etc.
Easy to install, simple to use, and very fast to run.
[30.7M] [WinXP/Vista]
Cuttermaran 1.96a Free
Cuttermaran is a cut program for MPEG1 or MPEG2 video streams.
The streams can be cut without recalculation. The asynchronous between audio and video will be minimized.
This program supports MPEG1, MPEG2 video and MPEG1, MPEG2 and AC3 audio.
File Size:1246KB Language:English
OS:Win2000/XP/2003/Vista
Nexus Radio v2.2.2 Free
Nexus Radio is a free full featured radio player for listeners who want to record their favorite radio content for playback on their PC,
or any portable device that supports MP3s. With over 6000+ radio stations and support for thousands more,
Nexus Radio delivers the content radio listeners yearn for. Search through a rich variety of radio stations with a straightforward
interactive guide that can be updated daily with more content than XM and Sirius radio combined. Whether you are at home or on the road,
Nexus Radio can record your favorite songs or radio shows automatically with TiVo style recording for later playback.
MP3s recorded with Nexus Radio can be automatically named and tagged with ID3 tag information,
and transferred to your iPod or any other multimedia device effortlessly.
FotoSketcher v1.3 Free
his free program can help you create images that really look like they have been hand drawn by the best artists.
If you want to turn a portrait, the photograph of your house or even the picture of your pet into a black & white
or colour pencil sketch, then look no further, FotoSketcher will do the job in a few seconds (provided you have a reasonably fast computer...).
Now you can print stunning images to make original gifts for your friends or relatives, or print on birthday cards or even T-shirts.
And best of all, it comes with absolutely no strings attached! This program is free, and does not contain any adware, spyware or virus.
File Size:916KB Language:English
OS:Win2000/XP/2003/Vista FileMenu Tools 5.31 Free
FileMenu Tools lets customize the context menu of the Windows Explorer. FileMenu Tools will enable you to easily configure the following aspects:
Add some build-in utilities in order to do operations over files and folders.
Add customized commands which let run external applications, copy/move to a specific folder or delete specific file types.
Configure the "Send to..." submenu.
Enable/disable the commands which are added by other applications to the context menu.
File Size:5362KB Language:English,Spanish
OS:Win2000/XP/2003/Vista
VirtualBox 1.54 Free
InnoTek VirtualBox is a family of powerful x86 virtualization products for enterprise as well as home use.
Not only is VirtualBox an extremely feature rich, high performance product for enterprise customers,
it is also the only professional solution that is freely available as Open Source Software under the terms of the GNU Public License (GPL).
See "About VirtualBox" for an introduction; see "InnoTek" for more about our company.
Presently, VirtualBox runs on Windows and Linux 32-bit hosts and supports a large number of guest operating systems including but not limited to:
Windows (NT 4.0, 2000, XP, Server 2003, Vista), DOS/Windows 3.x, Linux (2.4 and 2.6), and OpenBSD. JkDefragTWGUI 1.70 Free
JkDefragTWGUI is a Graphical User Interface for JkDefrag
JkDefragTWGUI is a convenient GUI for JkDefrag, a free disk defragment and optimize utility for Windows.
File Size:372KB Language:English
OS:Win2000/XP/2003/Vista

Spamihilator 0.9.9.37 Free
The new Spamihilator version 0.9.9.37 has just been released. This version introduces a completely rewritten
IMAP module which works now very flawlessly (evaluated during comprehensive beta tests).
Furthermore, some bugs have been fixed.

Wavosaur Free
MP3 music and Windows event sounds simply can't get along on the same PC-unless you have Wavosaur,
a free sound editor that includes a batch operation to lower the volume of all the wave files in a folder by 6dB.
Doesn't sound like much at first. You may have to run your event waves through it a couple of times.
(Do make backups in case you overdo it.) Wavosaur is so simple to use and works so quickly,
in minutes you'll have a respectably decorous set of sounds you could take to a Zamfir concert.
Version: 1.01
File Size: 191k
License Type: Free
Operating Systems: Windows XP
Go to the download page now:
Wavosaur


Screenshot Captor Free
Ever felt unfairly limited by Windows' built-in screenshot taker, the ubiquitous PrintScreen button?
Screenshot Captor takes control of this key and allows you to exert fine control over the screenshot process.
Version: 2.37.03
Operating Systems: Windows Vista, Windows XP, Windows 2000, Windows 9.x Go to the download page now:
Screenshot Captor

NetSetMan Free
If you carry a laptop between multiple locations and need to change your network configuration at each location,
here's a program that will save you a great deal of time. You won't need to drill down multiple menus deep to get to your
TCP/IP Properties dialog box and manually change it time and time again. Instead, use this program--and with a click,
you're done.
Version: 2.4.1
File Size: 1175k
Operating Systems: Windows Vista, Windows XP
Go to the download page now:
NetSetMan
Quick Access - Freeware
Place your common control panel tools like add/remove programs, power options, right at hand.
OS: Windows 2000/XP
Image Watermarker - Freeware
Add text watermarks to your images.
OS: Windows (all)
AVG Anti-Virus Free Edition - Freeware
Protect your computer from viruses and malicious programs.
OS: Windows 98/Me/NT/2000/XP/Vista
HTTP-Tunnel Free
This program allows you to use Internet applications safely despite restrictive firewalls and/or monitoring.
Use all your favorite applications like Morpheus, ICQ, MSN, Kaazor, FTP clients, PC Anywhere, Imesh, BitTorrent,
Putty, WoW, and more.
[175K] [Win98/ME/NT/2k/XP/Vista]
URLSnooper Free
Frustrated with online video sites like YouTube that apparently don't let you download videos to your PC? Be frustrated no more.
This very clever freebie lets you download videos from any site to your PC so you can later watch them without having to go online.
Version: 2.20.01
File Size: 2900k
Operating Systems: Windows Vista, Windows XP, Windows 2000, Windows 9.x Go to the download page now:
URLSnooper

UnderCoverXP 1.17 Free
UndercoverXP is a free program to easily print CD and DVD covers. It supports JPEG, GIF, PNG and BMP formats and can
automatically scale front covers, back covers, front + inside, inlays, DVD Boxes, Digital Pictures and CD/DVD labels to the correct sizes.
Other formats can be easily added via a graphical format editor. UnderCoverXP is written in C++ using Microsoft Visual Studio 2008
and doesn't need a .NET framework or any other external libraries.

K-Lite Mega Codec Pack v3.6.5 Free
K-Lite Codec Pack is a collection of codecs, DirectShow filters and tools. Codecs and DirectShow filters are needed for
encoding and decoding (playing) audio and video formats. The K-Lite Codec Pack is designed as a user-friendly solution
for playing all your movie files. With the K-Lite Codec Pack you should be able to play all the popular audio and video formats
and even some rare formats. The K-Lite Codec Pack always very up-to-date with the newest (and/or best) versions of the components.
The installation is fully customizable, meaning that you are able install exactly those components that you really want.
Uninstallation removes all files and registry entries created by the pack.
The K-Lite Codec Pack works on Windows 2000/XP/2003/XP64/Vista

Windows Vista Shortcut Overlay Remover, Free
aka FxVisor, lets you either remove or enable the Explorer shortcut overlay arrow that is added to all shortcuts.
This little bit of freeware is a response to there being no native way to remove the shortcut overlay arrow or to even customize it in Windows Vista.
[1.65M] [WinVista]
Highly Recommended FREE Software

avast! Home Edition Free
Why choose a high-priced subscription antivirus program that bogs down your PC while protecting it, when avast! can do it better?
avast! is one of the few free antivirus applications that does as good a job as any of the big boys.
avast! includes more than seven different kinds of shields, safe-surfing tools, and real-time virus protection for your OS, as well as Outlook.
avast! updates automatically and frequently and, avast! works with both Windows Vista and XP.
avast! gives you all this, in the free (Not for commercial use) version. More options are available in the Pro version.
avast! requires a simple on-line registration during or after the 60 day trial period to continue uninterupted updates.
avast! has been my anti-virus program for the past 3 years.
Version: 4.7.1083
Price: Free
Operating Systems: Windows XP, Windows Vista Go to the download page now:
avast! Home Edition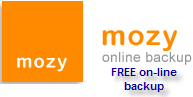 mozy Free Safe Secure online back-up
I use this every day to keep my important files safe.

Giveaway of the Day


Thanks to ZDNet, PCWorld , Lockergnome.com and many other sources for this nice collection.
You'll find more FreeWare at
MySharedFiles