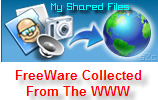 FreeWare 01-11-08
Flock v1.0.4 Free
Flock is known as the social browser. Building upon Flock's previous version,
which was reknowned for great blogging, media, and RSS, you can now monitor your friends from Facebook,
Flickr, Twitter, and YouTube. With Flock's wonderful new People sidebar you immediately see when your friends
change their status, add media, or make changes to their profile.
[227B] [Win2k/XP/Vista]
My Lockbox - Freeware
My Lockbox is a freeware software application that allows you to password protect whatever file on your computer.
The protected folder (lockbox) is hidden from any user and application of your system, including Administrator and System itself.
It is impossible to access the lockbox not only from the local computer, but also from the net.
OS: Windows 2000/XP/2003 Server/Vista

Androsa FileProtector Free
Looking for a simple, powerful way to protect files on your PC from prying eyes? Then you'll want this program.
It lets you encrypt and password protect any file on your hard disk so that only those with the proper password
will be able to read them. It uses powerful encryption algorithms, including AES 256 bit/192 bit/128 bit; TripleDES 192 bit;
and DES 64 bit. Passwords can be up to 32 characters in length.
Version: 1.4.2
File Size: 1999k
Operating Systems: Windows Vista, Windows XP
Go to the download page now:
Androsa FileProtector
Emerge Desktop - Freeware Provide a replacement for your Windows shell.

OS: Windows 2000/XP/2003 Server/Vista
Transform XP to Vista - Freeware

Turn your desktop into a modern Vista look with Yahoo widgets, Vista Themes and more.
OS: Windows 2000/XP/2003 Server

Research, store, and present genealogy.
OS: Windows 98/Me/NT/2000/XP

Monitor networks and changes on devices.
OS: Windows 2000/XP/2003 Server/Vista

Add tabs to multiple windows. A tabbed browser,tabbed terminal, tabbed shell, tabbed anything.
OS: Windows Me/2000/XP/2003 Server/Vista

Risk Management Kit - Freeware
Identify, quantify, track and mitigate risks within a project.
OS: Windows 95/98/Me/NT/2000/XP

Play any audio files and Internet radio channels.
OS: Windows XP
Personas - Freeware
Modify the appearance of your Firefox browser.
OS: Windows 95/98/Me/NT/2000/XP/2003 Server/Vista

WowAceUpdater Free
If you're one of the millions of World of Warcraft players, chances are you've at least heard of the add-ons
many players use to change the game interface, get dungeon information, or perform a host of other tweaks
and modifications. The add-ons can be incredibly useful--and when Blizzard rolls out a new patch that renders
a slew of add-ons unusable, they can be incredibly frustrating. The free, ad-supported WowAceUpdater eases
that frustration by making it easy to update all of your Ace add-ons in one quick step.
Version: 1.9.45.718
File Size: 473k
Operating Systems: Windows Vista, Windows XP, Windows 2000, Windows NT
Go to the download page now:
WowAceUpdater

Adblock Plus version 0.7.5.3 Free
This gets rid of all those ads and banners in Firefox. Right-click on a banner and choose Adblock from the context menu.
The banner won't be downloaded again. Or click Adblock Plus icon in the toolbar to see all elements of the page
and block the banners. You can use filters with wildcards or even regular expressions to block complete banner factories.
Windows 98/Me/2000/XP/2003 Server/Vista, Firefox 1.5, Thunderbird 1.5, SeaMonkey 1
KeyScrambler Personal v1.3.3 [626K] [Win2k/XP/Vista] Free
A free plug-in for your Web browser that protects your username and password from keyloggers.
It defeats keyloggers by encrypting your keystrokes at the keyboard driver level, deep within the operating system.
When the encrypted keystrokes reach your browser, KeyScrambler then decrypts them so you see exactly the keys you've typed.
Keyloggers can only record the encrypted keys, which are completely indecipherable.
http://www.qfxsoftware.com/learn_more.htm
Switch v1.31 [389K] [Win98/ME/NT/2k/XP/Vista] Free
An audio file converter that can convert mp3, wav, wma, and more to the format of your choice. It's very easy to use --
just add the files you want to convert to the list, select the format you want to use, and then click the convert button.
http://www.nch.com.au/switch/index.html
PIXresizer v2.0.3 [3.26M] [Win95/98/ME/NT/2k/XP/Vista] Free
A photo-resizing program for quickly generating screen-friendly versions of your images with dramatically reduced file sizes.
The reduced files are saved in a different directory so your original pictures are not changed.
http://bluefive.pair.com/downloads.htm
Easy Video Downloader v1.4.2 [2.08M] [Win95/98/ME/NT/2k/XP/Vista] Free
With Easy Video Downloader's simple user interface, you'll be able to download videos from YouTube or Google Video and
save them as AVI (High Quality for PC) or MPEG4 (for iPod, PSP).
http://www.videodownloader.fdrlab.com/
Auto TaskKiller v0.02 [97K] [Win95/98/ME/NT/2k/XP/Vista] Free
Designed to be a simple tool for killing all background processes that you don't want running when you play games.
This should have a positive influence on your FPS
http://ryzza007.googlepages.com/autotaskkiller
System Spec 2.60 Free
This is a very simple tool for those that want to gather the most important system specifications for their computer.
It displays the CPU Speed, Memory (RAM), Video Card, Windows version and serial number and a few other things.
It is intended to provide non-technical users with easy access to this information, from a simple interface.
File Size:1965KB Language:English
OS:Win2000/XP/2003
Personas - Freeware
Modify the appearance of your Firefox browser.
OS: Windows (all)
Personal Finance Manager - Freeware
Monitor your finances and generate reports easily.
OS: Windows NT/2000/XP/Vista
JODConverter - Freeware
Transform documents between different office formats.
OS: Windows (all) Windows XP Service Pack 3 Release Candidate - Freeware
Update your copy of Windows XP to take advantage of the latest features and security enhancements.
OS: Windows XP
MyUninstaller Free
Do you waver over Windows' uninstaller, wondering whether you'd get more use out of a program or out of the space it takes up?
This installation utility gives you more data, helping you make an informed decision. It tells you the product name and company,
its location, the version number, whether the program is obsolete, and more of points that help you decide whether to uninstall.
It lets you save a list of installed applications as a text file or HTML file so you can keep a record of what's on your system.
Version: 1.36
File Size: 42k
Operating Systems: Windows XP, Windows 2000, Windows Me, Windows 9.x
Go to the download page now:
MyUninstaller
#1 Free History Eraser - Freeware
Erase Internet history, auto-complete and typed URLs automatically.
OS: Windows (all)
Ping multiple IP addresses and compares response time in a graphic chart.
OS: Windows 2000/XP/2003 Server/Vista

Color Scheme Importer - Freeware
Import colors from other sites and create schemes for your Web site.
OS: Windows (all)

Find correct routes using a GPS tool.
OS: Windows XP/Vista

Active@ Kill Disk - Hard Drive Eraser - Freeware

Format your hard drive without possibility of data recovery.
OS: Windows 3.x/95/98/Me/NT/2000/XP

Manage your system and run Windows commands.
OS: Windows 95/98/Me/NT/2000/XP/2003 Server/Vista

Recover and reveal account details and passwords of various e-mail clients.
OS: Windows 95/98/Me/NT/2000/XP/2003 Server/Vista
PreView - Freeware
Check the security of your Windows computer against known threats.
OS: Windows 2000/XP/2003 Server

Free Internet Window Washer - Freeware
Erase Internet tracks, computer activities, and program histories, and improve PC performance.
OS: Windows (all)



Highly Recommended FREE Software

avast! Home Edition Free
Why choose a high-priced subscription antivirus program that bogs down your PC while protecting it, when avast! can do it better?
avast! is one of the few free antivirus applications that does as good a job as any of the big boys.
avast! includes more than seven different kinds of shields, safe-surfing tools, and real-time virus protection for your OS, as well as Outlook.
avast! updates automatically and frequently and, avast! works with both Windows Vista and XP.
avast! gives you all this, in the free (Not for commercial use) version. More options are available in the Pro version.
avast! requires a simple on-line registration during or after the 60 day trial period to continue uninterupted updates.
avast! has been my anti-virus program for the past 3 years.
Version: 4.7.1098
Price: Free
Operating Systems: Windows XP, Windows Vista Go to the download page now:
avast! Home Edition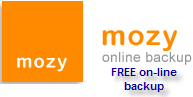 mozy Free Safe Secure online back-up
I use this every day to keep my important files safe.

Giveaway of the Day


Thanks to ZDNet, PCWorld , Lockergnome.com and many other sources for this nice collection.
You'll find more FreeWare at MySharedFiles