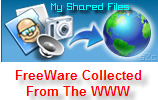 FreeWare 01-18-08
AbsolutePrivacy 2.50.15
Free

An encrypted organizer for comprehensive protection of your personal data
Never have data been handled and kept on your personal computer in such a intrusion-proof and safe way!
Every conceivable means have been adopted to eclipse your data for unauthorized access.
Nobody else but you should ever be able to view your personal data.
File Size:4949KB
Language:English
OS:Win2000/XP/2003/Vista
Switch
Free

This is an audio file converter that can convert mp3, wav, wma, and more to the format of your choice.
It's very easy to use — just add the files you want to convert to the list, select the format you want to use,
and then click the convert button.
[389K] [Win98/ME/NT/2k/XP/Vista]


Nail It!
Free
This program runs in the system tray and allows you to make windows
"sticky", so that they remain above other windows. This is useful
for keeping readme files such as this one visible while installing
software, keeping floating clocks in sight, and lots of other uses.
Click here to download the file
BabyMouse 3.50 Free
BabyMouse is a simple tool that allows you to temporarily disable the right-click function of your mouse.
It is intended to make it easier for small children to use the computer, eliminating the problem of accidental right-clicks
and the resulting context menus. The program also disables the mouse wheel. You can return your mouse to normal at anytime
by clicking on the tray icon.
File Size:820KB
Language:English
OS:Win2000/XP/2003/Vista Click here to download the file

FileZilla v3.0.5.2 Free
FileZilla is a open source, powerful FTP-client for Windows 9x, ME, NT4, 2000 and XP.
It has been designed for ease of use and with support for as many features as possible, while still being fast and reliable.
File Size:2942KB
Language:Multilingual
OS:Win2000/XP/2003
Click here to download the file

M8 Free Multi Clipboard v11.07 [2.64M] [Win98/ME/NT/2k/XP/Vista] Free
If you ever wished you could copy more than a single clip from one document before pasting to another, M8 is for you.
With M8 you can copy up to 25 times, and unlike other multi clipboards, M8 shows you a preview of each clip before you paste it.

BurnAware Free Edition v1.1 [5.41M] [Win98/ME/NT/2k/XP/Vista] Free
BurnAware Free Edition allows you to easily perform the most common disc burning tasks: write to all CD/DVD media types,
including Blu-Ray; write audio CDs and DVD video files; create and burn disc images; write multi-session discs, and much more.

CrossLoop v2.02 build 2008 [2.34M] [Win2k/XP/Vista] Free
A free, secure screen-sharing utility designed for people of all technical skill levels. CrossLoop extends the boundaries of
traditional screen sharing by enabling non-technical users to get connected from anywhere on the Internet in seconds without
changing any firewall or router settings.

Volumouse v1.53 [45K] [Win98/ME/NT/2k/XP/Vista] Free
Provides a quick and easy way to control the sound volume on your system -- simply by rolling the wheel of your wheel mouse.
It allows you to define a set of rules for determining when the wheel will be used for changing the sound volume.
Windows Fonts Explorer v3.6 [421K] [Win95/98/ME/NT/2k/XP/Vista] Free
A powerful font manager for Windows with an intuitive, easy-to-use interface and multi-lingual support.
It helps you to see how many and what fonts are installed on your system and test them. It supports a complete view
for all font types: TrueType, TrueType Collections, OpenType, Postscript Type 1, Raster, and Vector Fonts.
Find, download, and share files with a simple sidebar user interface.
OS: Windows 2000/XP/2003 Server/Vista
Free Read - Freeware
Transform text from Notepad and Internet Explorer Web page into speech.
OS: Windows 98/Me/NT/2000/XP/Vista AdvancedXL Designer 2008 - Freeware
Create, test, and deploy rule driven enterprise web applications without IT programmers.
OS: Windows XP/2003 Server/Vista

Easy Video Downloader 1.4.2 Free
EasyVideoDownloader's simple user interface, you'll be able to download videos from YouTube or Google Video
and save them as AVI (High Quality for PC) or MPEG4 (for iPod, PSP).
[2.08M] [Win95/98/ME/NT/2k/XP/Vista]
SIV (System Information Viewer) 3.28 Free
System Information Viewer is a general Windows utility for displaying lots of useful Windows,
Network and hardware info - CPU info, PCI info, PCMCIA info, USB info, Machine Info, Hardware Sensors,
Networked computers, Operating System Information and more. I use Craig Hart's pcidevs.txt file for my PCI device display
with my usbdevs.txt being used for the USB devices, mondevs.txt for monitor descriptions and pcmdevs.txt
for PCMCIA device descriptions.
SIV is designed for Windows XP, Vista, 2008, 2003, 2000 and NT4.
Windows 95, 98 and Me are also supported.
Click here to download SIV
XP SysPad Free
This is a Windows system monitoring utility that allows easy access to Windows system information and Windows system utilities,
such as the individual control panel applets, as well as putting the "hidden" applications in Windows at your fingertips.
XP Syspad also recovers lost Windows & MS-Office product keys.
Download XP SysPad
Mail PassView Free
If you find yourself forgetting user names and passwords from your email software, you need Mail PassView.
For each of your accounts on each different piece of email software, it will record your user name and password.
That way, if you ever forget them, they're always within easy reach.
Version: 1.42
File Size: 50k
Operating Systems: Windows Vista, Windows XP
Go to the download page now:
Mail PassView

ProduKey Free
ProduKey solves a problem that bedevils may users: how to find your product key for Microsoft products,
including Windows and Microsoft Office applications. Why will you need your product key? If for some reason you need
to reinstall Windows, Office, or other Microsoft applications, and you can't find the original key on a CD, you'll be out of luck.
You won't be able to re-install.
Version: 1.10
File Size: 25k
Operating Systems: Windows Vista, Windows XP, Windows 2000
Go to the download page now:
ProduKey
Auto TaskKiller Free
This application was designed to be a simple tool for killing all background processes that you don't want running
when you play games. This should have a positive influence on your FPS.
[97K] [Win95/98/ME/NT/2k/XP/Vista]


Highly Recommended FREE Software

avast! Home Edition Free
Why choose a high-priced subscription antivirus program that bogs down your PC while protecting it, when avast! can do it better?
avast! is one of the few free antivirus applications that does as good a job as any of the big boys.
avast! includes more than seven different kinds of shields, safe-surfing tools, and real-time virus protection for your OS, as well as Outlook.
avast! updates automatically and frequently and, avast! works with both Windows Vista and XP.
avast! gives you all this, in the free (Not for commercial use) version. More options are available in the Pro version.
avast! requires a simple on-line registration during or after the 60 day trial period to continue uninterupted updates.
avast! has been my anti-virus program for the past 3 years.
Version: 4.7.1098
Price: Free
Operating Systems: Windows XP, Windows Vista Go to the download page now:
avast! Home Edition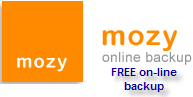 mozy Free Safe Secure online back-up
I use this every day to keep my important files safe.

Giveaway of the Day


Thanks to ZDNet, PCWorld , Lockergnome.com and many other sources for this nice collection.
You'll find more FreeWare at MySharedFiles