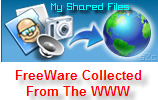 FreeWare 02-15-08
Bulk Rename Free
This is a utility for renaming files and folders with extremely flexible criteria. Process subfolders,
add date stamps, add auto numbers, perform search and replace, perform regular expressions,
and change timestamps. The software is available in a native 64-bit version for enhanced performance.
[790K] [Win98/Me/NT/2k/XP/Vista]
Vista4Experts Free
This simple freebie makes it easy to customize many Vista features, via a simple interface.
You'll be able to change the behavior of Windows Updates, User Account Control, the power button,
Internet Explorer, and other Vista features. There's nothing big or dramatic here, but the program is free,
and lets you easily customize Vista without having to dig through menus and dialog boxes, so it's worth a try.
OS: Windows Vista
File Size: 286KB
TimeBridge Personal Scheduling Manager v1.5.173.11006 [5.48M] [WinXP/Vista + Outlook 2003/2007] Free
An innovative scheduling tool that eliminates the endless emails and phone calls it takes to find a time to meet
with other busy people. You can do it all in just one step. Create a meeting invitation,
proposing up to five meeting times to your attendees. Collect attendees' responses and automatically
select the best time. Everyone gets a confirmation.
http://timebridge.com/home.php
Bulk Rename Utility v2.7.0.2S [790K] [Win98/Me/NT/2k/XP/Vista] Free
A utility for renaming files and folders with extremely flexible criteria.
Process subfolders, add date stamps, add auto numbers, perform search and replace,
perform regular expressions, and change timestamps. The software is available in a native 64-bit version
for enhanced performance.
http://www.bulkrenameutility.co.uk/
The MagicBook v6 [1.74M] [Win2k/XP/Vista] Free
An electronic coloring book with a twist! Allow children of all ages to develop their computer and artistic skills
while they are completely absorbed in its fun-filled world. At the heart of the program is its unique graphical engine.
Unlike any other such software, The MagicBook allows children to use real media for painting--not just a fill bucket tool!
http://www.nirp.co.uk/themagicbook/
Screen Capture Professional v1.3.1.1
[914K] [Win95/98/Me/NT/2k/XP/Vista]
Free
A simple application that allows you to save your printed screens without any help of image processing software.
It also gives you the ability to choose which format it should use to save your snapshots, which includes .
BMP and .JPG. Additionally, It comes with an easy-to-use BMP to JPG converter.
http://tinyurl.com/22twnj
WallCooler Personal VPN - Freeware
Access your e-mails, files, applications or network resources from any place via the public Internet.
OS: Windows XP/2003 Server/Vista
Koyote Free Video Converter - Freeware
Convert video files between popular media formats.
OS: Windows NT/2000/XP/2003 Server/Vista
Bopup Scanner -
Freeware
Scan your local network and display information on all remote computers.

OS:
Windows 98/Me/NT/2000/XP/2003 Server/Vista
RocketDock v 1.3.5 Free
One of Mac OS X's best features is its "Dock," a bar of icons at the bottom or side of the screen
that lets you run frequently used programs, and that you can easily customize.
It's a feature that inexplicably missing from Windows, and surprisingly, missing even from Windows Vista.
Until now, that is. RocketDock is a simple Dock program that you can place at the top, bottom,
or sides of your screen, and that gives you quick access to your favorite programs and features.
File Size: 61600k
OS: Windows Vista, Windows XP
Go to the download page now:
RocketDock

HDDlife v 3.1.155 Free
If you want to protect yourself against losing data because of sudden hard disk crashes, give HDDlife a try.
It constantly monitors the health of your hard disk, and warns you when it uncovers problems--something
as simple as your hard disk running a bit hot. With that warning, you'll know that you should back up
your hard disk, and take some kind of action to protect your hard disk.
File Size: 6167k
OS: Windows Vista, Windows XP, Windows 2000
Go to the download page now:
HDDlife

AnyTV v 2.1 Free
If you're not getting enough entertainment value out of your PC, give AnyTV a shot. In theory, this freebie
brings thousands of streaming Internet TV and radio stations from around the globe right to your computer.
In practice, your mileage may vary; I wasnt able to view many stations. But if you find even a few stations or clips
you enjoy, youre not out anything to give it a try. AnyTV lets you filter stations a variety of categories
(country, channel, genre, bitrate, and so on) as well as save a list of favorites.
Operating Systems: Windows Vista, Windows XP, Windows 2000
Go to the download page now:
AnyTV
The MagicBook Free
This is an electronic coloring book with a twist! Allow children of all ages to develop their computer
and artistic skills while they are completely absorbed in its fun-filled world. At the heart of the program
is its unique graphical engine. Unlike any other such software, The MagicBook allows children to use
real mediums for painting with — not just a fill bucket tool!
[1.74M] [Win2k/XP/Vista]
PicJet Studio - Freeware
Enhance your digital photos automatically by simply dragging and dropping.
OS: Windows 98/Me/NT/2000/XP/2003 Server/Vista
Simple Net Speed - Freeware
Improve your broadband connection to get more efficiency.
OS: Windows 2000/XP/Vista
Cute Partition Manager - Freeware
Add, manage, modify, and delete hard disk partitions.
OS: Windows (all)
HD Tune 2.55 Free
HD Tune is a hard disk utility which has the following functions:
- Benchmark: measures the raw performance
- Transfer Rate
- Access Time
- CPU Usage
- Burst Rate
- Hard Disk information which includes firmware version, serial number, disk capacity, buffer size, transfer mode
Hard Disk Health
- S.M.A.R.T. Information (Self-Monitoring Analysis and Reporting Technology)
- Temperature
- Power On Time
- Copy text to clipboard
- Copy screenshot to clipboard
Windows 2000, Windows XP, Windows 2003 Server, Windows Vista
Click here to download
AM-DeadLink 3.1 Free
This program detects dead links and duplicates in browser bookmarks and text files.
If a bookmark has become unavailable you can verify and delete it permanently.
Additionally you can download FavIcons for all your Favorites and Bookmarks.
It can check the following resources:
Internet Explorer Favorites
Firefox bookmarks
Opera bookmarks
Mozilla and Netscape bookmarks
URLs from tab delimited text files
URLs from comma separated text files
It can download favorites for the following browsers:
Internet Explorer Favorites
Firefox bookmarks
Opera bookmarks
ThreatFire (formerly Cyberhawk) v 3.0.13 Free
If you're looking for maximum system protection, particularly against rootkits that can hide themselves
from many pieces of anti-virus software, give ThreatFire AntiVirus a try. It's designed to work along with your existing
anti-virus software to protect you against hidden rootkits as well as "zero day" exploits,
which are threats that anti-virus software doesn't yet know about.
File Size: 14643k
OS: Windows Vista, Windows XP, Windows 2000
Go to the download page now:
ThreatFire (formerly Cyberhawk)

Highly Recommended

FREE

Software
avast! Home Edition Free
Why choose a high-priced subscription antivirus program that bogs down your PC while protecting it, when avast! can do it better?
avast! is one of the few free antivirus applications that does as good a job as any of the big boys.
avast! includes more than seven different kinds of shields, safe-surfing tools, and real-time virus protection for your OS, as well as Outlook.
avast! updates automatically and frequently and, avast! works with both Windows Vista and XP.
avast! gives you all this, in the free (Not for commercial use) version. More options are available in the Pro version.
avast! requires a simple on-line registration during or after the 60 day trial period to continue uninterupted updates.
avast! has been my anti-virus program for the past 3 years.
Version: 4.7.1098
Price: Free
Operating Systems: Windows XP, Windows Vista
Go to the download page now:
avast! Home Edition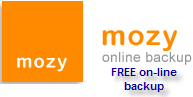 mozy

Free

Safe

Secure

online back-up


I use this every day to keep my important files safe

.

Check out:
Giveaway of the Day

Thanks to ZDNet, PCWorld , Lockergnome.com and many other sources for this nice collection.

You'll find more FreeWare at MySharedFiles