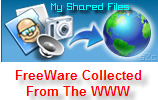 FreeWare 02-22-08
Enhance your digital photos automatically by simply dragging and dropping.
OS: Windows 98/Me/NT/2000/XP/2003 Server/Vista
DisplayFusion -
Freeware
Display different wallpaper on each screen of a dual/triple monitor and manage application windows easily.
OS: Windows 2000/XP/2003 Server/Vista
Capture your screen and record audio to produce FLV flash videos.
OS: Windows XP
Winamp 5.51.1763 Full - Freeware

Manage and play your multimedia files.
OS: Windows 95/98/Me/NT/2000/XP/2003 Server/Vista
Improve your broadband connection to get more efficiency.
OS: Windows 2000/XP/Vista
Cute Partition Manager - Freeware
Add, manage, modify, and delete hard disk partitions.
OS: Windows (all)
BurnAware Free Edition - Freeware

Create and burn CD/DVD/Blu-Ray discs, audio CDs, DVD videos, and disc images.
OS: Windows 98/Me/NT/2000/XP/2003 Server/Vista
Evonsoft Computer Repair - Freeware
Repair and clean your PC to make your system stable and fast.
OS: Windows/2000/XP/2003 Server/Vista
Network Magic 4.6.7324 - Freeware
Set up, manage, and protect your home network from intruders.
OS: Windows 98/Me/2000/XP/Vista
Avvenu Music Player 2.5.6 -
Freeware
Listen to and share your iTunes music remotely.
OS: Windows XP
Download movies, music, and documents and share them with others.
OS: Windows 95/98/Me/NT/2000/XP
POP Peeper 3.1 Free
POP Peeper is an email notifier that runs in your Windows task bar
and alerts you when you have new email on any of your POP3,
Hotmail, MSN, Yahoo, Mail.com, MyWay, Excite, Lycos.com, or RediffMail accounts.
Send mail using your SMTP server or through your webmail account directly from POP Peeper.
It supports HTML email, so you can see your email the same way as you would in your email client.
Several options are available that will decrease or eliminate the risks of reading your email
(viruses, javascript, webbugs, etc). If you share your computer, you can password-protect your
accounts or password-protect access to POP Peeper.
Systemometer 1.6 Free
Systemometer is a unique monitoring tool that shows system activity and resources as a screen saver or a thumbnail view.
Different shapes of monitoring polygon draw visual patterns associated with normal or critical system states.
One look at the screen will tell what is happening with the system. The history of counter values can be recorded to the log files
in either HTML or CSV format. For more detailed information, refer to the help pages after installing the application.
OS: Windows NT, 2000, XP, and 2003
CheckP3 v3.1 Free
This program notifies you when you have new mail, or when your favorite Web pages have been updated.
CheckP3 resides in the System Tray. For mail checking, CheckP3 supports an infinite number of e-mail servers with different ports,
displays the message headers, incorporates a debug window to trace communication between server and client,
and uses sound and a popup window when new mail arrives. Both POP3 and IMAP4 servers are supported.
OS:
Windows 95/98/Me/NT/2000/XP

Media Jukebox v12 Free
Not happy with your current media player? Then give Media Jukebox a try. This free fully featured jukebox lets you manage
and play your media collection, rip and burn CDs, play DVDs, import and play podcastspretty much does anything you want in a jukebox.
So you'll be able to create custom playlists, and use EQ, DSP and audio effects. Media Jukebox also includes automatic lookup of CDs
and albums, and populates your music tracks with the proper tags. And it supports all popular music formats.
File Size: 12351k
OS: Windows Vista, Windows XP, Windows 2000, Windows Me, Windows NT, Windows 9.x
Go to the download page now:
Media Jukebox

Yahoo! & Google Historical Quotes Downloader v2.6 [2.7M] [Win98/NT/2k/XP/Vista] Free
With its enhanced features and performance, the new 100% free Yahoo! & Google Quotes Downloader (YGQD) can be used by traders
and investors to automate the acquisition of historical quotes from Yahoo! or Google for any number of symbol lists.
http://tinyurl.com/ytvnfo
Internet Video Converter (Standard) v1.52 [22.18M] [Win95/98/NT/2k/XP/Vista] Free
Makes it possible to convert popular video formats thanks to a simple, complete, and effective interface managing Open Source software.
It deals with MPEG video formats, flash video (FLV and SWF), DV, QuickTime, Windows Media Video, MJPEG, Apple TV, AVI
(DivX, Xvid, and H264), mobile phone,
http://tinyurl.com/2cvlj6
ManyCam Virtual Webcam v2.2 [11.37M] [Win2k/XP/Vista] Free
Allows you to use your Webcam with multiple programs at the same time. Broadcast your Webcam video simultaneously on MSN Messenger,
Yahoo!, Skype, AIM, PalTalk, and CamFrog. ManyCam also lets you to add cool live computer generated special effects and graphics to your video.
http://www.manycam.com/
MailStore Home v2.5 [10.56M] [Win2k/XP/Vista] Free
Have you ever lost your massive email database to a hard drive crash, inadvertent deletion, program failure, or monsoonal winds?
MailStore Home is a solution for people who have a need to back up their emails in a straightforward and simple fashion.
http://www.mailstore.com/en/mailstore-home.aspx
GPass v3.1.8
[1.3M] [Win2k/XP/Vista]
Free
A free anti-censorship green software widely used for Web surfers in repressive regimes to defeat Internet censorship.
No installation is required as it runs from a single EXE file. GPass's advantages include capabilities to access
Web2.0 Web sites, multimedia, email, and instant messengers.
http://gpass1.com/


WinBubble 1.65
**Vista Only**
Free
In just two clicks, WinBubble will help you to customize and tweak your Windows Vista easily.
Its features cover Customization, Security and Optimization.
UnlockForUs
Virtual CloneDrive v 5.2.0.2 Free
Virtual CloneDrive allows you to access the contents of a CD or DVD file, such as a downloaded .iso file
used to install a Linux operating system, as if you had inserted the disc into a drive on your PC.
The virtual drive shows up in Windows Explorer much like any regular drive, with a drive letter and cutesy sheep icon.
File Size: 1112000k
OS: Windows XP, Windows 2000, Windows Me, Windows 98
Go to the download page now:
Virtual CloneDrive


Desktop Calendar 1.34
Free

A small calendar and event reminder that unobtrusively sits on your desktop and is ready to use any time.
No taskbar button, no system tray icon, the calendar is transparent so it's not an eyesore and consumes very little memory
(less than 600KB idle). Enter as many daily or regular events as you like. Float your mouse over a day to see all events for the day.
Shows a short list of upcoming events below the calendar. Fonts, colours and tooltips are customisable so it blends in with your
desktop colour and font schemes. Events may be colour coded for quick identification. First day of the week is customisable.
Scales as small or as big you want.
OS:
Windows2000/XP ONLY
Click here to download
FileMenu Tools v5.3.2
Free
This utility
lets you customize the context (right-click) menu of Windows Explorer. The application adds built-in utilities
to perform operations on files and folders and adds customized commands that let users run external applications,
copy/move to a specific folder or delete specific file types. With FileMenu Tools, you also can customize the
"Send to..." submenu and enable/disable context-menu commands added by other applications.
OS:
Windows 98/Me/NT/2000/XP/Vista

Batch File Renamer 1.02
Free

This tiny little standalone app pulls well more than its own weight, letting you rename entire directories of files,
while also allowing you to filter out the ones you don't want to change.
Advanced users can even run their own command lines on source files.
File size: 48K
OS: Windows 98/Me/NT/2000/XP/2003 Server/Vista
Internet Video Converter Free
This program makes it possible to convert popular video formats thanks to a simple, complete, and effective interface
managing Open Source software. It deals with MPEG video formats, flash video (FLV and SWF), DV, QuickTime,
Windows Media Video, MJPEG, Apple TV, AVI (DivX, Xvid, and H264), mobile phone, 3GP, PSP, and iPod.
Videos from YouTube, Dailymotion, and Megavideo can be downloaded and converted directly.
[22.18M] [Win95/98/NT/2k/XP/Vista
ThreatFire v3.0.14.16
Free

ThreatFire is an application designed to protect your computer against malware such as trojans, spyware, rootkits, keyloggers,
and buffer overflows by intelligently detecting and blocking behavior consistent with that of malware.
It uses advanced patent-pending technology to detect signs of malicious behavior commonly used by malware threats.
Click here to download
KeepTube
YouTube is fine and fun, and filled with all sorts of wonderful videos, but there is one glaring flaw:
You need to be on the Web to view them. You cannot burn a CD of your favorites or keep a folder
of them on your hard disk. KeepTube solves this problem by allowing you to easily download
FLV (Flash Video) files from the site.
Version: 3.6
File Size: 108k
License Type: Free
OS: Windows Vista, Windows XP, Windows 2000, Windows Me, Windows NT, Windows 9.x
Go to the download page now:
KeepTube


EasyBCD
EasyBCD is NeoSmart Technologies' multiple award-winning answer to tweaking the new Windows Vista bootloader.
With EasyBCD, almost anything is possible. Setting up and configuring Windows boot entries is simple,
and there is no easier way to quickly boot right into Linux, Mac OS X, or BSD straight from the Windows Vista bootloader -
on the fly, no expert knowledge needed!
Highly Recommended

FREE

Software
avast! Home Edition Free
Why choose a high-priced subscription antivirus program that bogs down your PC while protecting it, when avast! can do it better?
avast! is one of the few free antivirus applications that does as good a job as any of the big boys.
avast! includes more than seven different kinds of shields, safe-surfing tools, and real-time virus protection for your OS, as well as Outlook.
avast! updates automatically and frequently and, avast! works with both Windows Vista and XP.
avast! gives you all this, in the free (Not for commercial use) version. More options are available in the Pro version.
avast! requires a simple on-line registration during or after the 60 day trial period to continue uninterupted updates.
avast! has been my anti-virus program for the past 3 years.
Version: 4.7.1098
Price: Free
Operating Systems: Windows XP, Windows Vista
Go to the download page now:
avast! Home Edition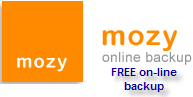 mozy

Free

Safe

Secure

online back-up


I use this every day to keep my important files safe

.

Check out:
Giveaway of the Day

Thanks to ZDNet, PCWorld , Lockergnome.com and many other sources for this nice collection.

You'll find more FreeWare at MySharedFiles