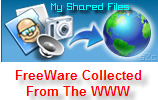 FreeWare 03-28-08
CCleaner 2.05.555
Free

CCleaner is a freeware system optimization and privacy tool. It removes unused files from your system -
allowing Windows to run faster and freeing up valuable hard disk space. It also cleans traces of your online activities
such as your Internet history. But the best part is that it's fast (normally taking less than a second to run).
(I wouldn't be without this little gem.)
Express Burn Free
This is a program for Windows that lets you create and record CDs, DVDs, HD-DVDs, and Blu-ray with any PC
with a CD/DVD/Blu-ray recorder installed. With Express Burn you can record a CD, DVD, High Definition DVD or
Blu-ray disc quickly and easily by dragging the files you want onto the Express Burn icon and clicking 'Burn.'
[308K] [Win98/NT/2k/XP/Vista]
FreeFixer Free
This is a free removal utility which will help you delete potentially unwanted software such as
viruses, trojans, spyware, adware, and rootkits. FreeFixer works by scanning a number of locations
where unwanted software has a known record of appearing or leaving traces.
PrinterTips Free
If your having printer problems, check this out.
Recuva v1.11.257 Free
Recuva (pronounced "recover") is a freeware Windows utility to restore files that have been accidentally deleted
from your computer. This includes files emptied from the Recycle bin as well as images and other files that have been deleted
by user error from digital camera memory cards or MP3 players. It will even bring back files that have been deleted by bugs,
crashes and viruses!
Mz Vista Force v1.7 Free
Here's a free Vista tweaker, and it's a very good one--you'll be able to tweak Vista in countless way, including for speeding up performance,
juicing up Internet speed, cleaning up your hard disk, cleaning out startup programs, and even tweaking Windows Media Player and Explorer.
There are numerous settings here, many of them exceedingly fine-grained. Want to change the speed at which the Start menu search displays?
Yes, you can do it, and plenty more as well. The program free, and there's a lot to play with, and based on that, it's hard not to want to download it.
File Size: 822k
OS: Windows Vista
Go to the download page now:
Mz Vista Force
Make your PC safer with these
Free
system utilites.
TrueCrypt This free, Open Source encryption program lets you place files and folders in "safes" of any size.
Comodo Firewall Pro This free firewall received top ratings for stopping unwanted outbound connections.
ThreatFire (formerly Cyberhawk) Protect your PC against rootkits, zero-days exploits, and other threats —
without interfering with your anti-virus software.
McAfee Rootkit Detective Dig up hard-to-find rootkits with this powerful security application.
Secunia PSI Beta Identify program security leaks and batten down the hatches with this free software.

ProcessScanner Free
ProcessScanner does double-duty: It helps improve your PC's performance, and helps ensure it's not infected with malware of some kind.
It does this by scanning your PC and displaying every single service, process, and application currently running,
and giving you detailed information about each. Based on what you find, you can then disable the application or service,
or do a spyware or anti-virus scan.
Version: 1.1
File Size: 902k
Operating Systems: Windows Vista, Windows XP, Windows 2000

U3 LaunchPad Installer Free
With so many portable applications available today, many users have no reason to get a U3 drive.
If you have one, you can find utilities for removing U3 LaunchPad software from SanDisk drives or
from non-SanDisk drives. And if you change your mind, use this free tool from SanDisk to get get it back.
Version: 1.0.1.27
File Size: 985k
Operating Systems: Windows XP, Windows 2000
The Returnil Virtual System Personal Edition Free
This program provides an altogether different and highly complimentary level of defense. It is designed to protect your computer
from all types of software, downloads, Web sites, or anything else that might harbor viruses, spyware, and other malicious programs.
Returnil virtualization technology clones a computer's system partition and boots the PC into this system rather than native Windows,
allowing you to run your applications in a completely isolated environment.
[2.12M] [WinXP/Vista]
Webinaria v2.1 Free
Record your desktop screen movements, voice narration and webcam and upload them to the web in Flash format for free with
Webinaria. Using your microphone and/or webcam, quickly start recording your desktop presentation, demo or screencast.
Modify the capture area from your active window to a customized area, adjust your hardware or recording quality,
and edit the audio and webcam properties frame by frame.
[2.47M] [Win98/NT/2k/XP/Vista]
10 things you should do to improve every new Windows PC Free
These 10 tweaks will bring out the best in your new PC and give you a solid foundation
for future applications and operating system updates.
10 Windows XP tips and tools to simplify your work Free
Whether you're trying to iron out problems with users' systems or you just want to optimize
your own PC, these techniques will help you take maximum advantage of Windows XP features.
A quick reference guide of HTML tags and their attributes Free
This colorful quick reference will save you time when you're trying to remember the syntax
of a certain HTML tag or attribute.

10 dumb things users do that can mess up their computers Free
Users find plenty of ways to run into trouble, from gunking up their system with shareware
to leaving it exposed to attackers. This list will help them avoid such problems.



Highly Recommended

FREE

Software
avast! Home Edition Free
Why choose a high-priced subscription antivirus program that bogs down your PC while protecting it, when avast! can do it better?
avast! is one of the few free antivirus applications that does as good a job as any of the big boys.
avast! includes more than seven different kinds of shields, safe-surfing tools, and real-time virus protection for your OS, as well as Outlook.
avast! updates automatically and frequently and, avast! works with both Windows Vista and XP.
avast! gives you all this, in the free (Not for commercial use) version. More options are available in the Pro version.
avast! requires a simple on-line registration during or after the 60 day trial period to continue uninterupted updates.
avast! has been my anti-virus program for the past 3 years.
Version: 4.7.1098
Price: Free
Operating Systems: Windows XP, Windows Vista
Go to the download page now:
avast! Home Edition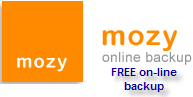 mozy

Free

Safe

Secure

online back-up


I use this every day to keep my important files safe

.

Check out:
Giveaway of the Day

Thanks to ZDNet, PCWorld , Lockergnome.com and many other sources for this nice collection.

You'll find more FreeWare at MySharedFiles

Labels: Baylor, bob3160, clouds, Dallas, Free, freeware, giftoflife, Meadow Lake, MySharedFiles, reunion, Software,
sunset, transplant, weekly