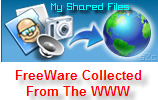 FreeWare 04-18-08
USB webserver
Free

USB Webserver is nice little Web Server package that includes Apache, MySQL, PHP, and PHPMyAdmin. Much like XAMPP,
NetServer and other popular Web Servers, the application is dockable to the system tray and services can be run either portably or
installed as a system service. The menu items are available in the English language via the Settings tab.
This application requires roughly 22.3MB for complete portable installation.
MyUSBOnly. Free
Block untrusted USB memory stick activity in Office. Prevent data theft by blocking all but your trusted USB storage devices.
Stop your files from walking away on thumb drives, mp3 players, flash cards, and portable USB hard drives. Secretly log all USB connect,
disconnect, and files/folders copied, modified, deleted activity. This version is not time-limited.
[1.82M] [Win2k/XP/Vista]
Startup Delayer Free
This utility will allow you to setup how many seconds after Windows has started, to load each application.
It configures timed delays for each application that starts after Windows boots up.
[996K] [Win98/ME/2k/XP/Vista]
Cleanup Assistant Free
This simple freebie helps speed up your system by unclogging your hard disk by finding duplicate files, cached files,
and others, then deleting them for you. It will even shred files so that they can't be restored, if you've got personal files you no longer want,
and don't want anyone to see them. It's free, and easy to use, so even though it may not be the most sophisticated of programs, it's is worth a shot.
Version: 1.2
File Size: 1744k
Operating Systems: Windows Vista, Windows XP
Go to the download page now:
Cleanup Assistant


QuickMonth Calendar Free
I'm using QuickMonth Calendar because it's unobtrusive and doesn't have any bells, whistles, or frills.
Just roll your cursor over on the clock in your System Tray and up pops a calendar.
Version: 1.4
File Size: 481k
Operating Systems: Windows Vista, Windows XP, Windows 2000, Windows Me, Windows NT, Windows 9.x
Go to the download page now:
QuickMonth Calendar

Google Calendar Sync Free
This nifty freebie from Google is designed for a problem that bedevils many who use Google Calendar as well as Microsoft's Outlook calendar--
how can you keep them in synch? If, for example, you use Outlook for your personal calendar, and Google Calendar for your work calendar,
you have to manually retype all of your appointments. Google Calendar Sync solves the problem neatly. It automatically synchronizes events in
your calendars. So just enter them once, and they show up in both places. You also have the choice of synching events only from your
Google Calendar to Outlook, and vice versa. So, for example, if you use Outlook for personal events, and don't want to share them with
co-workers, but you do want all Google Calendar events in your Outlook calendar, you can do that.
Version: 0.9.3.2
File Size: 670k
Operating Systems: Windows Vista, Windows XP
Go to the download page now:
Google Calendar Sync
Hydra Browser Free
Hydra Browser is a freeware browser which marries concepts found in Explorer and Firefox, though it does not share any code with them.
Hydra Browser has some nice features--for example, there is an 'up to domain' button, and 'fast forward' and 'fast backward' buttons
which guess the likely next (and prior) pages in a sequence--useful for reading online comics. However, features get lost in the multitude of tabs.
For example, the Fast Forward/Backward buttons are on the Edit tab. The normal forward/back arrows, the most-used buttons on any browser,
vanish when you leave the Home tab; if you are on another ribbon, you must either remember the key combo or go back.
Version: 1.07
File Size: 15040k
Operating Systems: Windows Vista, Windows XP
Go to the download page now:
Hydra Browser
ExamDiff Free
This is a freeware Windows tool for visual file comparison. Features: Toggles between the first and second files.
Automatically detects file changes and prompts the user to re-compare files. One push re-compare function which
attempts to leave the viewer's focus in the same place as before the re-compare. Saves the standard UNIX DIFF file.
[521K] [Win95/98/ME/2k/XP/Vista]
Asterisk Key 8.3 Free
This is a handy tool that shows passwords hidden under asterisks. The program works with both
password dialog boxes and web pages.
OS: Win 95/98/NT/ME/2000/XP/Vista
FileSize: 424 KB
Winmail Opener Free
This is a small and simple utility that allows you to view and extract contents of TNEF-encoded messages (infamous winmail.dat).
Winmail Opener can decode and show RTF message text and all embedded attachments, has full drag-and-drop support,
and supports command line mode for batch decoding.
[317K] [Win95/98/ME/2k/XP/Vista]
Mozilla Firefox v2.0.0.14 Free
This was just updated and is a fast, full-featured Web browser that makes browsing more efficient than ever before.
Firefox includes pop-up blocking; a tab-browsing; integrated Google searching; simplified privacy controls that let you cover
your tracks more effectively; a streamlined browser window that shows you more of the page than any other browser;
and a number of additional features that work with you to help you get the most out of your time online.
[5.76M] [Win98/ME/
Wise Registry Cleaner
Free
One of the safest registry cleaners on the market, Wise Registry Cleaner scans the Windows registry
for incorrect or obsolete information and corrects it, leaving your system more efficient.
OS: Windows 98/Me/NT/2000/XP/2003 Server/Vista
Free Tube Finder Free
Search and download movies from YouTube, DailyMotion, Google, Yahoo, Metacafe, iFilm,
MySpace and more with this tool.
OS: Windows 2000/XP/2003 Server/Vista

Sherrod FTP Client Free
A free FTP client for home and business with multiple connections, scheduled jobs, command line options,
encryption and more.
OS: OS: Windows 2000/XP/2003 Server/Vista, Microsoft .Net Framework 2.0

PicLens v1.6.2 Free
Add PicLens to your Firefox Web browser to get a new way of viewing many photos at once on selected sites.
Supported sites include Flickr, Smugmug, Facebook, Google Images, and others. On those sites, if you mouseover
a photo you'll see a small play button in the lower left of the image. Click that button to get the PicLens photo display,
a 3D-animated presentation screen with a wall of thumbnails for all the pics on the page you started on.
You can shift left and right through the wall using a box at the bottom of the display. If you ever view photos on the supported sites,
give PicLens a whirl. It's not often that an applet makes something more glitzy and more efficient at the same time.
Operating Systems: Windows Vista, Windows XP

Highly Recommended

FREE

Software
avast! Home Edition Free
Why choose a high-priced subscription antivirus program that bogs down your PC while protecting it, when avast! can do it better?
avast! is one of the few free antivirus applications that does as good a job as any of the big boys.
avast! includes more than seven different kinds of shields, safe-surfing tools, and real-time virus protection for your OS, as well as Outlook.
avast! updates automatically and frequently and, avast! works with both Windows Vista and XP.
avast! gives you all this, in the free (Not for commercial use) version. More options are available in the Pro version.
avast! requires a simple on-line registration during or after the 60 day trial period to continue uninterupted updates.
avast! has been my anti-virus program for the past 3 years.
Version: 4.8.1169
Price: Free
Operating Systems: Windows XP, Windows Vista
Go to the download page now:
avast! Home Edition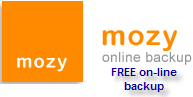 mozy

Free

Safe

Secure

online back-up


I use this every day to keep my important files safe

.

Check out:
Giveaway of the Day

Thanks to ZDNet, PCWorld , Lockergnome.com and many other sources for this nice collection.

You'll find more FreeWare at MySharedFiles

Labels: Baylor, bob3160, clouds, Dallas, Free, freeware, giftoflife, Meadow Lake, MySharedFiles, reunion, Software,
sunset, transplant, weekly