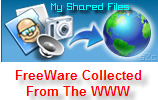 FreeWare 04-25-08
No-NSFW Free
This is a people-powered Not-Safe-For-Work content warning system. When you hover on an external link,
the plugin gets the rating (NSFW, SFW or unrated) for that link. This is displayed on the bottom-right of the screen
as a small, unintrusive warning.
[8.45K] [Win2k/XP/Vista + Firefox]
Super Finder v.1.5.2.0 Free
Powerful replacement for Windows XP™ built-in search.
Search files, folders and other data efficiently and easily.
Beneton Movie GIF Free
Before there was Flash, there was the animated GIF (Graphics Interchange Format) file--
a simple multi-frame graphics file you still see widely used as online avatars and in small animated advertisements.
Why? File size. Compared to Flash, for short animations, GIF files are positively puny. Unfortunately,
while many people would love to have their avatar doing the Hula Hoop, few have the know-how or the proper
tool make it do so. Beneton Movie GIF is that proper tool. With it you can edit, compose, and apply effects to
static images or sequences of images to create a GIF animation. You can even import short AVI files
and convert them to animated GIFs.
Version: 1.1.2
File Size: 6575k
Operating Systems: Windows Vista, Windows XP, Windows 2000
Go to the download page now:
Thingamablog Free

Thingamablog is an interesting program which allows a user to create and maintain a blog without the use of remotely hosted
dedicated blogging software or creating an account on a blogging site, such as Xanga or Livejournal.
Version: 1.1b6
File Size: 5644k
License Type: Free
Operating Systems: Windows Vista, Windows XP, Windows 2000, Windows Me, Windows NT, Windows 98
Go to the download page now:
Thingamablog
Audio Playlist Maker Free
This program helps you manage your entire music collection by creating playlists.
With Audio Playlist Maker you can save all the playlists to one folder and then just select albums from there.
[668K] [Win95/98/ME/2k/XP/Vista]
JaBack - Automated Data Backup Software Free
Backup software designed to automate all your backup, synchronization, and archiving tasks.
- Easy to use: no programming or scripting required, graphical interface
- Powerful, versatile, reliable and FREE
- Run 1000 tasks a day
Link Alert Free
Links look pretty much the same. It's natural to assume that an innocent Web page lies behind that underlined text--
but sometimes it's not. Click unwarily, and you could end up with a hard drive full of unwanted PDFs and mystery files.
Worse yet, you could download malware. Link Alert tells you what kind of file lies behind that link,
letting you decide whether to click or not to click.Version: 0.8
File Size: 94k
Operating Systems: Windows Vista, Windows XP, Windows 2000, Windows Me, Windows 98, Windows NT, Palm OS
Go to the download page now:
Link Alert

Ping Test Easy Free
This is a handy, powerful, visual ping & IP scan utility for a system administrator to check network connections.
Its Intuitive and graphical interface lets you easily monitor the state of the network and test the connection speeds
of various locations. It can save IP addresses and host names; its intuitive interface shows the route, hosts,
packet loss percentage, and min/max/average response times.
[388K] [Win98/ME/2k/XP/Vista]
QuickTime Alternative Free
QuickTime is a common format, but QuickTime's player is huge. Avoid that space hog by watching your
QuickTime files in QuickTime Alternative. This free codec works in a number of browsers, too. With QuickTime Alternative,
you can watch QuickTime files over Internet Explorer, Mozilla, Netscape, and Opera.
Version: 2.4.0
File Size: 12971k
Operating Systems: Windows XP, Windows 2000
Go to the download page now:
QuickTime Alternative

Real Alternative Free
Many audio and video files are offered only in Real Networks' formats. If you like the files, but you don't like
being tied to Real, you may prefer Real Alternative. This player plays RealAudio (.ra and .rpm) and Realmedia
(.rm, .ram, .rmvb, .rpx) files just like RealPlayer and RealOne Player do--but without the hassles of dealing with Real.
It offers limited support for Real's .smi and .smil formats. Real Alternative's RealMedia browser plug-in supports
Internet Explorer, Mozilla, Netscape, and Opera.
Version: 1.75
File Size: 5829k
Operating Systems: Windows XP, Windows 2000, Windows Me, Windows 98
Go to the download page now:
Real Alternative

WeFi Free
This programenables reliable connection to Wi-Fi wherever wireless networks are available.
WeFi users can move between open Wi-Fi networks automatically, monitor friends' online status and location,
know the proximity of neighboring WeFi users who allow it, and chat with them.
WeFi hotspot directory will help you find a wireless network to connect to anywhere around the world.
[5.7M] [WinXP/Vista]
MV RegClean Free
An advanced registry cleaner that helps to prevent crashes, slow performance and error messages
by repairing invalid or orphaned registry entries.
OS: Windows 95/98/Me/NT/2000/XP/2003 Server/Vista
TextBeast Free Clipboard Plus
A text manager that's perfect for anyone who doesn't want to waste time typing the same things over and over again.
OS:
Windows 98/Me/2000/XP/Vista
ClipX Free
If you're looking to power up the Windows clipboard, then you'll want to download this freebie. It takes an anemic,
underpowered tool, and turns it into something exceptionally useful. ClipX keeps your last 25 clips ready for you to use.
When you want to use one, press Ctrl-Shift-V, select your clip from the list, and pop it in where you want it to go.
Version: 1.0.3.8
File Size: 109k
Operating Systems: Windows Vista, Windows XP
Go to the download page now:
ClipX
DTIData NTFS Partition Recovery Tool Free
Operating Systems: Windows Vista, Windows XP, Windows 2000, Windows NT
You say you booted your notebook and faced "Boot Failure: System Halted" and no matter what partition recovery program
you try doesn't help? Stay calm. Grab a copy of the free DTIData NTFS Recovery Repair tool. It lets you repair the boot sector
and make the drive bootable again.
Version: 1.0
File Size: 48k
Go to the download page now:
DTIData NTFS Partition Recovery Tool

Highly Recommended

FREE

Software
avast! Home Edition Free
Why choose a high-priced subscription antivirus program that bogs down your PC while protecting it, when avast! can do it better?
avast! is one of the few free antivirus applications that does as good a job as any of the big boys.
avast! includes more than seven different kinds of shields, safe-surfing tools, and real-time virus protection for your OS, as well as Outlook.
avast! updates automatically and frequently and, avast! works with both Windows Vista and XP.
avast! gives you all this, in the free (Not for commercial use) version. More options are available in the Pro version.
avast! requires a simple on-line registration during or after the 60 day trial period to continue uninterupted updates.
avast! has been my anti-virus program for the past 3 years.
Version: 4.8.1169
Price: Free
Operating Systems: Windows XP, Windows Vista
Go to the download page now:
avast! Home Edition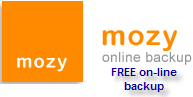 mozy

Free

Safe

Secure

online back-up


I use this every day to keep my important files safe

.

Check out:
Giveaway of the Day

Thanks to ZDNet, PCWorld , Lockergnome.com and many other sources for this nice collection.

You'll find more FreeWare at MySharedFiles

Labels: Baylor, bob3160, clouds, Dallas, Free, freeware, giftoflife, Meadow Lake, MySharedFiles, reunion, Software,
sunset, transplant, weekly