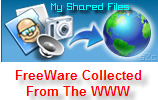 FreeWare 05-16-08
EssentialPIM Free
This is an absolutely free personal information manager can store, manage, and encrypt data: day/week/month/year schedules,
to do lists for keeping all your tasks up-to-date, notes (pictures, tables, any formatted text), and contacts.
Offers Rijndael 128-bit encryption, MS Outlook import/export, Windows Address Book import/export, search capabilities,
versatile print features, and adjustable contacts storage with unlimited fields.
[2.75M] [Win95/98/ME/2k/XP/Vista]
IE PassView 1.08
Free

IE PassView is a small utility that reveals the passwords stored by Internet Explorer browser.
It supports the new Internet Explorer 7.0, as well as older versions of Internet explorer, v4.0 - v6.0
Click here to download this program
Universal Viewer (ATViewer) v.3.4.0
Free

This is an advanced file viewer with wide range of formats supported. Implemented view modes and corresponding file formats are:
* Text, Binary, Hex, Unicode: any files, of unlimited size (even 4Gb+ sizes are allowed)
* RTF, UTF-8: RTF and UTF-8 encoded texts
* Image: all general graphics formats: BMP JPG GIF PNG TGA TIFF... plus all formats supported by IrfanView/XnView external viewers
* Multimedia: all formats supported by MS Windows Media Player: AVI MPG WMV MP3...
* Internet: all formats supported by MS Internet Explorer: HTML XML DOC XLS...
* Plugins: all formats supported by Total Commander Lister plugins.
In the
Lister plugins section
you will find the list of rather good Lister plugins to use in conjunction with UV.
These plugins are developed by 3rd parties and are not included into UV installation.
Click here to download this program
HxD v.1.7.6.2 Free
In a world of fat, poorly conceived, and poorly programmed software forced out the door before its time, there are islands of sanity.
One such bastion of common sense is Mal Hrz's HxD hex editor. A hex editor displays and lets you edit files (any type, not just text files), memory,
and disk info in both ASCII and hexadecimal (base 16). Hex numbers, which range from the 0-9, plus A-F to represent 10 through 15 display information
that 8-bit ASCII characters can't and are perfect for representing memory values. Some common uses for hex editors includes repairing file headers,
retrieving data from damage files, and checking portions of memory for viruses.
File Size: 843k
OS: Windows Vista, Windows XP, Windows 2000, Windows Me, Windows NT, Windows 9.x
Go to the download page now
Kantaris Media Player v0.3.5 [317K] [Win2k/XP/Vista] Free
Can play almost anything you can throw at it: AVI (DivX, Xvid, H264), MPEG, MGEG-AVC, WMV, MOV, MKV, FLV, MP3, WMA, and OGG files.
It can also play DVDs and audio CDs. The player also displays beautiful visualizations for music. Kantaris is an all new media player based on code
from VideoLan Client (VLC) and Bass audio library.
http://www.kantaris.org/
PingInfoView v1.0 [35K] [Win2k/XP/Vista] Free
A small utility that allows you to easily ping multiple host names and IP addresses and see the results in one table. It automatically pings to all hosts
every number of seconds that you specify and displays the number of succeed and failed pings as well as the average ping time.
You can also save the ping result into a text/HTML/XML file, or copy it to the clipboard.
http://www.nirsoft.net/utils/multiple_ping_tool.html
SUMo v.1.8.1.45
Free

SUMo, which stands for Software Update Monitor. Thanks to SUMo you'll be able to keep your PC up-to-date by using the most recent version
of your favorite software ! Unlike build-in auto update features, SUMo tells you if updates are available before you need to use your software.
Click here to download this program
MozBackup Free
This is a simple utility for creating backups of Mozilla Firefox, Mozilla Thunderbird, SeaMonkey, Mozilla Suite, and Netscape profiles.
It allows you to back up and restore bookmarks, mail, contacts, history, and extensions.
[877K] [Win95/98/ME/2k/XP/Vista]

Interclue Free
Install the Interclue add-on for the Firefox Web browser, and from then on when you move your mouse over a link
you'll see a small icon appear next to it. Click the icon, and you'll see a pop-up preview of the link destination.
The pop-up preview shows selected text and images on the left side, along with information such as a list of downloadable files,
page thumbnails and a word count for the destination page on the right side. If the link goes to a download,
the pop-up will show the file name, size, date and MIME type.
Operating Systems: Windows Vista, Windows XP, Windows 2000, Macintosh, Linux
Go to the download page now
Executor 0.98 Free
Executor is a launcher that is a more powerful and customizable version of Windows Run.
Click here to download this program
IM-Translate Free
This utility features immediate translation of instant messages using an intuitive machine-based language translator.
IM-Translate conjugates verbs and uses sentence analysis to render the most accurate translation possible, instantly.
Even IM chat slang/jargon has been incorporated into the translator.
[460K] [Win98/ME/2k/XP/Vista + Windows Live Messenger]

Volumouse Free
This utility provides a quick and easy way to control the sound volume on your system —
simply by rolling the wheel of your wheel mouse. It allows you to define a set of rules for determining when the wheel
will be used for changing the sound volume.
[45K] [Win98/ME/NT/2k/XP/Vista]

Revo Uninstaller
Free

Revo Uninstaller helps you to uninstall and remove unwanted programs installed on your computer even if you have problems uninstalling
and cannot uninstall them from "Windows Add or Remove Programs" control panel applet.
Click here to download this program
Burnaware Free 1.3
Free

BurnAware Free Edition allows you to easily perform the most common disc burning tasks: write to all CD/DVD media types,
including Blue-Ray; write Audio CDs and DVD-Video files; create and burn disc images; write multi-session discs and much more
DeepBurner Free Portable Free
DeepBurner Free Portable is one of the programs I never do an IT support gig without. If I need to burn off some data to CD/DVD
before working on an infected or otherwise sketchy Windows system, all I do is insert the thumb drive I installed it to, click its icon,
and I'm ready to burn. If you're not familiar with "portable" apps, they're portable because they don't rely on the Windows registry for storing settings.
Instead they either forgo settings altogether, booting with the default settings each time, or (more likely) save the settings to whatever the directory
the program is run from. Reliance on the registry for storing settings and registration info, which started with Windows 95 for maintenance and
version control reasons, is why you must reinstall applications whenever you reinstall Windows. DeepBurner Free Portable burns data discs,
as well as ISO images and has worked well for me over several months. It's a program every tech should have in their emergency kit.
Version: 1.9.0.74
File Size: 3003kOperating Systems: Windows XP, Windows 2000, Windows Me, Windows 98Go to the download page now:
DeepBurner Free Portable
MyIPAlert v1.10
Free

Here are some features that make this little program so handy. MyIPAlert automatically sends an email alert when your computer IP address changes
to any number of e-mail addresses! Handy for those that run game servers at home. Alerts are configurable and can be turned on or off.
A nice Balloon style hint will also display when your IP address has changed. A log is also kept of all past IP changes,
so you can look back and see your IP history. MyIPAlert will sit quietly in your Windows system tray, move your mouse over
the tray and see your IP address anytime, uses very little resources.
Click here to download this program
Webmaster Password Generator 1.30
Free
A slick and easy to use Password Generator program for Webmasters and all web users. Generate strong passwords for all your Internet login accounts
easily and quick. Excellent for webmasters, web hosting companies or anyone wishing to generate strong passwords conveniently and fast.
Allows you to generate any quantity of passwords with only one mouse click.
Click here to download this program
ClamWin Free Antivirus 0.93
Free

ClamWin Free Antivirus features:
- High detection rates for viruses and spyware;
- Scanning Scheduler;
- Automatic downloads of Virus Database updates. ClamAV team regularly updates Virus Databases to include a new virus/variant immediately after it appears;
- Standalone Virus Scanner;
- Right-Click Menu Integration to M*crosoft Windows Explorer;
- Addin to M*crosoft Outlook to remove virus-infected attachments automatically. Built-in support for mbox, Maildir and raw mail files
- Built-in support for RAR (2.0), Zip, Gzip, Bzip2, Tar, MS OLE2, MS Cabinet files, MS CHM (Compressed HTML), MS SZDD
- Built-in support for Portable Executable files compressed with UPX, FSG, and Petite
This is
NOT
a resident Anti Virus program. Use it only for
on-demand
virus checking
.
Click here to download this program
DTweak Free Free
Those looking to tweak Windows Vista should download this free program right away.
DTweak Free offers an amazing number of tweaks the customizing how Vista works and looks,
and for increasing Vista performance. You'll be able to change a remarkable number of features,
such as hiding or cascading the Control Panel or hiding Favorites. You can also optimize how Vista works,
by controlling how CPU cache and IO cache are used. And that's just the beginning.
Version: 3.9
File Size: 5323kOperating Systems: Windows VistaGo to the download page now:
DTweak Free
Pidgin Free
This is a multi-protocol instant messaging client for BSD and Windows that is compatible with
AIM, ICQ, MSN Messenger, Yahoo, IRC, Jabber and more. Users can log in to multiple accounts
on multiple IM networks simultaneously.
OS: Windows 98/Me/NT/2000/XP
BookmarkSync Free
This utility is unlike other Web-based bookmark utilities. It is a unique system that enables real-time automatic bookmark synchronization
between all your different browsers, computers, and operating systems.
Add a bookmark to Internet Explorer at work, and it will automatically update your Firefox browser at home and your Safari browser on your Mac.
It supports Unicode, so it works for bookmarks in all languages.
[3.9M] [Win95/98/ME/2k/XP/Vista]

Highly Recommended

FREE

Software
avast! Home Edition Free
Why choose a high-priced subscription antivirus program that bogs down your PC while protecting it, when avast! can do it better?
avast! is one of the few free antivirus applications that does as good a job as any of the big boys.
avast! includes more than seven different kinds of shields, safe-surfing tools, and real-time virus protection for your OS, as well as Outlook.
avast! updates automatically and frequently and, avast! works with both Windows Vista and XP.
avast! gives you all this, in the free (Not for commercial use) version. More options are available in the Pro version.
avast! requires a simple on-line registration during or after the 60 day trial period to continue uninterupted updates.
avast! has been my anti-virus program for the past 3 years.
Version: 4.8.1195
Operating Systems: Windows XP, Windows Vista
Go to the download page now:
avast! Home Edition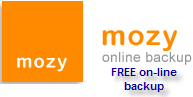 mozy

Free

Safe

Secure

online back-up


I use this every day to keep my important files safe

.

Check out:
Giveaway of the Day

Thanks to ZDNet, PCWorld , Lockergnome.com and many other sources for this nice collection.

You'll find more FreeWare at MySharedFiles

Labels: Baylor, bob3160, clouds, Dallas, Free, freeware, giftoflife, Meadow Lake, MySharedFiles, reunion, Software,
sunset, transplant, weekly