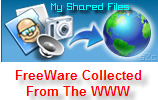 FreeWare 05-30-08
JetAudio Basic 7.1.0.3100
Free

JetAudio is integrated multimedia software made up of a single compact rack. Not only does it play various music and video files,
it also has features such as CD burning, recording, and conversion to other file formats. You can create your own Internet broadcast
by using JetCast, provided with JetAudio, and you can play all major file formats, including WAV, MP3, MP3Pro, OGG, WMA,
MPEG, AVI, WMV, MIDI, RM, and video and audio CD tracks.
OS: Windows 95/98/Me/NT/2000/XP/2003 Server/Vista
InfraRecorder 0.45
Free
InfraRecorder is a free CD/DVD burning solution for Microsoft Windows. It offers a wide range of powerful features;
all through an easy to use application interface and Windows Explorer integration.
GermaniX Transcoder 5.0.0.734 Beta 4a
Free

GX::Transcoder (formerly GermaniXEncoder) is a universal audio and video file transcoder.
You can transcode audio files into many formats:
AAC, MP4, M4A, Bonk, FLAC, LA, LPAC, MIDI, MP2, MP3, MPC, MPP, MP+, OptiomFrog, Ogg Vorbis, rkAudio,
VQF, WavPack, TTA, WMA, Shorten, PCM, GSM, ADPCM, VOX, G721, G723, G726, uLaw, aLaw, DSP, Raw PCM,
Monkeys Audio, AVI (Audio), MOD, Bonk and more. The video converter for video filetypes mpeg1, mpeg2, avi with all installed codecs
and wmv (supports VCD, SVCD and DVD Extensions) comes with one of the next betas. The Transcoder also has a Cue-Cutter,
a DB based Player, a NetRadio Stream Player with recording function and a Tagger for id3v1, id3v2, ape 2.0, OGG Comment,
Flac Comment and WMA ID's. Additionally the Transcoder uses plugins to add more functions for transforming and playing audio files.
The GX::Transcoder can transfer the tags ID3v1, ID3v2, APE v1 and v2, Vorbis Comments, FLAC and WMA Tags.
Daemon Tools Lite Free
It's a real pain--not to mention slow--to continually swap CDs and DVDs out of your optical drive. It can take up to half a minute for your drive
and Windows to mount a disc. Gamers who must leave a copy-protected disc in the drive in order to play a game are especially affected.
If you spend a lot of time swapping and hence waiting on CDs or DVDs to mount, Daemon Tools Lite is worth its weight in gold.
Version: 4.12.3
File Size: 3074KB
Operating Systems: Windows Vista, XP, 2000
Go to the download page now:
Daemon Tools Lite


SIV System Information Viewer
Want to get a complete rundown of the hardware you're running? Then give SIV a try--it'll provide more information about your hardware setup
than you can imagine. Whether you're looking for the information for technical support, or some other reason, you'll find that it offers just about
anything you need. Simply run the program, and SIV reports its results.
Version: 3.3
File Size: 1184KB
Operating Systems: Windows Vista, XP, 2000, Me
Go to the download page now:
SIV System Information Viewer
RegToy
Want to bend Windows to your will? Then you'll want to give RegToy a try. It lets you customize just about every aspect of how Windows works,
from the taskbar and Start menu, to the Windows Explorer context menu, how your desktop and icons appear, and much more.
The number of settings you can change is astonishing. Vista users will particularly welcome it, because it gives you control over many
Vista-specific features. In Vista, you can turn the Windows Mobility Center on and off, disable Windows error reporting,
hiding the Control Panel, and much more.
Version: 0.6.2.5
File Size: 1628k
Operating Systems: Windows Vista, Windows XP
Go to the download page now:
RegToy

Baku v6.3060.29494
Free
This utility allows you to search for system registry errors and unneeded files that can be safely removed. Deletes empty folders,
history folder contents, recent documents folder contents, temp folder contents, temporary Internet files, and cookies.
Searches Windows log files, shortcuts to missing files and folders, and user specified file types. Registry scan removes unused and obsolete keys,
including ActiveX/COM, application paths, fonts, help files, icon files, sound files, uninstall programs, and Windows installer.
[545K] [Win2k/XP/Vista]
MagicDisc Virtual CD/DVD-ROM Free
This is a utility designed for creating and managing virtual CD drives and CD/DVD discs.
It emulates audio, data, and game CDs and DVDs with ISO image, CD, and DVD images.
MagicDisc Virtual CD/DVD-ROM offers 200x speed and noiseless CD/DVD access without a physical drive.
It supports creating up to 15 virtual drivers. You can run games, software, see movies (VCD, SVCD, DVD),
and hear music directly from your hard disk without inserting and swapping CDs and DVDs.
[1.23M] [Win98/ME/2k/XP/Vista]

Highly Recommended

FREE

Software
avast! Home Edition Free
Why choose a high-priced subscription antivirus program that bogs down your PC while protecting it, when avast! can do it better?
avast! is one of the few free antivirus applications that does as good a job as any of the big boys.
avast! includes more than seven different kinds of shields, safe-surfing tools, and real-time virus protection for your OS, as well as Outlook.
avast! updates automatically and frequently and, avast! works with both Windows Vista and XP.
avast! gives you all this, in the free (Not for commercial use) version. More options are available in the Pro version.
avast! requires a simple on-line registration during or after the 60 day trial period to continue uninterupted updates.
avast! has been my anti-virus program for the past 3 years.
Version: 4.8.1201
Operating Systems: Windows XP, Windows Vista
Go to the download page now:
avast! Home Edition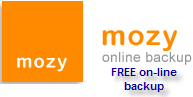 mozy

Free

Safe

Secure

online back-up


I use this every day to keep my important files safe

.

Check out:
Giveaway of the Day

Thanks to ZDNet, PCWorld , Lockergnome.com and many other sources for this nice collection.

You'll find more FreeWare at MySharedFiles

Labels: Baylor, bob3160, clouds, Dallas, Free, freeware, giftoflife, Meadow Lake, MySharedFiles, reunion, Software,
sunset, transplant, weekly