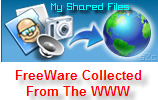 FreeWare 06-13-08
Easy Thumbnails Free
Create accurate thumbnails and scaled-down/up copies of your pictures. Find and view images easily and process them individually,
in batches, or a whole folder at a time. Handles a wide range of popular image formats. Use provided tools to rotate images and adjust contrast,
brightness, sharpness, and quality. Preview thumbnails, add suffixes or prefixes to name, and try a range of image-processing techniques.
[1.02M] [Win95/98/ME/2k/XP/Vista]
Some Useful Free Online Services:
Online conversion tools for Adobe PDF documents: This is a free online service from Adobe allowing the conversion of Adobe PDFs to HTML or text.
VirusTotal: If you haven't heard of this, where've you been? If your anti-virus software has picked up a possible infected file that you think is incorrect
or a false positive, upload it to this site and it will be scanned by about 30 command line versions of anti-virus engines that are updated regularly
with official signature files published by their respective developers.
Media-Convert: A brilliant service for converting just about anything to, well, anything! Audio, video, Office documents, etc.
Does about as many formats as you can think of.
PortableApps.com: Where I go for all my free applications. They are all Open Source and are put into a special format so they can be easily booted
from a USB flash drive in a special menu. Programs in this special format include OpenOffice, VLC, ClamWin, Notepad++, and many, many more.
Ashampoo StartUp Tuner Free
This program helps users weed out superfluous apps that autostart on boot up, shaving valuable seconds off start up time.
OS: Windows 2000/XP/Vista
nCleaner
Free

A great alternative to CCleaner that sweeps and clears unecessary files that take up disk space on your system.
OS:
Windows XP/2003 Server/Vista
Age Calculator Free
Simply calculates the age between two dates and displays in a configurable format of years, months and days.
OS: Windows 2000/XP
AVI ReComp for Windows Free
The program allows you to recompress your AVI files. The application supports not only files containing audio streams but AVIs
without any audio as well. For the time being the program uses only XviD codec for the recompression process (versions: 1.0.3 or newer).
Kantaris Media Player v.0.3.5
Free
Kantaris Media Player is the all-in-one media player that provides the best audio and video experience.
Kantaris is an open-source alternative to Windows Media Player with similar GUI and features.
Video playback is based upon Videolan Client (VLC) which enables Kantaris to play almost anything you throw at it
without the need of installing any codecs. Unlike VLC, Kantaris also has extensive support for music and other audio formats,
these include MP3, WMA, OGG, MIDI, AC3, AAC, MP4 and FLAC.
Size: 8,9 MB
Click here to download the program
Blender v2.46 [8.7M] [Win98/ME/2k/XP/Vista] Free
The Open Source software for 3D modeling, animation, rendering, post-production, interactive creation, and playback.
It is available for all major operating systems under the GNU General Public License.
http://www.blender.org/
eM Client v1.1.2816 [5.11M] [Win98/ME/2k/XP/Vista] Free
Being developed as a light-weight alternative to Outlook. It integrates an enhanced calendaring interface, tasks, and contacts
that users can simply synchronize with any CalDAV server. eM Client fully supports U3 USB smart drives so you can carry it
around as a secured email & calendar client.
http://www.emclient.com/
The Unblock Websites Proxy Program v2.0 [1.29M] [Win2k/XP/Vista] Free
To unblock sites, all you need to do is type the address of the site you wish to visit into the box once the software loads.
The unblock Websites tool acts as an anonymous proxy server by tricking the firewall into thinking that you are visiting some
other unblocked Web site.
http://www.oggledigital.com/unblock_websites_software.html
JAlbum v8 [13.71M] [Win95/98/ME/2k/XP/Vista] Free
Allows you to create nice-looking photo galleries for the Web. You simply select or drag and drop folders containing images or
movie files onto JAlbum, and it creates thumbnails and HTML pages to publish your images as a gallery or as a picture slide show.
http://jalbum.net/
You can find an example of what this program can do for you by looking at the albun I just created.
Baku v6.3060.29494 [545K] [Win2k/XP/Vista] Free
Allows you to search for system registry errors and unneeded files that can be safely removed. Deletes empty folders,
history folder contents, recent documents folder contents, temp folder contents, temporary Internet files, and cookies.
Searches Windows log files, shortcuts to missing files and folders, and user specified file types.
http://pmcc.cidadevirtual.pt/baku/index.html
iPod Backup Wizard
Free
Copy your songs and videos from your iPod to any PC.


OS:

Windows 98/Me/NT/2000/XP/2003 Server/Vista
SUPERAntiSpyware v4.15.0.1000
Free
SUPERAntiSpyware is the most thorough AntiSpyware scanner on the market. Our Multi-Dimensional Scanning and
Process Interrogation Technology will detect spyware that other products miss!
SUPERAntiSpyware will remove ALL the Spyware, NOT just the easy ones!
Click here to download the program
Spyware Terminator 2.2.1.433
Free

Spyware Terminator will scan your computer for known threats and report findings in a manner that is easy to read and interpret.
Every entry is given a rating and a classification, which makes it very easy to decide if a detected item should be removed.
Unlike some free software titles, Spyware Terminator will remove all threats for free.
Click here to download the program
iKnow Image Crop Free Edition Free
This is a simple, fast, easy-to-use image processing program. Now with grayscale filter and text watermarking added.
It supports image formats JPEG, PNG, GIF, and TIFF.
[436K] [Win98/ME/2k/XP/Vista]

HoboCopy (XP version) Free
I watched a neat Flash streaming video on a Web site and wanted to keep it to view offline. I found the file sitting in the temp folder
and tried copying it to another folder. No luck--the error message "File in use" was all I saw. None of my copying tricks worked,
and when I closed the browser tab that was playing the video, the file was automatically deleted. Well, Bill, I outsmarted Windows with HoboCopy,
an obscure, slick utility that uses Volume Shadow Service to copy files (and folders) that are in use. It's a Command-line tool and once you get
the hang of it, easy to use.
Version: 1.0.0
File Size: 474k
Operating Systems: Windows XP
Go to the download page now:
HoboCopy (XP version)


TeamViewer 3.5 Build 4356
Free

Desktop Sharing - Remote Control - Support
TeamViewer establishes connections to any PC all around the world within just a few seconds. You can remote control your partner's PC
as if you were sitting right in front of it. Find out why more than 7.000.000 users trust TeamViewer!
Simple - fast - secure
Click here to download the program
Notepad++ 4.9.2
Free

Notepad++ is a free source code editor and Notepad replacement, which supports several programming languages,
running under the MS Windows environment.
Click here to download the program
DeepBurner Free This CD/DVD burning program is effective, but it's limited to basic tasks.
HoboCopy (2000 and Vista version) Free Copy files that are in use with this clever utility.
Karen's Directory Printer Free
Want to print a list of all your files or folders? I use the free Karen's Directory Printer. It generates folder and sub-folder listings in every way imaginable,
including (or excluding) file size, creation date, and attributes.
Version: 5.2.0.6
File Size: 1291k
Operating Systems: Windows XPGo to the download page now:
Karen's Directory Printer
Google Earth 4.3 Free
Put a planet's worth of imagery and geographic information right on your desktop.
OS:

Windows 2000/XP
Disable Balloon Tips Free
Sick of having Windows treat you like an especially clueness extra from a Nena video? Ditch Balloon tips in XP with Doug Knox's VB script.
Operating Systems: Windows XP
Go to the download page now:
Disable Balloon Tips

Disable Desktop Cleanup Wizard Free
Windows's Desktop Cleanup Wizard is ever-so-annoying. (Hey, Microsoft, I like my old unused shortcuts!) In XP, disable the Wizard with a VB script
from Kelly Theriot. Download this freebie. It's safe, so ignore any security warnings.
Operating Systems: Windows XP
Go to the download page now:
Disable Desktop Cleanup Wizard

Avidemux Free
This is a free video editor designed for simple cutting, filtering and encoding. Tasks can be automated,
and the program supports AVI, DVD-compatible MPEGs, MP4 and ASF using several codecs.
OS: Linux/Windows/Ubuntu/Mac OS X
VirtualBox Free
I've been on the virtual machine bandwagon for a few years now. Installing and testing programs inside a VM keeps my work PC's OS installation safe,
and I don't have to constantly run over to my test bed to check things. How I managed to miss VirtualBox, which Sun recently aquired from Innotek,
is a mystery to me. However, I'm glad I finally found it. VirtualBox is more capable than Microsoft's Virtual PC 2007 in most respects and a bit friendlier
than VMware's free VMware Player and VMware Server--though it proved a hair glitchy with removable media and peripherals at times.
Version: 1.6
File Size: 22353k
Operating Systems: Windows XP, Windows 2000, Macintosh, LinuxGo to the download page now:
VirtualBox

RadWinMan Free
RadWinMan brings to Windows many features and tricks common to Linux window managers, which define how you can control program,
document and other windows. For example, with it you can minimize any window to the system tray, make it partially transparent or cause it
to 'roll up' such that only the title bar remains visible.
Version: 1.5.0.0
File Size: 99k
Operating Systems: Windows XP, Windows 2000, Windows Me, Windows 95, Windows NT, Windows 98
Go to the download page now:
RadWinMan
Hghly Recommended

FREE

Software
avast! Home Edition Free
Why choose a high-priced subscription antivirus program that bogs down your PC while protecting it, when avast! can do it better?
avast! is one of the few free antivirus applications that does as good a job as any of the big boys.
avast! includes more than seven different kinds of shields, safe-surfing tools, and real-time virus protection for your OS, as well as Outlook.
avast! updates automatically and frequently and, avast! works with both Windows Vista and XP.
avast! gives you all this, in the free (Not for commercial use) version. More options are available in the Pro version.
avast! requires a simple on-line registration during or after the 60 day trial period to continue uninterupted updates.
avast! has been my anti-virus program for the past 3 years.
Version: 4.8.1201
Operating Systems: Windows XP, Windows Vista
Go to the download page now:
avast! Home Edition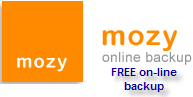 mozy

Free

Safe

Secure

online back-up


I use this every day to keep my important files safe

.

Check out:
Giveaway of the Day

Thanks to ZDNet, PCWorld , Lockergnome.com and many other sources for this nice collection.

You'll find more FreeWare at MySharedFiles

Labels: Baylor, bob3160, clouds, Dallas, Free, freeware, giftoflife, Meadow Lake, MySharedFiles, reunion, Software,
sunset, transplant, weekly