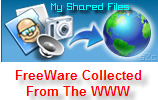 FreeWare 06-27-08
Tab Mix Plus (xpi) Free
Enhances Firefox tab browsing capabilities with features such as duplicating tabs, controlling tab focus,
tab clicking options, undo closed tabs and windows, and has a full-featured session manager with crash recovery
that can save and restore combinations of opened tabs and windows.
OS: Windows 95/98/Me/NT/2000/XP, Firefox 1.0 - 3.0a6
DOWNLOAD THE SOFTWARE
Auslogics Disk Defrag 1.4.16
Free
Disk fragmentation leads to system slowdowns, PC crashes, slow startup and shutdown and sometimes to system failures.
Auslogics Disk Defrag is designed for fast optimization of today's modern hard disks.
Get the maximum performance out of your expensive hardware investments.


Fresh FTP 4.80
Free

Fresh FTP is a software for webmaster to upload or download web files from a remote server. It supports multithreading
for simultaneous transfer, file and directory upload, ability to resume uploads (if the server support it), and much more.
This software is 100% free, no spyware, and updated regularly.
Click here to download the program
Adblock Plus v.0.7.5.5 Free
Adblock Plus automatically blocks pesky online ads in Firefox based on their source URL. You can easily turn it off or tell it to display
ads when you visit certain sites.
Operating Systems: Windows Vista, Windows XP
Go to the download page now:
Adblock Plus
Foxmarks Bookmarks Synchronizer Firefox Extension
Free

An extension that focuses on performing one function exceptionally well, Foxmarks synchronizes your regular Firefox bookmarks between
multiple computers. It has excellent setup options, too.
Operating Systems: Windows Vista, Windows XP, Windows 2000
Go to the download page now:
Foxmarks Bookmarks Synchronizer Firefox Extension
Greasemonkey Free
Fine-tune Firefox with this extension, which lets you add in more scripts for tinkering and tweaking.
Greasemonkey improves just about anything it touches, whether it's adding must-have features to Gmail,
streamlining your social life in Facebook, or speeding up your blog posts The best part? Thousands of Greasemonkey scripts
are freely available for download, and installing them is literally as simple as clicking a single link.
Version: 0.8
Operating Systems: Windows Vista, Windows XP, Windows 2000
Go to the download page now:
Greasemonkey
Easy Thumbnails v3
[1.02M] [Win95/98/ME/2k/XP/Vista]
Free

Create accurate thumbnails and scaled-down/up copies of your pictures with this handy freeware utility. Find and view images easily
and process them individually, in batches, or a whole folder at a time. Handles a wide range of popular image formats.
Use provided tools to rotate images and adjust contrast, brightness, sharpness, and quality. Preview thumbnails, add suffixes or prefixes to name,
and try a range of image-processing techniques.
http://www.fookes.com/ezthumbs/index.php
nCleaner v2.3.4 [872K] [WinXP/Vista] Free
Has the best cleaning ratio on the market due to an advance detection algorithm, also providing security and stability.
With nCleaner you can free up to 2 GB of unnecessary disk space. nCleaner supports and handles all major Internet browsers including
Microsoft Internet Explorer (and all derived browsers like Avast), Mozilla Firefox, Netscape, and Opera.
It also supports and handles all major Instant Messaging applications.
http://www.nkprods.com/ncleaner/
iKnow Image Crop Free Edition v1.0.5 [436K] [Win98/ME/2k/XP/Vista] Free
A simple, fast, easy-to-use image processing program. Now with grayscale filter and text watermarking added.
It supports image formats JPEG, PNG, GIF, and TIFF.
http://globalsoftwaredirect.com/tridentwebsolutions/downloads.html
WOT For Internet Explorer v20080519 [1.6M] [Win2k/XP/Vista] Free
Make your Internet Explorer more secure with the WOT add-on. Keep yourself safe from spyware, adware, spam, viruses, browser exploits,
unreliable online shops, phishing, and other Internet scams. With the free WOT browser add-on, you can easily see the reliability of companies
and Web sites. WOT will warn you and save your computer before you interact with a harmful site.
http://www.mywot.com/
Mojo Gesture v2.2 [6.22M] [Win2k/XP/Vista] Free
Provides free Windows desktop support for mouse gestures, including Internet Explorer 7 and Firefox. Simply draw a symbol with the mouse pointer
as a convenient substitute for common actions, such as: close, maximize, and minimize actions. Mojo features an optional themed control panel:
a floating unobstrusive click-through control panel or clock.
http://www.cityzen451.co.uk/

Convert your video and audio files into various formats. Batch Conversions supported, desktop activity recording.
License: Free
OS: Windows 98/NT/2000/XP/Vista
InternetScrap
Capture the whole Web page to JPEG.
License: Free
OS: Windows 2000/XP/2003 Server/Vista

IE Tab
Embed Internet Explorer in Mozilla Firefox tabs.
License: Free
OS: Windows XP/Vista

Free Internet Window Washer v. 2.1 Free
This free program ensures your privacy by cleaning all your browsing traces, and more, off of your PC. Not only will it clean traces of
Internet activity, but it will also clean traces of application activity as well, such as which files youve recently opened in Microsoft Office
applications. And it works with multiple browsers, including Internet Explorer, Netscape, Firefox, Opera.
File Size: 899k
Operating Systems: Windows XP, Windows 2000, Windows Me, Windows 9.x
Go to the download page now:
Free Internet Window Washer
MPlayer for Windows
Free

This package contains the latest builds of MPlayer for the Windows platform as well as SMPlayer and MPUI.
Thanks to the award-winning MPlayer engine, more than 192 Video- and 85 Audiocodecs are supported natively!
For maximum performance the package includes optimized MPlayer binaries for various CPU types.
Furthermore the Full-Package includes the Binary Codec Package to enable even more audio/video formats.
Everything in one self-contained download :-)
The Light-Package is a stripped-down version of this package, that includes MPUI and the MPlayer binaries only.
TweakVI Basic Free
Bundles lots of different utilities in one to tune and optimize by increasing the speed of your Windows Vista system.
OS: Windows Vista
WildBit Viewer
Free
A compact and fast image viewer with slide show and editor and an eye-catching interface and broad file support.
OS: Windows 98/Me/2000/XP/2003 Server/Vista
Highly Recommended

FREE

Software
avast! Home Edition Free
Why choose a high-priced subscription antivirus program that bogs down your PC while protecting it, when avast! can do it better?
avast! is one of the few free antivirus applications that does as good a job as any of the big boys.
avast! includes more than seven different kinds of shields, safe-surfing tools, and real-time virus protection for your OS, as well as Outlook.
avast! updates automatically and frequently and, avast! works with both Windows Vista and XP.
avast! gives you all this, in the free (Not for commercial use) version. More options are available in the Pro version.
avast! requires a simple on-line registration during or after the 60 day trial period to continue uninterupted updates.
avast! has been my anti-virus program for the past 3 years.
Version: 4.8.1201
Operating Systems: Windows XP, Windows Vista
Go to the download page now:
avast! Home Edition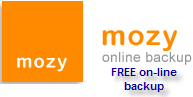 mozy

Free

Safe

Secure

online back-up


I use this every day to keep my important files safe

.

Check out:
Giveaway of the Day

Thanks to ZDNet, PCWorld , Lockergnome.com and many other sources for this nice collection.

You'll find more FreeWare at MySharedFiles

Labels: Baylor, bob3160, clouds, Dallas, Free, freeware, giftoflife, Meadow Lake, MySharedFiles, reunion, Software,
sunset, transplant, weekly