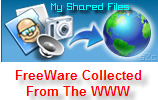 FreeWare 07-04-08

Avidemux v2.4.1 R4090 [11.29M] [Win2k/XP/Vista] Free
A free video editor designed for simple cutting, filtering and encoding tasks. It supports many file types, including AVI,
DVD compatible MPEG files, MP4 and ASF, using a variety of codecs. Tasks can be automated using projects,
job queue and powerful scripting capabilities.
http://www.avidemux.org/
Virtual Hypnotist v5.61 [21.6M] [Win2k/XP/Vista] Free
A free, Open Source, interactive hypnosis program. It includes features such as voice recognition, speech synthesis,
subliminal messages, completely customizable scripts (featuring a unique scripting language), videos, audio, and lots more.
Its purpose is to simulate a real hypnosis session as much as possible.
http://majorgeeks.com/Virtual_Hypnotist_d4623.html
Peter's Flexible Renaming Kit v2.20 [4.59M] [WinVista] Free
Organize your music, pictures, or other types of files easily. Rename files using regular expressions, pre-defined commands,
your own commands, or combinations thereof. The pre-defined renaming commands allow letter case translation and insertion of
counters and parent folder names.
http://www3.telus.net/pfrank/
Google Maps With GPS Tracker v12 [749K] [Win98/2k/XP/Vista] Free
Show your physical position in real-time on a moving Google Map. A small application on your PC uploads your GPS position
periodically over either GPRS or 3G, which updates your position on a moving Google Map. Version 12 contains map updates.
http://tinyurl.com/5hzyxj
RocketDock v1.3.5 [6.16M] [Win98/2k/XP/Vista] Free
A smoothly animated, alpha blended application launcher. It provides a nice clean interface to drop shortcuts on for easy access and organization.
Now with added Taskbar support, your minimized windows can appear as icons on the dock. This allows for better productivity and accessibility.
http://rocketdock.com/
Two Notes 1.66 Free
This application is a handy and easy to use desktop sticky notes program for home and office.
With a very user-friendly interface, Two Notes is a handy and easy to use desktop sticky notes application for office or at home.
Stick notes on your computer desktop as a visual reminder. The notes stick to the desktop and doesn't prevent your working.
With Two Notes program you can change the color of your notes, font, size, signature, style and more.
File Size:263KB Language:English
OS:Win2000/XP/2003/Vista
Click here to download the program

Tiny USB Office 1.2
Free

Tiny USB Office, which replaces the former FloppyOffice package, is an improved version of the small, portable productivity software suite
which offers a collection of unique standalone free software applications. If you find yourself working on different machines and like the idea
of having portable software that you can access hassle-free from any computer, then this is the package for you.
Whether you need to create rich-text word processing documents, share files across multiple computers, transfer files,
create MS Excel compatible spreadsheets, comma-delimited database files, email your contacts, talk to your friends or co-workers on MSN,
create pdf files, or securely encrypt or delete files - this is the perfect software package for you!
Click here to download the program
RecentFilesView 1.09
Free

Each time that you open a file from Windows Explorer or from a standard open/save dialog-box, the name of the file that you opened is recorded
by the operating system. Some of the names are saved into the "Recent" folder. Others are saved into the Registry.
This utility display the list of all recently opened files, and allows you to delete unwanted filename entries. You can also save the files list into text/html/xml file.
File Size:35KB Language:English
OS:Win2000/XP/2003/Vista Date added:June 30,2008
Click here to download the program
WirelessKeyView 1.18
Free

WirelessKeyView enables you to recover the wireless network keys (WEP/WPA) that have been stored by the Windows operating system
(not 3rd party products). It display the key in Hex and Ascii (if available) along with the adapter name and GUID.
The information can be copied to the clipboard or exported to Text/HTML/XML. No installation required.
File Size:40KB Language:English
OS:Win2000/XP/2003/Vista
Click here to download the program
USB Disk Ejector Free
USB Disk Ejector does exactly what it says it does: It quickly ejects USB drives and peripherals. Just double-click the executable file--
or run the program via the command line--and your USB device is promptly disengaged.
Version: 1.1.2
File Size: 466k
License Type: Free
Operating Systems: Windows Vista, Windows XP, Windows 2000

Kodak Easyshare Software v7 Free
Kodak Easyshare seamlessly gets your photos off your camera and organized on your computer with just a few clicks.
Reduce red-eye, create greeting cards, albums, photo-mugs, and order other great photo gifts from the Gallery.
OS: Windows XP/Vista
Advanced WindowsCare Personal
Free
Here's a quick and easy way to juice up system performance--and it's free as well. It has all the basic tools
you'll need for speeding up your system, and is exceedingly easy to use. It even includes a one-click fix
in which the program does an analysis and then fixes any problems it finds. Most useful are the startup manager,
which shows you all the programs that run on startup, and lets you kill any you no longer want to start; a Registry fixer,
that fixes invalid or incorrect Registry entries and values; and a system optimizer, which alters the way Windows runs,
in order to improve performance. There are a slew of other tools as well, such as a spyware remover, junk file cleaner,
and privacy sweeper. And there are also some very good tools for showing details about your hardware and software configuration.
OS: Windows Vista, Windows XP, Windows 2000
Click here to download the program
Google SketchUp
Free
This is a free, easy-to-learn 3D-modeling program which you can use to create 3D models of houses, sheds, decks,
home additions and other projects. You can place your finished models in Google Earth or print them out.
OS: Windows 2000/XP, NET 1.1 framework, 600MHz CPU, 128MB RAM, 80MB disk space, IE 6.0+ or Firefox 1.5+,
OpenGL-compliant video card

Audacity Portable Free
Audacity Portable is the popular Audacity audio editor packaged as a portable app, so you can take your audio files
along with everything you need to edit and record on the go without leaving any information behind.
OS: Windows 98/Me/2000/XP/Vista
WordWeb Free
This thesaurus/dictionary can be used to look up words from almost any program. In addition to displaying sense definitions
and synonyms, WordWeb can find sets of related words, and its database has more than 150,000 root words.
OS: Windows 98/Me/NT/2000/XP/Vista
Flagfox Free
A Firefox extension that will display a country flag in the status bar and show the location of the current Web site's server.
Uses few resources and offers more information with an online Geolocation tool.
OS: Windows 95/98/Me/NT/2000/XP/2003 Server/Vista, Mozilla Firefox 1.5, 2.x, 3.x
Highly Recommended

FREE

Software
avast! Home Edition Free
Why choose a high-priced subscription antivirus program that bogs down your PC while protecting it, when avast! can do it better?
avast! is one of the few free antivirus applications that does as good a job as any of the big boys.
avast! includes more than seven different kinds of shields, safe-surfing tools, and real-time virus protection for your OS, as well as Outlook.
avast! updates automatically and frequently and, avast! works with both Windows Vista and XP.
avast! gives you all this, in the free (Not for commercial use) version. More options are available in the Pro version.
avast! requires a simple on-line registration during or after the 60 day trial period to continue uninterupted updates.
avast! has been my anti-virus program for the past 3 years.
Version: 4.8.1201
Operating Systems: Windows XP, Windows Vista
Go to the download page now:
avast! Home Edition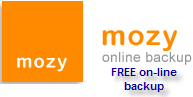 mozy

Free

Safe

Secure

online back-up


I use this every day to keep my important files safe

.

Check out:
Giveaway of the Day

Thanks to ZDNet, PCWorld , Lockergnome.com and many other sources for this nice collection.

You'll find more FreeWare at MySharedFiles

A personal appeal: Please Help Support MySharedFiles. Thank You




Labels: Baylor, bob3160, clouds, Dallas, Free, freeware, giftoflife, Meadow Lake, MySharedFiles, reunion, Software,
sunset, transplant, weekly