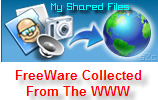 FreeWare 07-11-08
TubeMaster Plus v.1.1.0.2
Free

TubeMaster Plus enables you to browse popular video sharing sites such as YouTube, DailyMotion etc. and download and save
all the media content that you are watching. It suppports FLV, MP3, MP4 and other popular formats and includes a conversion utility
that can convert the captured files to a format of your choice.
File Size:3921KB Language:English
OS:Win2000/XP/2003/Vista
Click here to download the program
HTML Tidy
Free
When editing HTML it's easy to make mistakes. HTML TIDY is a free utility for cleaning up your code.
Tidy is able to fix up a wide range of problems and to bring to your attention things that you need to work on yourself.
PSPad
Free
This is the universal freeware text editor for developers for Microsoft Windows systems.
UNetbootin Free
Install Fedora, Ubuntu, or Debian Linux on Windows or Linux without needing a CD.
OS: Windows 98/2000/XP/Vista
Wubi v8.04
[1.04M] [Win98/2k/XP/Vista]
Free
An unofficial Ubuntu installer for Windows users that will bring you into the Linux world with a single click.
Wubi allows you to install and uninstall Ubuntu Linux as any other application. If you've heard about Linux and Ubuntu
and wanted to try them but you were afraid, this is for you.
http://wubi-installer.org/
TTSReader v1.2 [2.28M] [Win98/2k/XP/Vista] Free
A full-featured, text-to speech software package that allows reading text aloud as well as to wav or mp3 files.
Main Features: Intuitive user interface design; automatic highlighting of currently read text; reading to wav; reading to mp3
with adjustable settings; pronunciation corrections; support for both SAPI4 and SAPI5 voices; support for rich text formatting;
skipping of sentences or paragraphs while reading; auto-reading the clipboard; reading with control tags; global hotkeys;
documentation provided for all features.
http://www.sphenet.com/TTSReader/Download.htm
Kodak Easyshare Software v7 [1.44M] [WinXP/Vista] Free
Organize your photos, express your creativity, and get connected to Kodak Gallery, the online service,
with Kodak Easyshare. Kodak Easyshare seamlessly gets your photos off your camera and organized on your computer with just
a few clicks. Reduce red-eye, create greeting cards, albums, photo-mugs, and order other great photo gifts from the Gallery.
http://tinyurl.com/6fbbnx
Surf Canyon for Firefox v1.1 [20.23K] [WinXP/Vista + Firefox] Free
A tiny browser extension that helps you find relevant information buried in the search results on Google,
Yahoo!, MSN Live Search, or craigslist.
http://www.surfcanyon.com/
Good Timing v1.91 [2.85M] [Win95/98/2k/XP/Vista] Free
An intuitive alarm clock program. It can sound an alarm at a particular time or in a specific amount of time.
Alarms can even be configured to run like stopwatches. All sounds are customizable. Manage your time at work,
track classes and study-time, schedule sleep and exercise, arrange appointments, remind yourself of that potato in the oven,
and time any number of other tasks.
http://grayjet.com/page.php?n=good_timing
TrueCrypt v. 5.1 Free
The best things in life are free, and Truecrypt may be one of them. When you encrypt files on your hard disk,
not only do you want to scramble the files, but sometimes you want to prevent others from discovering that the files even exist,
a sleight-of-hand known as steganography. Not only does Truecrypt use strong encryption when it creates encrypted volumes
(including 256-bit AES and 448-bit Blowfish), it also creates hidden volumes that are indistinguishable from random data.
File Size: 2585k
Operating Systems: Windows XP, Windows 2000
Go to the download page now:
TrueCrypt
UBCD4Win Free
UBCD4Win is a bootable "live" CD which contains software that allows you to repair/restore/diagnostic almost any computer problem.
All software included in UBCD4Win are freeware utilities for Windows. UBCD4Win is based on Bart's PE. Bart's PE builds a
Windows "pre-install" environment CD, basically Windows booted from CD. With network support, the ability to modify NTFS volumes,
recover deleted files, create new NTFS volumes, and scan hard drives for viruses. This project includes almost everything you need to repair
your system problems. Version 3.20 may include unspecified updates, enhancements, and bug fixes.
Note: AVG Antivirus may trigger a false positive trojan alert on this program.
Click here to download the program
Blender (46-windows) Free
Create, animate, and render 3D images with this free, open-source design tool.
OS: Windows 98/Me/2000/XP/Vista
Xobni Free
Quickly find e-mail messages and attachments in your Outlook inbox.
OS: Windows XP/Vista
Registry Cleaner Wizard Free
Scan, clean, fix problems, and optimize your Windows Registry.
OS: Windows 95/98/Me/NT/2000/XP/2003 Server/Vista
Woopra
Almost any Web page has a hit counter, but there's a lot more data available than just a big fat number.
The really useful tidbits, though--where your readers are, what OS they're using, etc.--can be hard for the average blogger
or site owner to find. Woopra ladles on all kinds of data in a clean, easy-to-understand interface--and does it for free.
Version: 1.1.2.2
File Size: 4244k
Operating Systems: Windows Vista, Windows XP, Windows 2000
Go to the download page now:
Click here to download the program
SyncBack Free
Back up, restore, or sync files to drives, servers, or removable media.
OS: Windows 2000/XP/2003 Server
One Click App Killer Free
This is a very small utility that helps you kill your frozen programs with one click.
Just double-click on the program's icon and a target-like cursor will appear.
One click on the stalled program and it's terminated.
OS: Windows 95/98/Me/NT/2000/XP/Vista

Rainbow Folders Free
Rainbow Folders is an easy-to-use and powerful program that allows you to change color of a folder icon
to any color you like. The effect can dramatically increase computer usage speed.
OS: Windows 98/Me/2000/XP/2003 Server/Vista
Highly Recommended

FREE

Software
avast! Home Edition Free
Why choose a high-priced subscription antivirus program that bogs down your PC while protecting it, when avast! can do it better?
avast! is one of the few free antivirus applications that does as good a job as any of the big boys.
avast! includes more than seven different kinds of shields, safe-surfing tools, and real-time virus protection for your OS, as well as Outlook.
avast! updates automatically and frequently and, avast! works with both Windows Vista and XP.
avast! gives you all this, in the free (Not for commercial use) version. More options are available in the Pro version.
avast! requires a simple on-line registration during or after the 60 day trial period to continue uninterupted updates.
avast! has been my anti-virus program for the past 3 years.
Version: 4.8.1201
Operating Systems: Windows XP, Windows Vista
Go to the download page now:
avast! Home Edition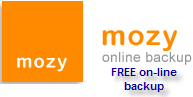 mozy

Free

Safe

Secure

online back-up


I use this every day to keep my important files safe

.

Check out:
Giveaway of the Day

Thanks to ZDNet, PCWorld , Lockergnome.com and many other sources for this nice collection.

You'll find more FreeWare at MySharedFiles

A personal appeal: Please Help Support MySharedFiles. Thank You

Labels: Baylor, bob3160, clouds, Dallas, Free, freeware, giftoflife, Meadow Lake, MySharedFiles, reunion, Software,
sunset, transplant, weekly