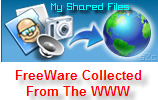 FreeWare 07-18-08
WhoisThisDomain v.1.26
Free

This utility allows you to easily get information about a registered domain. It automatically connect to the right WHOIS server,
according to the top-level domain name, and retrieve the WHOIS record of the domain. It support both generic domains and
country code domains.
OS:Win2000/XP/2003/Vista
Click here to download the program
Open Contacts v.5.30
Free

Open Contacts is an address book program with CRM features providing unified, flexible and intuitive interfaces for you to manage
and lookup contact info of individuals and organizations. It displays only data fields with data. You can seamlessly customize what can
be stored in your address book.
File Size:4758KB Language:English
OS:Win2000/XP/2003/Vista
Click here to download the program
USBDeview v.1.25
Free

USBDeview is a small utility that lists all USB devices that are currently connected to your computer, as well as all USB devices that
you previously used. For each USB device, exteneded information is displayed: Device name/description, device type, serial number
(for mass storage devices), the date/time that device was added, VendorID, ProductID, and more...
USBDeview also allows you to uninstall USB devices that you previously used, and disconnect USB devices that are currently
connected to your computer.
You can also use USBDeview on a remote computer, as long as you login to that computer with admin user.
USBDeview doesn't require any installation process or additional DLL files. Just copy the executable file (USBDeview.exe) to any folder you like,
and run it. The main window of USBDeview will display all USB devices installed on your computer. You can select one or more items,
and then disconnect (unplug) them , uninstall them, or just save the information into text/xml/html file.
File Size:49KB Language:English
OS:Win2000/XP/2003/Vista
Click here to download the program
RegScanner v.1.70
Free

RegScanner is a small utility that allows you to scan the Registry, find the desired Registry values that match to the specified search criteria,
and display them in one list. After finding the Registry values, you can easily jump to the right value in RegEdit, simply by double-clicking the
desired Registry item. You can also export the found Registry values into a .reg file that can be used in RegEdit.
File Size:48KB Language:English
OS:Win2000/XP/2003
Click here to download the program
JavaRa v.1.09
Free
JavaRa is a simple tool that does a simple job: it removes old and redundant versions of the Java Runtime Environment (JRE).
File Size:34KB Language:English
OS:Win2000/XP/2003/Vista
Click here to download the program
VLC media player v.0.8.6i
Free

VLC media player is a highly portable multimedia player for various audio and video formats (MPEG-1, MPEG-2, MPEG-4, DivX, mp3, ogg, ...)
as well as DVDs, VCDs, and various streaming protocols.
It can also be used as a server to stream in unicast or multicast in IPv4 or IPv6 on a high-bandwidth network.
It doesn't need any external codec or program to work.
Fize Size:9064KB Language:English
OS:Win all
Click here to download the program
AVI Info Tooltip v.1.11
Free

Its a little utility that was inspired by the limited nature of the avi info utilities available on the web. This particular utility is a windows explorer shell extension
that displays an info tooltip, with some of the most useful avi properties, when you move your mouse over an avi file.
Size: 497 KB
Click here to download the program
GoNaomi - Dictionary v1.69 [21.31M] [Win98/ME/NT/2k/XP/Vista] Free
A free computer dictionary that currently consists of about 30 different dictionaries containing, altogether, about 850,000 words.
http://gonaomi.com/
Smart NTFS Recovery
Free
Smart NTFS Recovery is a data recovery tool for Windows operating system!
Advanced LAN Scanner
v. 1.0
Free
If you're a techie and have more than one PC at work or home on a network sharing a single Internet connection,
you'll welcome this freebie, which offers surprisingly powerful scanning capabilities. Use it for everything from troubleshooting Internet connections,
to network configuration, to making sure your PCs are as safe as possible when they're on the Internet.File Size: 561k
Operating Systems: Windows XP, Windows 2000, Windows Me, Windows 98
Go to the download page now:
Advanced LAN Scanner
Microsoft SharedView
Free
Microsoft SharedView lets you start a screen sharing session with anyone (as long as they also have SharedView installed).
To share your screen in SharedView, you launch the application, click Start a new session, copy the invitation text and paste it into an e-mail
to your recipient. They then join your session by either clicking the link in the e-mail or launching SharedView on their PC and entering the
session name and password.
File Size: 3305k
Operating Systems: Windows Vista
Go to the download page now:
Microsoft SharedView
Highly Recommended

FREE

Software
avast! Home Edition Free
Why choose a high-priced subscription antivirus program that bogs down your PC while protecting it, when avast! can do it better?
avast! is one of the few free antivirus applications that does as good a job as any of the big boys.
avast! includes more than seven different kinds of shields, safe-surfing tools, and real-time virus protection for your OS, as well as Outlook.
avast! updates automatically and frequently and, avast! works with both Windows Vista and XP.
avast! gives you all this, in the free (Not for commercial use) version. More options are available in the Pro version.
avast! requires a simple on-line registration during or after the 60 day trial period to continue uninterupted updates.
avast! has been my anti-virus program for the past 3 years.
Version: 4.8.1201
Operating Systems: Windows XP, Windows Vista
Go to the download page now:
avast! Home Edition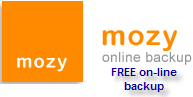 mozy

Free

Safe

Secure

online back-up


I use this every day to keep my important files safe

.


Vista Recovery Discs
Recover data from a damaged Vista system with this little-known Microsoft utility.

Check out:
Giveaway of the Day

Thanks to ZDNet, PCWorld , Lockergnome.com and many other sources for this nice collection.

You'll find more FreeWare at MySharedFiles

A personal appeal: Please Click here to Help Support MySharedFiles. Thank You

Labels: Baylor, bob3160, clouds, Dallas, Free, freeware, giftoflife, Meadow Lake, MySharedFiles, reunion, Software,
sunset, transplant, weekly