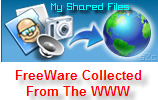 FreeWare 07-25-08
CatTools_3.3.11
Free

CatTools is a software application used by network administrators to automate many of the tasks they perform on a daily basis.
CatTools is freeware for up to 5 devices
Click here to download the program
VSO Image Resizer 2.0.1.9
Free

With this free resize image software, you can create e-mail friendly versions of your images, load them faster,
move them easily from folder to folder, change their format, edit large numbers of image files/batch image resize and thus
save space on your hard drive.
VSO Image resizer is integrated into the Windows explorer shell, right click on your pictures and start working on your pictures !
File Size:4977KB Language:Multilingual
OS:Win2000/XP/2003/Vista
Click here to download the program
TVUPlayer v.2.3.7.1
Free

This is a free program that enables viewers to watch high quality live television programs around the world.
File Size:5006KB Language:English
OS:Win2000/XP/2003
Click here to download the program
Glarysoft Registry Repair 2.9
Free

Registry Repair is one of the safest Registry cleaning tools available in the market today. Its scanning engine is fast, thorough and safe.
With a few easy steps, you are able to find problems caused by invalid entries, references and links in the Windows registry and provides
a list of the errors found, you can then choose to selectively repair each item or automatically repair them all.
Click here to download the program
Auslogics Registry Defrag 4.1.12.105
Free

Auslogics Registry Defrag is an extremely useful program to keep your registry as compact as possible.
As a result of keeping the registry defragmented and as small as possible, your computer performance will be much improved.
System Optimization
Size: 1.89 MB
Requires: Win 2K/03/XP/Vista
Click here to download the program
Wise Registry Cleaner 3.6.2
Free

Wise Registry Cleaner is a free and one of the safest Registry cleaning tools available in the market today.
Its scanning engine is thorough, safe and fast. Wise Registry Cleaner scans the Windows registry and finds incorrect or obsolete information
in the registry. By fixing these obsolete information in Windows registry, your system will can work better and more quickly.
After Wise Registry Cleaner analyzes your system for problems, you can individually view each of the problems found and call up a detailed description.
If you wish, you can also have all problems corrected automatically. All changes to your system are monitored by Wise Registry Cleaner
and can be undone with a few mouse clicks.
Click here to download the program
Free Image Hosting Services
Free

Here are 7 reliable servers. Better than attaching large images to your emails: put your pictures and icons and smileys on a free image hosting service
once and include them inline in your messages quickly as often as you want.
Make sure you don't upload images you want to keep private, of course!
Free
Internet Eraser
v. 2.5
Free Internet Eraser is a simple-to-use freebie that safeguards your privacy by erasing traces of your Windows surfing and more.
It deletes your Internet Explorer browser history, cache files, cookies, Address Bar history, and more. In addition, it cleans out traces
left behind by other programs, such as Wordpad, and Windows Media Player.
File Size: 901k
Operating Systems: Windows Vista, Windows XP, Windows 2000, Windows Me, Windows NT, Windows 98
Go to the download page now:
Free Internet Eraser
Privacy Mantra v.2.05
Free

Privacy Mantra keeps your computer clean from online and offline tracks.
Click here to download the program
Sumatra PDF
v. 0.8.1
Free
Adobe Reader is a bloated, buggy piece of software that's far more trouble than it's worth. With the free Sumatra PDF,
you can throw it away forever. Unlike Adobe Reader, it's slim and takes up very little RAM and few system resources.
It doesn't "phone home" in search of updates. And it most likely won't crash your system.
What it will do is load PDF files very, very quickly. And it won't cost you a penny.
File Size: 1160k
Operating Systems: Windows Vista, Windows XP
Go to the download page now:
Sumatra PDF
Flock Browser Free
Connect with friends, share with them, and receive updates with this award-winning browser.
OS: Windows 2000/XP/Vista
Undercoverxp Version 1.19
Free

UndercoverXP is a small program to easily print CD and DVD covers. It supports JPEG, GIF, PNG and BMP formats and can
automatically scale front covers, back covers, front + inside, inlays, DVD Boxes, Digital Pictures and CD/DVD labels to the correct sizes.
Click here to download the program
Highly Recommended

FREE

Software
avast! Home Edition Free
Why choose a high-priced subscription antivirus program that bogs down your PC while protecting it, when avast! can do it better?
avast! is one of the few free antivirus applications that does as good a job as any of the big boys.
avast! includes more than seven different kinds of shields, safe-surfing tools, and real-time virus protection for your OS, as well as Outlook.
avast! updates automatically and frequently and, avast! works with both Windows Vista and XP.
avast! gives you all this, in the free (Not for commercial use) version. More options are available in the Pro version.
avast! requires a simple on-line registration during or after the 60 day trial period to continue uninterupted updates.
avast! has been my anti-virus program for the past 3 years.
Version: 4.8.1229
Operating Systems: Windows XP, Windows Vista
Go to the download page now:
avast! Home Edition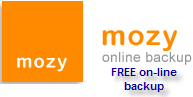 mozy

Free

Safe

Secure

online back-up


I use this every day to keep my important files safe

.


Vista Recovery Discs
Recover data from a damaged Vista system with this little-known Microsoft utility.

Check out:
Giveaway of the Day

Thanks to ZDNet, PCWorld , Lockergnome.com and many other sources for this nice collection.

You'll find more FreeWare at MySharedFiles

A personal appeal: Please Click here to Help Support MySharedFiles. Thank You

Labels: Baylor, bob3160, clouds, Dallas, Free, freeware, giftoflife, Meadow Lake, MySharedFiles, reunion, Software,
sunset, transplant, weekly