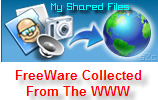 FreeWare 08-01-08
GoNaomi - Dictionary v1.69
Free
This is a free computer dictionary that currently consists of about 30 different dictionaries containing, altogether,
about 850,000 words.
[21.31M] [Win98/ME/NT/2k/XP/Vista]
HWiNFO32 v2.20-54 [1.92M] [Win95/98/ME/NT/2k/XP/Vista] Free
A professional hardware information and diagnostic tool supporting latest components, industry technologies,
and standards. Its target is to recognize and extract the most possible amount of information about computer's hardware,
which makes it suitable for users searching for driver updates, computer manufacturers, and system integrators.
http://www.hwinfo.com/
Songbird v0.6.1 [14.25M] [Win2k/XP/Vista] Free
A media browser and Web player built from Firefox, VLC Player, and SQLite. Songbird is open source and supports user contributed,
cross-platform extensions. Version 0.6 adds better support for large libraries, smoother scrolling through libraries, faster filtering,
speedier search, improvement memory managment, and new features like metadata writing, better MTPSync support,
and the ability to find text on Web pages.
http://addons.songbirdnest.com/
KeyScrambler Personal v2.2.0 [1.09M] [Win2k/XP/Vista] Free
A free plug-in for IE, Firefox, or Flock Web browser that protects everything you type. It defeats keyloggers
by encrypting at the keyboard driver level, deep within the operating system. When the encrypted keystrokes reach your browser,
KeyScrambler decrypts them so you see exactly what you've typed. Keyloggers can record only the encrypted keys,
which KeyScrambler has made indecipherable.
http://www.qfxsoftware.com/
Jing Project v1.6.8198 [4.87M] [WinXP/Vista] Free
Always ready when you need to capture a quick image or record a screencast. The goal is simplicity, and you can share your content
to your local hard drive, an FTP server, a network drive, Screencast.com, embedded on your blog, copy an image to your clipboard,
or upload it directly to your Flickr account.
http://www.jingproject.com/
UltraExplorer
Free

It takes a certain degree of egotism to name your product "Ultra" anything. Given the many powerful File Explorer replacements out there,
can UltraExplorer exceed them? UltraExplorer has all the boilerplate features one expects from a File Explorer style program.
It has a tabbed browser, a two-pane viewing option, a file viewer which can show image, PDF, and multimedia files in-line,
and lots and lots of toolbars. UltraExplorer exists in part to show off the developer's line of components for Delphi--if you are a developer
and like what you see, you can incorporate these pieces in your own applications. Those are the expected features.
UltraExplorer has a few nice perks, as well.
-
Version: 1.5.0.3
File Size: 3004k
Operating Systems: Windows Vista, Windows XP, Windows 2000, Windows Me, Windows NT, Windows 9.x
Go to the download page now:
UltraExplorer
PhraseExpress 5.1.34
Free

No more typing common phrases again!
Autotext clipboard utilityPhraseExpress organizes your frequently used text snippets:
* Expand abbreviations and common phrases as you type.
* Launch applications by entering text shortcuts.
* Autocomplete phrases with the predictive text feature.
* Quickly handle email responses.
* Works in any Windows program.
Click here to download the program
Pictomio Free
It's not often that you see "Shader Model 2.0 capable (hardware DirectX 9) GPU" on the list of a program's system requirements,
but that's the case with Pictomio. Once you see how it displays your photos, you'll understand why. Pictomio not only gives you more
attractive versions of the thumbnail and filmstrip views you that you get with competitor Picasa, it provides the carousel-style display made
popular by Mac OS X Leopard. That's a slideshow effect that makes photos zoom/rotate into and out of view as if they were a child on a carousel.
It's very, very slick looking, yet somehow, quite human.
Version: 1.0.15
File Size: 6459k
Operating Systems: Windows Vista, Windows XP
Click here to download the program
Xobni Beta
Free
Xobni is a free add-on--currently in public beta--for Microsoft Outlook. The reason behind the backwards name:
This useful tool allows you to look at your e-mail inbox from a whole new perspective. The add-on improves management of messages and contacts,
one of Outlook's biggest shortcomings. It provides functionality that Outlook should deliver natively, and does so without affecting the e-mail
client's performance.
Version: Beta 4024
File Size: 3214k
Operating Systems: Windows Vista, Windows XP
Click here to download the program
Shrink Pic 1.5
Free

If you've been using Shrink Pic with Windows XP and couldn't use it Vista Mail - this update is for you. It took a bit of tweaking,
but we finally got it working.
Vista Mail is now supported just like any other email client. Shrink Pic just needs to run in the background and attached images are
compressed.
And, we got lots of requests about controlling the compression level for attached photos - so that's included too!
In the setting window, you'll find a new field called 'JPEG quality'. You can enter numbers between 0 and 100, 0 meaning lowest (terrible) quality
and 100 meaning best quality. Of course, with quality comes size, so higher quality photos will mean larger attachments.
The default value 85 gives a good trade-off between size and quality.
You can grab the new version from our download page:
http://www.onthegosoft.com/download.htm
EncryptOnClick
Free

This is a simple program that allows you to encrypt and decrypt files with one click.
It features military grade 256-bit AES encryption and compresses files simultaneously.
OS: Windows 98/Me/2000/XP/2003 Server


MakeInstantPlayer
Free
This is a tool that allows you to convert your videos to self-running executable files.
OS: Windows 95/98/Me/NT/2000/XP/2003 Server/Vista


Jing Project
Free
Capture a quick image or record a screencast and share it on Screencast.com. From the makers of SnagIt.
Highly Recommended

FREE

Software
avast! Home Edition Free
Why choose a high-priced subscription antivirus program that bogs down your PC while protecting it, when avast! can do it better?
avast! is one of the few free antivirus applications that does as good a job as any of the big boys.
avast! includes more than seven different kinds of shields, safe-surfing tools, and real-time virus protection for your OS, as well as Outlook.
avast! updates automatically and frequently and, avast! works with both Windows Vista and XP.
avast! gives you all this, in the free (Not for commercial use) version. More options are available in the Pro version.
avast! requires a simple on-line registration during or after the 60 day trial period to continue uninterupted updates.
avast! has been my anti-virus program for the past 3 years.
Version: 4.8.1229
Operating Systems: Windows XP, Windows Vista
Go to the download page now:
avast! Home Edition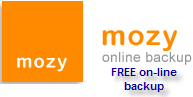 mozy

Free

Safe

Secure

online back-up


I use this every day to keep my important files safe

.


Vista Recovery Discs
Recover data from a damaged Vista system with this little-known Microsoft utility.

Check out:
Giveaway of the Day

Thanks to ZDNet, PCWorld , Lockergnome.com and many other sources for this nice collection.

You'll find more FreeWare at MySharedFiles

A personal appeal: Please Click here to Help Support MySharedFiles. Thank You

Labels: Baylor, bob3160, clouds, Dallas, Free, freeware, giftoflife, Meadow Lake, MySharedFiles, reunion, Software,
sunset, transplant, weekly