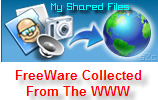 FreeWare 08-15-08
Click here to Help Support MySharedFiles
Virus-Evaluator Free
Detect and remove viruses, spyware, and other malicious malware on your computer.
OS: Windows 98/Me/NT/2000/XP/2003 Server/Vista

Speed Test Pro Free
Monitor and test your system speed.
OS: Windows 95/98/Me/NT/2000/XP/2003 Server/Vista
DVDSmith Movie Backup
Free

Copy your favorite DVD movies onto your PC easily.
OS: Windows 2000/XP/2003 Server/Vista
Show Stopper v. 2.1.0.3
Show Stopper gives you eight ways to shut down your PC, including Suspend, Hibernate, Restart, Power Off,
and if you're not concerned about closing apps, Force. The tool also has a way for you to schedule events,
such as a reboot or shutdown, or launch another program at a specified time.File Size: 768k
OS: Windows Vista, Windows XP, Windows 2000, Windows Me, Windows NT, Windows 9.x
Click here to download the program
Multiple Find And Replace Free
Find and replace batches of files.
OS: Windows 95/98/Me/NT/2000/XP/2003 Server/Vista
Free Registry Defrag
Free
Defrag the Windows Registry and improve system performance.
OS: Windows 95/98/Me/NT/2000/XP/2003 Server/Vista


Tiny USB Office 1.3
Free
Tiny USB Office features all of these programs, which are accessible with one click
with the included Qsel portable program launcher software:
Database Creation - with CSVed
Data Encryption - with DScrypt
Email Client Software - with NPopUK
File Compression - with 100 Zipper
File Sharing - with HFS
File Transfer - with FTP Wanderer
Flowchart Creation - with EVE Vector Editor
MSN Messenger Client - with PixaMSN
Tree-Style Outliner Software - with Mempad
PDF Creation - with PDF Producer
Password Recovery - with XPass
Secure Deletion - with DSdel
Spreadsheet Creation - with Spread32
Text Editing - with TedNotepad
Word Processing - with Kpad
Program Launching - with Qsel
File Size:2850KB Language:English
OS:Win2000/XP/2003/Vista
Click here to download the program
Spyware Terminator with Antivirus
Free

This is a free program that combines real-time antispyware and antivirus protection in one package.
OS: Windows 2000/XP/Vista

PDF H
elper
Free
This is a freeware running on your local PC. It splits or merges hundreds PDF pages in seconds.
OS: Windows 2000/XP/2003 Server/Vista

LogMeIn Free
Free
offers free remote access that's secure and easy to use to give you full control of your home or work PC from anywhere.
OS: Windows 2000/XP/2003 Server/Vista


Sqirlz Morph
Free
This grahics utility allows you to mark features on several images, and the program mixes the images so that each feature
on one image moves smoothly to the corresponding feature on the other images - a technique widely used in the film industry.


F-Secure Blacklight Rootkit Eliminator
Free
One of the more esoteric but dangerous pieces of malware that might infect you is a rootkit. This software uses tricky techniques
to shield itself from many anti-spyware, anti-malware, and anti-virus programs. A rootkit hides deep in your system,
and allows someone to take complete control of your PC without your knowledge. Rootkits typically are spread online in a variety of ways,
such as riding along on another download. So you'd do well to download, install, and use F-Secure Blacklight Rootkit Eliminator,
a freebie designed to do one thing, and one thing alone: detect and kill rootkits. The program looks inside your PC's folders, files,
and hidden processes, looking for signs that you've been infected with a rootkit. It then tells you whether your system is rootkit-free,
or possibly infected. It lists every possible sign of infection.
File Size: 1000k
Go to the download page now:
Click here to download the program
2 Pic v. 12.2.2
Free
This is a graphical program that you can use to edit your images (like photographs and drawings).
There are already several famous programs that you can use for this, like PaintShop Pro, PhotoShop and Picture Publisher.
Why should you use 2 Pic instead? Because 2 Pic is much easier to use.
Highly Recommended

FREE

Software
avast! Home Edition Free
Why choose a high-priced subscription antivirus program that bogs down your PC while protecting it, when avast! can do it better?
avast! is one of the few free antivirus applications that does as good a job as any of the big boys.
avast! includes more than seven different kinds of shields, safe-surfing tools, and real-time virus protection for your OS, as well as Outlook.
avast! updates automatically and frequently and, avast! works with both Windows Vista and XP.
avast! gives you all this, in the free (Not for commercial use) version. More options are available in the Pro version.
avast! requires a simple on-line registration during or after the 60 day trial period to continue uninterupted updates.
avast! has been my anti-virus program for the past 3 years.
Version: 4.8.1229
Operating Systems: Windows XP, Windows Vista
Go to the download page now:
avast! Home Edition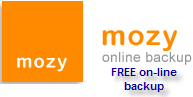 mozy

Free

Safe

Secure

online back-up


I use this every day to keep my important files safe

.


Vista Recovery Discs
Recover data from a damaged Vista system with this little-known Microsoft utility.

Check out:
Giveaway of the Day

Thanks to ZDNet, PCWorld , Lockergnome.com and many other sources for this nice collection.

You'll find more FreeWare at MySharedFiles

A personal appeal: Please Click here to Help Support MySharedFiles. Thank You

Labels: Baylor, bob3160, clouds, Dallas, Free, freeware, giftoflife, Meadow Lake, MySharedFiles, reunion, Software,
sunset, transplant, weekly