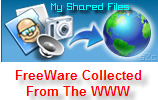 FreeWare 08-22-08
Click here to Help Support MySharedFiles
PasswordFox 1.00 Free
PasswordFox is a small password recovery tool that allows you to view the user names and passwords stored by
Mozilla Firefox Web browser. By default, PasswordFox displays the passwords stored in your current profile,
but you can easily select to watch the passwords of any other Firefox profile. For each password entry,
the following information is displayed: Record Index, Web Site, User Name, Password, User Name Field,
Password Field, and the Signons filename.
System Requirements: This utility works under Windows 2000, Windows XP, Windows Server 2003,
and Windows Vista. Firefox should also be installed on your system in order to use this utility.
Shaplus Bandwidth Meter 1.2 Free
ShaPlus Bandwidth Meter remains in tray and displays the approximate bandwidth consumed for the session,
day and month. This will be useful for people with limited bandwidth/month.
Features:
* Option to make meter always visible.
* Transparency of meter can be adjusted.
* Option to exclude bandwidth during certain period of day.
* Shortcuts to enable/disable flash and images in Internet Explorer
LockCrypt 1.72 Free
A free account management application written in Java
LockCrypt is an easy to use account management software written in Java. LockCrypt will aim to provide a secure,
central database to store difficult to remember passwords and other personal information.
Folder Guide 1.2 Free
Folder Guide is a free handy application that will provide fast access to your frequently used and favorite directories.
It can operate as the part of your context menu in your Windows Explorer.
Click here to download the program
Pitaschio v2.25 [60K] [Win2k/XP/Vista] [Free]
Freeware designed to give you more control over the use of Microsoft Windows. Whether you want to use smaller icons,
snap a window to another for ease of access, or disable your keyboard while you're cleaning, Pitaschio can do these simple
but useful tasks and more!
http://pitaschio.ara3.net/
Easy Picture2Icon v2.5 [353K] [Win98/ME/2k/XP/Vista] [Free]
A tool for converting images or digital photos into Windows icons. Easy Picture2Icon makes it possible to use any graphical editor
to produce icons because it has the ability to convert digital pictures in the formats BMP, GIF, JPEG, JPG, and PNG to
Windows icons (ICO).
http://www.picture2icon.com/
MuralPix v1.07 [3879K] [Win98/ME/2k/XP/Vista] [Free]
A program that automatically creates Windows wallpapers (background images) from selected JPEG images and changes
them in specified period of time.
http://muralpix.learsy.com/
OutWit Hub v0.80 Beta [970K] [Win2k/XP/Vista + Firefox] [Free]
A Firefox extension that strives to make it easy for people to gather "data elements, documents or media from virtually any public
(and legal) source of content" from the Web.
http://www.outwit.com/
Xfire v1.96 Build 33659 [5.13M] [Win95/98/ME/2k/XP/Vista] [Free]
Allows you to see when your friends are online, what games they're playing, and what servers they're on. Join
in on their games with one click.
http://www.xfire.com/
Defraggler 1.02.085 - Final Free
Defraggler is a free file defragmentation tool from Piriform, the company that brought you CCleaner and Recuva.
It differs from other defrag tools on the market, by enabling you to quickly and simply defrag the files you want to,
without having to process the whole drive. Simply run it, select the file and defragment in seconds.
No more struggling with the Windows defragmentation tool!
Click here to download the program
Weezo 1.1.1 Free
Turn your computer into a secure Web server, enabling you to access your PC for personal use, and share your content.
OS: Windows 98/Me/NT/2000/XP/2003 Server/Vista
RegToy 0.7.2 Free
Optimize and customize your Windows XP system.
OS: Windows XP/Vista
CPU-Z Free
System Resources Tune-Up.
Learn everything about your CPU with this utility.
WinBubble Free
Tweak Windows Vista in many different ways.
Performance Monitor Free
Monitor your CPU, RAM, disk and network use.
Paint.NET
or the
GIMP
, but this powerful and free image editor certainly has a major fan base of its own.
Tree-style navigation provides solid photo album-management features.
File size:
4.87MB
Minimum requirements:
Windows 98/Me/NT/2000/XP/2003 Server/Vista
Click here to download the program
Highly Recommended

FREE

Software
avast! Home Edition Free
Why choose a high-priced subscription antivirus program that bogs down your PC while protecting it, when avast! can do it better?
avast! is one of the few free antivirus applications that does as good a job as any of the big boys.
avast! includes more than seven different kinds of shields, safe-surfing tools, and real-time virus protection for your OS, as well as Outlook.
avast! updates automatically and frequently and, avast! works with both Windows Vista and XP.
avast! gives you all this, in the free (Not for commercial use) version. More options are available in the Pro version.
avast! requires a simple on-line registration during or after the 60 day trial period to continue uninterupted updates.
avast! has been my anti-virus program for the past 3 years.
Version: 4.8.1229
Operating Systems: Windows XP, Windows Vista
Go to the download page now:
avast! Home Edition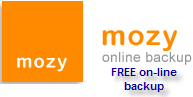 mozy

Free

Safe

Secure

online back-up


I use this every day to keep my important files safe

.


Vista Recovery Discs
Recover data from a damaged Vista system with this little-known Microsoft utility.

Check out:
Giveaway of the Day

Thanks to ZDNet, PCWorld , Lockergnome.com and many other sources for this nice collection.

You'll find more FreeWare at MySharedFiles

A personal appeal: Please Click here to Help Support MySharedFiles. Thank You

Labels: Baylor, bob3160, clouds, Dallas, Free, freeware, giftoflife, Meadow Lake, MySharedFiles, reunion, Software,
sunset, transplant, weekly