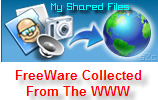 FreeWare 08-29-08
Click here to Help Support MySharedFiles
Freebie Notes 3.21
Free
Freebie Notes (formerly Free Notes) is a great little program for users who just want sticky notes with an alarm timer.
With Freebie Notes you can create notes displaying on your desktop. Your notes can be displayed immediately after creation
or in the certain moments of time. You can create notes of custom sizes and colors and set different types for your notes.
Click here to download the program
Process Lasso
Free

Process Lasso is a unique new technology intended to automatically adjust the allocation of CPU cycles
so that system responsiveness is improved in high-load situations. It does this by temporarily lowering the priorities
of processes that are consuming too many CPU cycles, there-by giving other processes a chance to run if they are in need.
This process priority optimization is useful for both single and multi-core processors.
No longer will a single process be able to bring your system to a virtual stall.
Free Internet Window Washer
v 2.1
Free

Worried that Web sites are snooping on your Internet activities, or that someone else who uses your PC can see where you've been
and what you've done? If so, you need an Internet washer of some kind, a tool that will delete your Internet Explorer browsing history,
recently typed URLs, autocomplete history, and so on. That's what Free Internet Window Washer does --- for free. Click Wash Settings,
then click Browsers, and select what you want the program to clean. Back on the main screen, click Wash Now and the program cleans
everything you've asked it to. If you prefer, click Test Now, and you can instead see a preview of what the program will do.
In addition to cleaning Internet Explorer, Free Internet Window Washer also cleans traces from instant messengers,
including AIM, ICQ, Skype, Yahoo! Messenger, and MSN Messenger. And it cleans traces from a wide variety of other programs as well,
including Microsoft Office and Adobe Acrobat.File Size: 890k
OS: Windows Vista, Windows Server 2003, Windows XP, Windows 2000, Windows Me, Windows NTGo to the download page now:
Click here to download the program
FotoTagger
v. 2.12
Free

FotoTagger is a free tool for annotating JPEG images. Add easy-to-hide searchable notes pointing to individual elements on the image.
Upload individual images, whole folders or selected photos to Flickr and download them back to FotoTagger. Publish to blogs.
Create Web slide shows from folders with annotated images or manually selected images. Edit images in external editors without
losing annotations. Organize images directly from FotoTagger

OS: Windows XP, Windows 2000
Click here to download the program
save2pc 3.34
Free

save2pc, formerly YouTube Downloader, is a free tool that downloads videos from Youtube or Google Video
and saves it as Avi or Mpeg or Flv file to your local computer.
Click here to download the program
JkDefrag 3.35
Free

Free (released under the GNU General Public License) disk defragment and optimize utility for Windows 2000/2003/XP/Vista/X64.
Completely automatic and very easy to use, fast, low overhead, with two optimization strategies, and can handle floppies and USB disks/sticks.
Included are a Windows version, a commandline version (for scheduling by the task scheduler or for use from administrator scripts),
a screensaver version, a DLL library (for use from programming languages), and versions for Windows X64.
Floola
v 3.3
Free

Lightweight and full-featured, Floola is a comprehensive

replacement for Apple's iTunes software

,
capable of performing virtually all of the functions of the official management utility. The program, with versions available for Windows,
Linux, and the Mac OS, can even run from a thumbdrive or the iPod itself--it doesn't require any installation

File Size: 6283k

OS: Windows Vista, Windows XP, Windows 2000, Windows Me, Windows 98
Click here to download the program
Highly Recommended

FREE

Software
avast! Home Edition Free
Why choose a high-priced subscription antivirus program that bogs down your PC while protecting it, when avast! can do it better?
avast! is one of the few free antivirus applications that does as good a job as any of the big boys.
avast! includes more than seven different kinds of shields, safe-surfing tools, and real-time virus protection for your OS, as well as Outlook.
avast! updates automatically and frequently and, avast! works with both Windows Vista and XP.
avast! gives you all this, in the free (Not for commercial use) version. More options are available in the Pro version.
avast! requires a simple on-line registration during or after the 60 day trial period to continue uninterupted updates.
avast! has been my anti-virus program for the past 3 years.
Version: 4.8.1229
Operating Systems: Windows XP, Windows Vista
Go to the download page now:
avast! Home Edition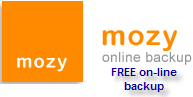 mozy

Free

Safe

Secure

online back-up


I use this every day to keep my important files safe

.


Vista Recovery Discs
Recover data from a damaged Vista system with this little-known Microsoft utility.

Check out:
Giveaway of the Day

Thanks to ZDNet, PCWorld , Lockergnome.com and many other sources for this nice collection.

You'll find more FreeWare at MySharedFiles

A personal appeal: Please Click here to Help Support MySharedFiles. Thank You

Labels: Baylor, bob3160, clouds, Dallas, Free, freeware, giftoflife, Meadow Lake, MySharedFiles, reunion, Software,
sunset, transplant, weekly