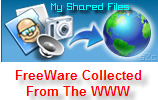 FreeWare 09-12-08
Click here to Help Support MySharedFiles
SpeedFan 4.36 Beta 10
Free

SpeedFan is a program that monitors voltages, fan speeds and temperatures in computers with hardware monitor chips.
SpeedFan can even access S.M.A.R.T. info for those hard disks that support this feature and show hard disk temperatures too,
if supported. SpeedFan supports SCSI disks too.
Click here to download the program
Desktop Media 1.7
Free

Desktop Media is small application for Windows (any flavor) that automatically adds drive icons to your desktop.
It will detect USB drives, fixed drives (ie. your hard drives), CD/DVD drives, network drives, and even RAM disk drives.
For removable media (such as USB drives and CD/DVD drives), it will only add the drive to your desktop if it is present.
So if you have a CD/DVD drive, but no disc is present, you won't see the icon on your desktop.

Revo Uninstaller Portable Free
What's better than the free Revo Uninstaller? The portable version, which doesnt need to be installed (and thus uninstalled) itself.
Like Vistas Programs and Features, Revo offers a convenient interface for launching your installed programs own uninstallers.
But after Revo does that job, it cleans up the mess that the uninstaller left behind.
File Size: 1686k
OS: Windows Vista, Windows XP, Windows 2000
Click here to download the program

Rootkit Revealer 1.71
Free

RootkitRevealer is an advanced root kit detection utility. It output lists Registry and file system API discrepancies that may indicate
the presence of a user-mode or kernel-mode rootkit. RootkitRevealer successfully detects all persistent rootkits published at:

www.rootkit.com,
including AFX, Vanquish and HackerDefender (note: RootkitRevealer is not intended to detect rootkits like
Fu that don't attempt to hide their files or registry keys).

Click here to download the program
SpywareBlaster 4.1
Free

Spyware, adware, browser hijackers, and dialers are some of the fastest-growing threats on the Internet today.
By simply browsing to a web page, you could find your computer to be the brand-new host of one of these unwanted fiends!

SpywareBlaster can help keep your system spyware-free and secure, without interfering with the "good side" of the web.
And unlike other programs, SpywareBlaster does not have to remain running in the background.
Click here to download the program
Wubi 8.04.1 Free
Try Ubuntu on your Windows machine without partitioning your hard drive or creating a boot CD.
OS: Windows 98/NT/2000/XP/Vista
Web Editor Free
Get a Web editor to manage your projects.
OS: Windows 98/Me/NT/2000/XP/2003 Server/Vista

Kernel Internet Explorer Password Recovery Free
Recover Internet Explorer stored passwords, saved Web sites, and autocomplete entries.
OS: indows 95/98/Me/2000/XP/Vista

Super Fdisk Bootable CD Free
Create, delete, and format partitions on IDE/ATA/SATA/SCSI hard disk drives without destroying data under DOS system.
OS: DOS
Wink 2.0 build 1060
Free

Those who need to create tutorials for how to use software now have an easy way to create them--with Wink.
This program makes it quite easy to capture screenshots and mouse movements, then add explanatory boxes, buttons,
and titles, and package it together as a presentation in a variety of formats, including Flash, PDF, Postscript, a standalone .exe file,
and more. Capturing screens is literally as easy as pressing a button on your keyboard, and adding explanations and annotations
is nearly as simple. You can also easily record and add an audio narration. And you can easily preview and edit presentations.
Given that Wink is free and so simple to use, anyone who creates tutorials would find it worthwhile to give it a try.

Click here to download the program
BonkEnc
v.1.0.8
Free

There's currently a thriving industry for $20-to-$30 software that rips music CDs and transcodes the various audio files,
i.e. change WAVE files to FLAC, FLAC to MP3 or AAC, etc. That market may just vanish if word gets around about
Bonkenc.org's BonkEnc. BonkEnc is free and does everything that all but the most feature-laden pay programs will do.
BonkEnc rips CDs and encodes the resulting .wav files to MP3, MP4, AAC, FLAC, Ogg Vorbis, as well its own
native Bonk format. This is all done with the LAME, FAAC, FLAC, and Ogg encoders, which is how the authors
manage to keep it free. You may also transcode any of those formats to any other, as well as convert from
AIFF and sun (.au) audio files.
File Size: 4369k
OS: Windows XP, Windows 2000
Click here to download the program
UltraShredder 4.7
Free

UltraShredder will delete sensitive files by overwriting them with random characters, saving it to disk each time,
and then bypasses the recycle bin, thus acting as your personal, portable file shredder.
If the file were to be recovered by a data recovery program, they would only be able to see unintelligible characters on disk
where the file used to be. The program is a great tool to destroy sensitive data, and is very small with a minute memory footprint,
and makes no changes to your system whatsoever.
File Size:261KB Language:English
OS:Win2000/XP/2003
Click here to download the program
HWMonitor 1.11
Free

HWMonitor is a hardware monitoring program that reads PC systems main health sensors : voltages, temperatures, fans speed.
The program handles the most common sensor chips, like ITE IT87 series, most Winbond ICs, and others. In addition, it can read modern
CPUs on-die core thermal sensors, as well has hard drives temperature via S.M.A.R.T, and video card GPU temperature.
Special hardware monitors such as abit uGuru and Gigabyte ODIN power supplies serie are supported too.
Click here to download the program
Seeker
v.
3.8.0.4
Free
Seeker's has a ultra-fast file search engine on top of a powerful file search algorithm. Searching for files or inside of files Seeker
can handle it. Seeker not only searches for files or inside files, Seeker lets you replace text inside of files.
Regular expression support and command line parameter support makes Seeker a complete search and replace solution.

Operating System:

98 / ME / NT / 2K / XP / 2K3 / Vista
Filesize:

3.0Meg
Click here to download the program
FormatFactory Free
Convert your videos, audios, and pictures to preferable file formats.
OS: Windows NT/2000/XP/2003 Server/Vista
Java Remote Desktop Free
Open source software for viewing and/or controling a distance PC.
OS: Windows 95/98/Me/NT/2000/XP/Vista
Kantaris Media Player 0.40
Free

Kantaris Media Player can play almost anything you can throw at it - AVI, MPEG, MGEG-AVC, WMV, MOV, MKV, quicktime,
matroska, divx, xvid, H264, MP3, WMA, OGG files and more. It can also play DVD's and audio cd's. The player also displays some
of the most beautiful music visualizations ever seen. All this is completely free.
It is based on code from Videolan client (VLC) and Bass audio library.
The graphical user interface is similar to that of Windows Media Player.

File Size:9350KB Language:English
OS:Win2000/XP/2003/Vista

Click here to download the program
Imagic Free Browser v. 4.0 Free
A stripped-down version of the full Imagic 4.0 photo management utility, Imagic 4.0 Free Browser lets you rapidly catalog
your photo collection, then quickly search for photos using database features. Not content to function merely as an organizer,
this version of Imagic also permits users to tweak and touch up photos using a variety of features: Most people will use the
enhancement wizard that steps you through the process. Imagic can also make nondestructive modifications to RAW image files,
letting you massage your photos into high quality artworks without changing anything about the original file, preserving all
the raw data. And the program is able to stitch together photos into panoramic images automatically, sorting and excluding
photos that don't match the adjoining image.
File Size: 11101k
Operating Systems: Windows Vista, Windows XP, Windows 2000
Click here to download the program

Rohos Mini Drive
v. 1.19
Free

The Rohos Mini Drive utility protects files on a USB drive by creating an encrypted and password-protected partition,
or section of drive space. You can save or copy files into the partition as per normal, but if you happen to lose the drive
anyone would have to know the password to decrypt your protected files. After a quick download and installation you
can choose a size, encryption type (AES256 or Blowfish) and drive letter to use for the encrypted partition.
When you connect, or mount, the encrypted partition, it will show up in Explorer under the drive letter you choose.
You can access the remaining, unencrypted space on the drive like you usually do, under the drive letter usually
used for USB drives on your PC.
File Size: 1409k
Operating Systems: Windows Vista, Windows Server 2003, Windows XP, Windows 2000
Click here to download the program
One Click App Killer
Terminate frozen programs easily.
OS: Windows 95/98/Me/NT/2000/XP/Vista

Recover Files
Recover permanently deleted files from hard disks and removable media.
OS: Windows 95/98/Me/NT/2000/XP/2003 Server/Vista
Highly Recommended

FREE

Software
avast! Home Edition Free
Why choose a high-priced subscription antivirus program that bogs down your PC while protecting it, when avast! can do it better?
avast! is one of the few free antivirus applications that does as good a job as any of the big boys.
avast! includes more than seven different kinds of shields, safe-surfing tools, and real-time virus protection for your OS, as well as Outlook.
avast! updates automatically and frequently and, avast! works with both Windows Vista and XP.
avast! gives you all this, in the free (Not for commercial use) version. More options are available in the Pro version.
avast! requires a simple on-line registration during or after the 60 day trial period to continue uninterupted updates.
avast! has been my anti-virus program for the past 3 years.
Version: 4.8.1229
Operating Systems: Windows XP, Windows Vista
Go to the download page now:
avast! Home Edition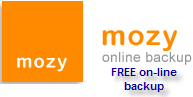 mozy

Free

Safe

Secure

online back-up


I use this every day to keep my important files safe

.


Vista Recovery Discs
Recover data from a damaged Vista system with this little-known Microsoft utility.
Website of Websites
I recommend adding this to your 'Favborites' or 'Bookmarks'

Check out:
Giveaway of the Day

Thanks to ZDNet, PCWorld , Lockergnome.com and many other sources for this nice collection.

You'll find more FreeWare at MySharedFiles

A personal appeal: Please Click here to Help Support MySharedFiles. Thank You

Labels: Baylor, bob3160, clouds, Dallas, Free, freeware, giftoflife, Meadow Lake, MySharedFiles, reunion, Software,
sunset, transplant, weekly