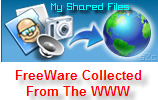 FreeWare 10-03-08
Click here to Help Support MySharedFiles
October is

awareness month.
My wife Alice, is one of the lucky ones. She's a breast cancer survivor.
Early detection and lot's of faith are the key to beating this dreadful desease.
We can ALL help by visiting
This Site
.
Thanks.
FastCopy 1.90
Free
This is a useful utility that will enable you to easily and quickly copy your files to different locations.

Click here to download the program
Greenfish Icon Editor Pro v. 1.6 Free
Greenfish Icon Editor Pro has a simple, straightforward interface, and it's free. These are two big points in its favor.
With all the typical paint tools (like Wand and Eyedropper) and the ability to pull icons from executable files,
Greenfish Icon Editor Pro is a fast, easy way to edit or create custom icons.
File Size: 961132k
OS: Windows Vista, Windows XP, Windows 2000, Windows Me, Windows NT, Windows 9.x
Click here to download the program
Real Alternative v.1.9.0
Free
This will allow you to play RealMedia files without having to install RealPlayer or RealOne Player from Real Networks.
Supported are: RealAudio (.ra .rpm), RealMedia (.rm .ram .rmvb .rpx .smi .smil), RealText (.rt) and ReadPix (.rp).
It also supports RealMedia content that is embedded in webpages. The very user-friendly installation is fully customizable,
which means that you can install only those components that you want.
Real Alternative Lite is Real Alternative without Media Player Classic.
Click here to download Real Alternative
Click here to download Real Alternative Light
CCleaner Portable v2.12.6560
Free
CCleaner Portable is the normal CCleaner program, but it doesn't require installing. Just extract the ZIP file to a folder
of your choice on a flash drive or burn the files to a CD or DVD. Start the CCleaner by double-clicking on portable.exe
instead of CCleaner.exe and use CCleaner normally.
Click here to download CCleaner Portable v2.12.6560
EASEUS Partition Manager Home Edition
Free
So what if Easeus Partition Manager Home Edition has a window-wide banner ad trying to sell you more of the company's products?
We're talking free drive partitioning here, and for most users that's worth a little bit of what Madison Ave. calls "noise."
It's especially welcome for XP users, who don't have Vista's new and more capable Disk Management application.
(XP's will only create, delete, and format.)
Version: 2.0
File Size: 8140k
Operating Systems: Windows Vista, Windows XP, Windows 2000
Click here to download the program
Everything
Free

This is a search engine for Windows that replaces the normal Windows search with a much faster one.
Unlike Windows search, Everything displays every file and folder on your computer.
OS: Windows NT/2000/XP/2003/Vista, NTFS file system


Portable GIMP
Free
A portable version of the Web's most popular Photoshop alternative.
OS: Windows NT/2000/XP


Highly Recommended

FREE

Software
avast! Home Edition Free
Why choose a high-priced subscription antivirus program that bogs down your PC while protecting it, when avast! can do it better?
avast! is one of the few free antivirus applications that does as good a job as any of the big boys.
avast! includes more than seven different kinds of shields, safe-surfing tools, and real-time virus protection for your OS, as well as Outlook.
avast! updates automatically and frequently and, avast! works with both Windows Vista and XP.
avast! gives you all this, in the free (Not for commercial use) version. More options are available in the Pro version.
avast! requires a simple on-line registration during or after the 60 day trial period to continue uninterupted updates.
avast! has been my anti-virus program for the past 3 years.
Version: 4.8.1229
Operating Systems: Windows XP, Windows Vista
Go to the download page now:
avast! Home Edition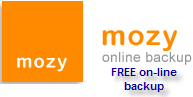 mozy

Free

Safe

Secure

online back-up


I use this every day to keep my important files safe

.


Vista Recovery Discs
Recover data from a damaged Vista system with this little-known Microsoft utility.
Website of Websites
I recommend adding this to your 'Favorites' or 'Bookmarks'

Check out:
Giveaway of the Day

Thanks to ZDNet, PCWorld , Lockergnome.com and many other sources for this nice collection.

You'll find more FreeWare at MySharedFiles

A personal appeal: Please Click here to Help Support MySharedFiles. Thank You

Labels: Baylor, bob3160, clouds, Dallas, Free, freeware, giftoflife, Meadow Lake, MySharedFiles, reunion, Software,
sunset, transplant, weekly