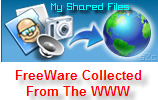 FreeWare 10-10-08
Click here to Help Support MySharedFiles
October is

awareness month.
My wife Alice, is one of the lucky ones. She's a breast cancer survivor.
Early detection and lot's of faith are the key to beating this dreadful desease.
We can ALL help by visiting
This Site
.
Thanks.
LockCrypt Suite 2009
Free
A free account management application written in Java
LockCrypt is an easy to use account management software written in Java. LockCrypt will aim to provide a secure,
central database to store difficult to remember passwords and other personal information.
File Size:3145KB
OS:Win2000/XP/2003/Vista
Click here to download the program
QuuxPlayer Standard Edition v.2.0.7.0 Free
When was the last time you actually enjoyed fiddling around with the audio player you use on your PC? QuuxPlayer
delivers a clean, well-organized and almost infinitely customizable audio player interface, in a small, no-nonsense package
for people who just want to listen to music. Quux has done away with the emphasis on skins, visualizations,
and other irrelevant features and stressed playback quality and ease-of-use over visual bling.
File Size: 1688k
OS: Windows Vista, Windows XP Go to the download page now:
QuuxPlayer Standard Edition
EncryptOnClick
Free
This is a very simple to use program that lets you securely encrypt and decrypt files.
The program is very simple to use and features military grade 256-bit AES encryption.
OS: Windows 98/Me/2000/XP/2003 Server
Recover Files
Free
Recover permanently deleted files from hard disks and removable media.
OS: Windows 95/98/Me/NT/2000/XP/2003 Server/Vista
ZipItFree
Free
Compress and extract files and folders. Save disk space and e-mail transmission time.
OS: Windows 98/Me/NT/2000/XP/2003 Server/Vista

RegToy 0.7.2.1
Free
Optimize and customize your Windows XP/Vista system with a free collection of useful utilities.
OS: Windows XP/Vista

Money Manager Ex
Free
Manage your personal finances and keep track of where, when and how the money goes.
OS: Windows 2000/XP/2003 Server/Vista

Evonsoft Computer Repair
Free
Repair and clean your PC to make your system stable and fast.
OS: Windows/2000/XP/2003 Server/Vista

Select a color anywhere on your screen and convert it into HTML-based hexadecimal representation.
OS: Windows 95/98/NT/2000/XP/2003 Server
AudioGrail (K-MP3)
Free
This utility is the Swiss army knife for everything that is related to audio files (MP3, MPC, OGG, etc.).
It can very easily rename and add tags (with info such as artist name, album, and track title) to your files automatically.
It can also analyze quality, organize files on your system, create a "magic folder" for easier audio collection browsing, and more.
StripMail
Remove unwanted characters from forwarded e-mails.
OS: Windows 2000/XP
FreeRAM XP Pro
Increase your system performance by cleaning the content of your RAM.
OS: Windows 95/98/Me/2000/XP/2003 Server
VDownloader 0.74
Free

VDownloader downloads Youtube, Google and Grinvi videos on your computer in mpeg or avi format (not flv) !
Run Vdownloader.exe and copy the url of the video you want to download. Click on Download button...
File Size:3522KB Language:English
OS:Win2000/XP/2003/Vista
Click here to download the program
Instant Eyedropper Free
A utility that will pick and automatically paste to the clipboard the color code of any pixel on the screen
with a single mouse click.
OS: Windows NT/2000/XP/2003 Server
Highly Recommended

FREE

Software
avast! Home Edition Free
Why choose a high-priced subscription antivirus program that bogs down your PC while protecting it, when avast! can do it better?
avast! is one of the few free antivirus applications that does as good a job as any of the big boys.
avast! includes more than seven different kinds of shields, safe-surfing tools, and real-time virus protection for your OS, as well as Outlook.
avast! updates automatically and frequently and, avast! works with both Windows Vista and XP.
avast! gives you all this, in the free (Not for commercial use) version. More options are available in the Pro version.
avast! requires a simple on-line registration during or after the 60 day trial period to continue uninterupted updates.
avast! has been my anti-virus program for the past 3 years.
Version: 4.8.1229
Operating Systems: Windows XP, Windows Vista
Go to the download page now:
avast! Home Edition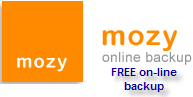 mozy

Free

Safe

Secure

online back-up


I use this every day to keep my important files safe

.


Vista Recovery Discs
Recover data from a damaged Vista system with this little-known Microsoft utility.
Website of Websites
I recommend adding this to your 'Favorites' or 'Bookmarks'

Check out:
Giveaway of the Day

Thanks to ZDNet, PCWorld , Lockergnome.com and many other sources for this nice collection.

You'll find more FreeWare at MySharedFiles

A personal appeal: Please Click here to Help Support MySharedFiles. Thank You

Labels: Baylor, bob3160, clouds, Dallas, Free, freeware, giftoflife, Meadow Lake, MySharedFiles, reunion, Software,
sunset, transplant, weekly