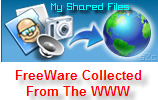 FreeWare 10-24-08
Click here to Help Support MySharedFiles
October is

awareness month.
My wife Alice, is one of the lucky ones. She's a breast cancer survivor.
Early detection and lot's of faith are the key to beating this dreadful desease.
We can ALL help by visiting
This Site
.
Thanks.
Macrium Reflect
Free
Edition - for personal and non-commercial use

The fastest disk imaging software is now available as a free edition.
XP and Vista compatible disk imaging software with BartPE and Linux based recovery options.
gAttach v. 1.2008.9 Free
Because Gmail is Web-based, it suffers from one very annoying problem: It doesn't integrate with Windows.
So you can't just right-click a file to send it via Gmail, as you can with most desktop e-mail clients.
gAttach solves the problem. Install the software, and from then on, whenever you right click a file an choose
Send To -->Mail Recipient, it will create an e-mail in Gmail and attach the file to it.
You then open Gmail (if you haven't already done so), finish creating the message, and send it on its way.
You can set the program up to either log you in automatically whenever you attach a file,
or instead have you log in yourself manually via your browser. It's much easier and convenient
to have the program log you in automatically.
File Size: 497k
OS: Windows Vista, Windows Server 2003, Windows XP, Windows 2000
Click here to download the program
SUPER © v2008.build.33
Free

SUPER © Simplified Universal Player Encoder & Renderer.
A GUI to FFmpeg, MEncoder, MPlayer, x264, mppenc,
FFmpeg2theora & the theora/vorbis RealProducer plugIn.
If you need a simple, yet very efficient tool to convert (encode) or play any Multimedia file,
without reading manuals or spending long hours training, then SUPER © is all you need.
It is a Multimedia Encoder and a Multimedia Player, easy-to-use with 1 simple click.
Click here to download the program
Task Coach Portable 0.71.1 Free
Task Coach Portable is the popular Task Coach packaged as a portable app, so you bring your to-do list
and task manager with you so you always stay on top of things. You can place it on your USB flash drive,
iPod, portable hard drive or a CD and use it on any computer, without leaving any personal information behind.
Click here to download the program
Executor v. 0.98b Free
If the Windows Start Menu leaves you wanting more, take a look at the Executor program launcher.
Normally hidden away out of sight, the utility pops up a small window in which you can type the name of a program to start it,
a URL to bring it up in your browser, a system command to shut down the system, or other highly customizable tasks.
File Size: 984k
OS: Windows Vista, Windows Server 2003, Windows XP, Windows 2000
Go to the download page now:
Executor
Search & Replace Master Free
Look through multiple files for a string or pattern and replace it with another.
Strip formatting from word generated HTML file to make it clean and small.
OS: Windows 2000/XP/Vista

AutoUSBCheck Free
Want to know when USB flash drive is plugged in your computer? Want to know its content or
copy its data to your hard disk? Do it silently and automatically with AutoUSBCheck.
OS: Windows XP/Vista

Startup Delayer v.2.3 Free
Startup time for anything but the most virginal OS is a frustrating experience in disk thrashing,
as a dozen or more programs compete for the processor's limited attention, battling over it like
sci-fi convention attendees flocking a celebrity guest in the hotel bar. Startup Delayer acts like
hotel security, keeping the clamoring hordes at bay and letting only one at a time bother the
guest...er... processor.
File Size: 997k
OS: Windows Vista, Windows XP, Windows 2000, Windows Me, Windows 98
Click here to download the program
Spider Player 2.3.6 Free
Spider is a free and useful alternative music player which can be placed in one row with Winamp, iTunes,
Windows Media Player and Music Match Jukebox due to its multifunctionality.
Click here to download the program
MuCommander 0.8.3 Free
This is a cross-platform file manager which features support for FTP, SFTP, SMB, HTTP/HTTPS,
Email attachments, ZIP/GZip/TAR archives, universal bookmarks, multiple windows, cutomizable UI and
is available in 11 languages.
Click here to download the program
Pictomio 1.2.23 Free
Pictomio is an application to manage, organize, and archive your photo collection and to create elaborate animated slideshows.
Utilizing the processing power of the latest 3D graphics cards, Pictomio offers techniques and effects only used in 3D games before.
Pictomio's use of 3D-accelerated user interfaces incorporating dynamically calculated animations and effects provides you
with a completely new user experience.
Click here to download the program
Photobie 5.0 Free
Photobie is a complete image editing software customized for photo retouching. Photobie is free to use and to distribute.
Unlike other commercial and free image editing softwares, Photobie is more like a homemade cookie, which has much more flavor.
Photobie developers intend to build an easy-to-use and feature-packed tool for graphics amateurs. Although, it is not yet a perfect tool
for professionals, it does contain many handy tools to help professional to achieve simple task quickly.
Click here to download the program
Highly Recommended

FREE

Software
avast! Home Edition Free
Why choose a high-priced subscription antivirus program that bogs down your PC while protecting it, when avast! can do it better?
avast! is one of the few free antivirus applications that does as good a job as any of the big boys.
avast! includes more than seven different kinds of shields, safe-surfing tools, and real-time virus protection for your OS, as well as Outlook.
avast! updates automatically and frequently and, avast! works with both Windows Vista and XP.
avast! gives you all this, in the free (Not for commercial use) version. More options are available in the Pro version.
avast! requires a simple on-line registration during or after the 60 day trial period to continue uninterupted updates.
avast! has been my anti-virus program for the past 3 years.
Version: 4.8.1229
Operating Systems: Windows XP, Windows Vista
Go to the download page now:
avast! Home Edition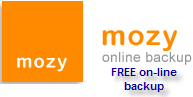 mozy

Free

Safe

Secure

online back-up


I use this every day to keep my important files safe

.


Vista Recovery Discs
Recover data from a damaged Vista system with this little-known Microsoft utility.
Website of Websites
I recommend adding this to your 'Favorites' or 'Bookmarks'

Check out:
Giveaway of the Day

Thanks to ZDNet, PCWorld , Lockergnome.com and many other sources for this nice collection.

You'll find more FreeWare at MySharedFiles

A personal appeal: Please Click here to Help Support MySharedFiles. Thank You

Labels: Baylor, bob3160, clouds, Dallas, Free, freeware, giftoflife, Meadow Lake, MySharedFiles, reunion, Software,
sunset, transplant, weekly