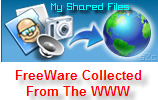 FreeWare 11-14-08
Click here to Help Support MySharedFiles
Speak-A-Message 2.4.0
Free

The Speak-A-Message was designed to replace written text with your voice.
Just record and send. Use Speak-A-Message to record, playback, send audio messages.
Note: Free for private use only.
Here are some key features:
· Excellent audio compression: A 4-minute voice message requires only about 500kB
· Recorded audio messages can also be played back on common media players
· Enter author and title for an audio message
· Messages can be marked as private (playback should occur in private or with headphones)
· Sends audio messages via your email client
· Integrates into the menu of MS Outlook
Voice notes, voice comments and recordings of talks can be added to:
· MS PowerPoint presentations
· MS Word documents

NetWorx v. 4.2
Free
If you're looking to monitor your network and Internet speed, track overall bandwidth usage,
and get several other very useful utilities, you'd do well to download the free NetWorx.
With easy-to-read graphs and in-depth reporting tools, it's a great way for anyone--regardless
of technical expertise--to track Internet use.
File Size: 641 KB
OS: Windows NT, 98, 2000, Me, XP, Vista; Windows Server 2003

Process Monitor v. 1.37
Free
If you're a programmer or troubleshooting technician, you need to peer deep into the inner workings
of all the programs, processes, and threads running on a PC. You won't find a better program
than Process Monitor. This freebie, which incorporates features of the now-retired utilities
Filemon and Regmon, offers an enormous number of ways into examining the current state of a PC
and everything running on it.
File Size: 1121 KB
OS: Windows 2000, XP, Vista; Windows Server 2003

Driver Magician Lite v3.44 Free
Driver Magician Lite identifies all the hardware in your computer, extracts their associated drivers
from the hard disk and backs them up to a location of your choice.
Size: 1.64M
OS: Win95/98/Me/2k/XP/Vista

Manually Create Restore Points In Vista - Windows XP - Windows Server Free
More Free Tips - Tricks - Shortcuts
TeamViewer v3.6.4941 Free

TeamViewer is a simple, straightforward program that allows you to view and control
a remote computer via a numerical ID and password system. TeamViewer is awesome for tech support,
as it allows the technician to make fixes on his or her own. It can also be configured to require
confirmation for any action in the form of a large icon, meaning a host can demonstrate a fix
to the client easily.
File Size: 1642 KB
OS: Windows NT, 98, 2000, Me, XP, Vista, Windows Server 2003
CrossLoop v.2.31
Free
The curse of being tech-savvy is that you're often called upon to help friends and family members resolve
their computer problems Of course, as you've probably learned, trying to troubleshoot by phone is maddeningly
difficult. Until science invents Star Trek-style transporters so you can beam yourself anywhere in an instant,
you'll have to rely on the next best thing: remote-control software. CrossLoop lets you take full control of
another PC, just as though you were sitting in front of it.
File Size: 2370 KB
Operating Systems: Windows 2000, XP, Vista
FormatFactory v.1.55
Free
This utility transforms individual files and batches from one type into a range of other music, audio, and image formats.
It may not have the looks, but it has enough smarts.
OS: Windows NT/2000/XP/2003 Server/Vista
Screamer Radio v.0.4.3 Free
This excellent streaming Internet radio player/recorder is easy to use, works well,
and shows every sign of being a labor of love. Screamer Radio's interface is simplicity itself.
A small window featuring a menu, a status bar on the bottom, an information area, and buttons
for previous, play, stop, next, record, volume, and mute are all you get. The program offers a ton
of preset stations which are organized in a presets menu by genre, language, network and region.
File Size: 1858 KB
OS: Windows NT, 98, 2000, Me, XP, Vista; Windows Server 2003, 2008

TubeMe v.1.5.2 Free
How many times have you wanted to save a YouTube video to your hard disk for future viewing?
This free piece of software does it for you. You'll be able to save YouTube videos as .flv files,
then watch those videos with any multimedia software that supports the .flv format.
Before downloading the videos, you also get a full description of them, as well.
File Size: 545 KB
OSy: Windows XP, Vista

GMail Backup Free
This is 'donationware'. As noted on the web site, this is not a final release
and all the usual disclaimers apply. However, depending on the importance of the data
on your Google email account, it may be worth the effort to do a Gmail backup and hope
never to have to use it.

Lifextender Beta V.0.9.4.6
Free
Part of what I love about my Vista PC is the extensive library of third-party tools and add-ons
available for its aptly named Media Center software (a staple in the Home Premium and Ultimate versions).
My favorite helper: Lifextender, which automatically removes the commercials from recorded TV shows.
Using Lifextender is dead-simple: Install it, run it, then set it up. Specifically, right-click the
Lifextender System Tray icon and click Options. If you want the software to work its magic on all your shows,
check the Automated Library Scanning box.
File Size: 960 KB
OS:Windows Vista
Highly Recommended

FREE

Software
avast! Home Edition Free
Why choose a high-priced subscription antivirus program that bogs down your PC while protecting it, when avast! can do it better?
avast! is one of the few free antivirus applications that does as good a job as any of the big boys.
avast! includes more than seven different kinds of shields, safe-surfing tools, and real-time virus protection for your OS, as well as Outlook.
avast! updates automatically and frequently and, avast! works with both Windows Vista and XP.
avast! gives you all this, in the free (Not for commercial use) version. More options are available in the Pro version.
avast! requires a simple on-line registration during or after the 60 day trial period to continue uninterupted updates.
avast! has been my anti-virus program for the past 3 years.
Version: 4.8.1282
Operating Systems: Windows XP, Windows Vista
Go to the download page now:
avast! Home Edition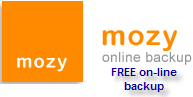 mozy

Free

Safe

Secure

online back-up


I use this every day to keep my important files safe

.


Vista Recovery Discs
Recover data from a damaged Vista system with this little-known Microsoft utility.
Website of Websites
I recommend adding this to your 'Favorites' or 'Bookmarks'

Check out:
Giveaway of the Day

Thanks to ZDNet, PCWorld , Lockergnome.com and many other sources for this nice collection.

You'll find more FreeWare at MySharedFiles

A personal appeal: Please Click here to Help Support MySharedFiles. Thank You

Labels: Baylor, bob3160, clouds, Dallas, Free, freeware, giftoflife, Meadow Lake, MySharedFiles, reunion, Software,
sunset, transplant, weekly