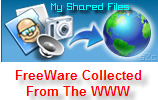 FreeWare 11-21-08
Click here to Help Support MySharedFiles
Titlebar Ticker
Free
This utility allows you to access your favorite RSS and Atom feeds from the titlebar
of the window you're currently working in - no additional screen space necessary.
OS: Windows 2000/XP/2003 Server/Vista
Microsoft .NET Framework 2
Password Prime
Free
Take control of your passwords with this program, a manager with the perfect balance of
simplicity and functionality. You don't need a lot of fancy buttons to get the job done.
OS: Windows 95/98/Me/NT/2000/XP/Vista
MSKeyViewer Plus
Free
A small utility to retrieve Microsoft product installation keys and service pack levels
and display them in a list to be kept in case of key loss and/or the need to reinstall
software.
OS: Windows 95/98/Me/2000/XP/2003 Server/Vista
Jarte
Free
A tabbed word processor based on the Microsoft WordPad word-processing engine built into Windows.
OS: Windows 98/Me/NT/2000/XP/Vista
Windows XP services that can be disabled
Free
One good way to secure a Windows XP workstation is to turn off unnecessary services.
This reference sheet describes each Windows XP SP 2 service and explains what will happen if you disable it.
Arif's Process Manager v1.0.112 Beta 1 http://www.softpedia.com/get/System/System-Miscellaneous/Process-Manager-for-Windows.shtml
This is comparable with Windows Task Manager —
except that you can manage your processes with fewer clicks, less fuss, and less muss!

Totally Free Burner v.4 Free
Burn Audio CD using mp3, wma, ogg and wav files
Burn VideoCD from Mpeg1 VCD files
Burn Data CD/DVD ISO9960 and Joliet (Multisession)
Burn Data CD/DVD UDF
Burn Video DVD from existing DVD files
Burn CD/DVD from BIN/ISO image directly
File Size: 1174 KB
OS: Windows NT, 98, 2000, Me, XP, Vista; Windows Server 2003

Google SketchUp 7.0.8656 Free
This is a free, easy-to-learn 3D-modeling program with a few simple tools to let you create
3D models of houses, sheds, decks, home additions, woodworking projects, and even space ships.
You can add details, textures, and glass to your models, and design with dimensional accuracy.
You can place your finished models in Google Earth, share them with others by posting them to
the 3D Warehouse, or print hard copies. Google SketchUp is a great way to discover if 3D modeling
is right for you. Google SketchUp is free for personal use. No registration is required.
File Size: 32.46MB
Requirements: Windows 2000/XP, NET 1.1 framework, 600MHz CPU, 128MB RAM, 80MB disk space,
IE 6.0+ or Firefox 1.5+, OpenGL-compliant video card

Rohos Mini Drive 1.19 Free
Protect sensitive data on your USB drive by partitioning it with this helpful freeware utility.
A partition manager keeps your information encrypted, and a portable file manager helps you navigate
that encrypted partition in case your PC doesn't recognize it.
File size: 1.34MB
Minimum requirements: Windows 2000/XP/2003 Server/Vista

Laptop Alarm 1.2 Free
Stop, that's my laptop...and it's ringing! This nifty little utility lets you set an alarm that goes off
if anyone unplugs your power cord or a USB mouse. It's a perfect application for laptop users who often
frequent public Wi-Fi spots.
File size: 244K
Minimum requirements: Windows 98/Me/NT/2000/XP
Maxthon v2 2.1.5.1250 Free
Maxthon Browser is a powerful tabbed browser built for all users.
Besides basic browsing functionality, Maxthon Browser provides a rich
set of features to improve your surfing experience.
This IE-based browser uses very little resources.
Size: 5.32M
OS: Win95/98/Me/XP/Vista

HotKeyz v. 2.7.2 Free
You waste plenty of time every day hunting through menus with your mouse,
not to mention performing mouse-driven tasks such as launching programs,
rebooting or shutting down your PC, turning your volume up and down, and more.
HotKeyz gives you a simple way to stop wasting that time. With it, you can perform
countless tasks right from your keyboard, by using keyboard shortcuts.
File Size: 1308 KB
OS: Windows 2000, XP, Vista

AutoRuns for Windows v9.35 Free
This utility, which has the most comprehensive knowledge of auto-starting locations of any startup monitor,
shows you what programs are configured to run during system bootup or login, and shows you the entries in the
order Windows processes them. These programs include ones in your startup folder, Run, RunOnce, and other
Registry keys. You can configure Autoruns to show other locations, including Explorer shell extensions,
toolbars, browser helper objects, Winlogon notifications, auto-start services, and much more.
Autoruns goes way beyond the MSConfig utility bundled with Windows Me and XP.
Size: 562kb
OS: Windows 2000 SP4 Rollup 1 or above.
Custom Desktop Logo v.2.2 Free
Custom Desktop Logo puts a graphic of your choice anywhere on your desktop.
This logo is always on top of the screen if you want (though it doesn't interfere with anything below it),
and you can click that logo to quickly jump to a pre-set folder of your choice. This is useful as it allows
businesses to brand their computers, while also allowing quick navigation between important folders that may
be on different network drives.
File Size: 798 KB
OS: Windows XP, Vista
Highly Recommended

FREE

Software
avast! Home Edition Free
Why choose a high-priced subscription antivirus program that bogs down your PC while protecting it, when avast! can do it better?
avast! is one of the few free antivirus applications that does as good a job as any of the big boys.
avast! includes more than seven different kinds of shields, safe-surfing tools, and real-time virus protection for your OS, as well as Outlook.
avast! updates automatically and frequently and, avast! works with both Windows Vista and XP.
avast! gives you all this, in the free (Not for commercial use) version. More options are available in the Pro version.
avast! requires a simple on-line registration during or after the 60 day trial period to continue uninterupted updates.
avast! has been my anti-virus program for the past 3 years.
Version: 4.8.1290
Operating Systems: Windows XP, Windows Vista (Windows 7 Beta)
Go to the download page now:
avast! Home Edition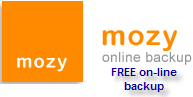 mozy

Free

Safe

Secure

online back-up


I use this every day to keep my important files safe

.


Vista Recovery Discs
Recover data from a damaged Vista system with this little-known Microsoft utility.
Website of Websites
I recommend adding this to your 'Favorites' or 'Bookmarks'

Check out:
Giveaway of the Day

Thanks to ZDNet, PCWorld , Lockergnome.com and many other sources for this nice collection.

You'll find more FreeWare at MySharedFiles

A personal appeal: Please Click here to Help Support MySharedFiles. Thank You

Labels: Baylor, bob3160, clouds, Dallas, Free, freeware, giftoflife, Meadow Lake, MySharedFiles, reunion, Software,
sunset, transplant, weekly