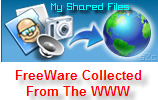 FreeWare 01-16-09
Click here to Help Support MySharedFiles
Software Informer v.1.0.325
Free
This s a programme that has been specially designed for those users who care to keep
their applications functional and ready for any task that might arise.
Its primary aim is to give you the up-to-date information about the software you actually use.
For that purpose, this programme will make a list of applications installed on your computer,
and later on will check their versions for obsoleteness by occasionally connecting to
software.informer.com, the expanding server with a huge and constantly updated list of
present applications. Whenever a more recent version of any programme becomes available,
Software Informer will notify you and offer a link for downloading the update.
Click here to download from MySharedFiles
Input Director v.1.2
Free
This is a Windows application that lets you control multiple Windows systems
using the keyboard/mouse attached to one computer.
OS:Windows 2000 (Service Pack 4), Windows XP (Service Pack 2), Windows 2003 or Windows Vista.
The systems must be networked.
WorldWide Telescope 2.2.41.1
Free
he WorldWide Telescope (WWT) is a Web 2.0 visualization software environment that enables
your computer to function as a virtual telescope
Size: 27.51MB
OS: Windows XP/Vista
Orca Browser v1.1 RC2 Beta
Free
Orca Browser is an extremely fast and user friendly Web browser,
designed to add more functions to the latest version of Firefox.
Not only does Orca Browser contains all the features such as security,
low memory usage, spell-checker, built-in download manager, etc. from a typical
Gecko based browser, but it also improves the speed, adds built-in features like an
ad blocker, Flash blocker, online profile storage, auto form-filler, and an Outlook-style RSS reader.
Size: 9.05M
OS: Win2k/XP/Vista
Chrome v.1.0.154.43
Free
Google has produced an excellent browser that is friendly enough to handle average
browsing activities without complicating the tasks, but at the same time powerful enough
to meet the needs of more-advanced users. Even though it isn't jam-packed with features,
Google's Chrome lives up to its hype by rethinking the Web browser in clever and convenient
ways that make using the Web an organic experience.
OS: Windows Vista, XP
Opera Browser v.9.63
Free
It's filled with features, and fast. Opera combines tabbed browsing and e-mail
in one surprisingly clean, yet highly customizable interface. Like IE and Firefox,
Opera's browser blocks pop-ups, accepts plugins, remembers your online passwords
and lets you subscribe to RSS newsfeeds.
This latest version adds a welcome anti-phishing tool
File Size: 7236KB
OS: Windows Vista, XP, 2000, Me, 95, 98
Gawab.com - Free Email Now with ~10 GB and IMAP
Free
Gawab.com, the answer to many an email user's needs, now answers two more wants:
online storage has been bumped up to 9.77 GB, and you can connect to your account
from desktop and mobile email programs using IMAP
(albeit only to the Inbox, Sent, Trash and Bulk folders).
Autoruns V9.38
Free
This utility, which has the most comprehensive knowledge of auto-starting locations
of any startup monitor, shows you what programs are configured to run during system bootup or login,
and shows you the entries in the order Windows processes them. These programs include ones in your
startup folder, Run, RunOnce, and other Registry keys. You can configure Autoruns to show other locations,
including Explorer shell extensions, toolbars, browser helper objects, Winlogon notifications,
auto-start services, and much more. Autoruns goes way beyond the MSConfig utility bundled with
Windows Me and XP.
SIW Standalone Version v.2008.10.28.0
Free
You can ask the SIW tool anything about your PC--it'll give you a list of regional settings
or scheduled tasks, or which DLLs are loaded and which are shared. How about which video and
audio codecs you have installed, or details about your network or open ports?
SIW has everything, offering lists that you can easily access from toolbar shortcuts or
from a panel with a hierarchy list.
File Size: 1503 KB
OS: Windows NT, 98, 2000, Me, XP, XP Tablet PC Edition, Vista; Windows Server 2003, 2008
COMODO System Cleaner 1.0.60093
Free
Comodo System Cleaner is the powerful suite of utilities and tools that allow you to
make your Windows XP or Vista computer faster, more efficient and more secure.
CSC allows users of all experience levels to thoroughly clean their systems of damaging
and/or wasteful files, boost system performance and unlock the full power of any
Windows XP or Vista computer.
CSC also boasts some unique utilities designed to improve your productivity and
Windows experience - including system diagnostics and benchmarking tools;
a built in file-splitter, a hash value calculator, file comparison tool and much more.
OS: XP and Vista and Windows 2003 server
Click here to download the program.
Highly Recommended

FREE

Software
avast! Home Edition Free
Why choose a high-priced subscription antivirus program that bogs down your PC while protecting it, when avast! can do it better?
avast! is one of the few free antivirus applications that does as good a job as any of the big boys.
avast! includes more than seven different kinds of shields, safe-surfing tools, and real-time virus protection for your OS, as well as Outlook.
avast! updates automatically and frequently and, avast! works with both Windows Vista and XP.
avast! gives you all this, in the free (Not for commercial use) version. More options are available in the Pro version.
avast! requires a simple on-line registration during or after the 60 day trial period to continue uninterupted updates.
avast! has been my anti-virus program for the past 3 years.
Version: 4.8.1296
Operating Systems: Windows XP, Windows Vista (Windows 7 Beta)
Go to the download page now:
avast! Home Edition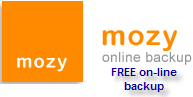 mozy

Free

Safe

Secure

online back-up


I use this every day to keep my important files safe

.


Vista Recovery Discs
Recover data from a damaged Vista system with this little-known Microsoft utility.
Not quite Google


Quick links to almost everything
http://www.allmyfaves.com/
or:
http://mysharedfiles.no-ip.org/AllMyFaves.url

Check out:
Giveaway of the Day

Thanks to ZDNet, PCWorld , Lockergnome.com and many other sources for this nice collection.

You'll find more FreeWare at MySharedFiles

A personal appeal: Please Click here to Help Support MySharedFiles. Thank You

Labels: Baylor, bob3160, clouds, Dallas, Free, freeware, giftoflife, Meadow Lake, MySharedFiles, reunion, Software,
sunset, transplant, weekly