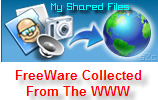 FreeWare 04-17-09
Click here to Help Support MySharedFiles
Panda USB Vaccine v.1.0
Free

Panda USB Vaccine can disable the Windows Autorun feature for an entire PC
or a particular USB drive. The Autorun feature in Windows can make it easier to install software--
and it can also be exploited by malware. Turning off Autorun can be a good idea for better
computer security. When you run the tool, you can click a button to vaccinate your computer
(disabling Autorun), and you can then click the button again to turn Autorun back on.
File Size: 380KB
OS: Windows 2000, XP, Vista

Spyware Terminator v.2.5.6.316
Free

If you're looking for a straightforward and simple-to-use anti-spyware tool,
give Spyware Terminator a try. Not only does it scan your system for spyware and remove it,
but unlike some other free anti-spyware software,
it also stops you from getting infected in the first place.
File Size: 632KB
OS: Windows XP, Vista

Starter v.5.6.2.8
Free

Starter allows you to view and manage all the programs that start automatically when your
computer boots up. Starter gives you control over what starts and when. You can view hidden
Registry entries, start-up folder items, and even edit initialization files.
File Size: 721KB
OS: Windows 9.x, Me, 2000, NT, XP

Universal Extractor 1.6
Free

Universal Extractor is a program do to exactly what it says: extract files from any type of archive,
whether it's a simple zip file, an installation program, or even a Windows Installer (.msi) package.
File Size: 5 MB
OS: Win (All)



Simplyzip v1.1b74
Free

This is a freeware multi archiver. It does not write any entries to the registry or anywhere else.
Version 1.1 has been rewritten from scratch. Main Features: Open: ZIP, CZIP, ACE, CAB, RAR, TAR, GZIP,
LZH, BZ2, SQX, RS, UUE, XXE, BASE64, UCL, ARJ, ZLIB, ALIB, RPM, DEB, 7-ZIP Create: 7z, ZIP, CZIP, Cab,
LHA, TAR, TAR GZ TAR BZ2, ACE (optionale DLL), Deepfreezer, SQX, UCL, RS, ZIP-SFX/LHA-SFX, RAR-SFX,
UUE/XXE, ZLIB and Base64
File Size: 2.23 MB
OS: Win (All)

aTunes v.1.12.0
Free

Dislike iTunes? ATunes is a fully-featured, highly portable audio player and manager,
with ripping and encoding tools included.
File Size 19.1 MB
OS: Windows 95/98/Me/NT/2000/XP/2003 Server/Vista,
Java Runtime Environment 1.4.2

TweakNow WinSecret v.1.5.3
Free

The most popular Windows XP/Vista registry settings, right at your fingertips
in an easy-to-use interface.
File Size: 4,456 KB
OS: Windows XP/Vista

Highly Recommended

FREE

Software
avast! Home Edition Free
Why choose a high-priced subscription antivirus program that bogs down your PC while protecting it, when avast! can do it better?
avast! is one of the few free antivirus applications that does as good a job as any of the big boys.
avast! includes more than seven different kinds of shields, safe-surfing tools, and real-time virus protection for your OS, as well as Outlook.
avast! updates automatically and frequently and, avast! works with both Windows Vista and XP.
avast! gives you all this, in the free (Not for commercial use) version. More options are available in the Pro version.
avast! requires a simple on-line registration during or after the 60 day trial period to continue uninterupted updates.
avast! has been my anti-virus program for the past 3 years.
Version: 4.8.1335
Operating Systems: Windows XP, Windows Vista (Windows 7 Beta)
Go to the download page now:
avast! Home Edition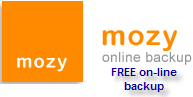 mozy

Free

Safe

Secure

online back-up


I use this every day to keep my important files safe

.


Vista Recovery Discs
Recover data from a damaged Vista system with this little-known Microsoft utility.
Not quite Google


Quick links to almost everything
http://www.allmyfaves.com/
or:
http://mysharedfiles.no-ip.org/AllMyFaves.url

Check out:
Giveaway of the Day

Thanks to ZDNet, PCWorld , Lockergnome.com and many other sources for this nice collection.

You'll find more FreeWare at MySharedFiles

A personal appeal: Please Click here to Help Support MySharedFiles. Thank You

Labels: Baylor, bob3160, clouds, Dallas, Free, freeware, giftoflife, Meadow Lake, MySharedFiles, reunion, Software,
sunset, transplant, weekly