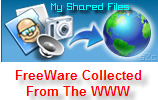 FreeWare 04-24-09
Click here to Help Support MySharedFiles
Ping Test Easy v.4.26
Free
This is a handy, powerful, visual ping & IP scan utility for a system administrator
to check network connections. Its Intuitive and graphical interface lets you easily monitor
the state of the network and test the connection speeds of various locations.
It can save IP addresses and host names; its intuitive interface shows the route, hosts,
packet loss percentage, and min/max/average response times.
File Size: 388K
OS: Win98/ME/2k/XP/Vista
AVG
L
inkScanner v.8.5.289
Free
AVG Technologies has seen the error of its bundling-only ways, and has rereleased LinkScanner as a free,
standalone add-on for Firefox or Internet Explorer once again.
File Size: 14.4MB
OS: Windows Vista, Windows 2000, Windows XP
Additional Requirements: Firefox or Internet Explorer
Wipe v.2.32
Free
This easy-to-use tool clears browser history, cookies, cache, and other sensitive browsing data.
The download consists of a screen listing hundreds of programs that may contain personal data
you don't want to share. Deselect one to spare it. Beyond that, it's gone.
File size: 2.74MB
OS: Windows XP/Vista
Personal Menu v.4.1.4
Free
This Firefox extension compacts the menu bar to a single icon, but it comes with so many options
and customizations that it's a thorough and arguably essential one-trick wonder. Personal Menu frees up
screen real estate in much the same way that Google Chrome and Internet Explorer have banished their
menus to drop-down status, but because you can alter nearly every aspect of its look and behavior,
it's an exceptionally useful add-on.
File size: 79 KB
Minimum requirements: Firefox browser 1.5-3.6a1pre
AppRemover v.RC1
Free
AppRemover enables you to thoroughly uninstall security applications such as antivirus and
antispyware from your computer.
File Size: 2.6 MB
OS: Windows 2000, 2003, XP (32 / 64 bit), Vista (32 / 64 bit), 2008, Windows 7 beta
Revo Uninstaller v.1.80
Free
An innovative freeware uninstall utility that is much faster and more comprehensive
than the Windows Add/Remove applet.
File Size: 1,029 KB
OS: Windows 2000/XP/2003 Server/Vista
JetAudio Basic v.7.5.1
Free
JetAudio is integrated multimedia software made up of a single compact rack.
Not only does it play various music and video files, it also has features such as CD burning,
recording, and conversion to other file formats. You can create your own Internet broadcast
by using JetCast, provided with JetAudio, and you can play all major file formats.
File Size: 25.77MB
OS: Windows Vista, Windows Me, Windows 2000, Windows XP, Windows 98
Highly Recommended

FREE

Software
avast! Home Edition Free
Why choose a high-priced subscription antivirus program that bogs down your PC while protecting it, when avast! can do it better?
avast! is one of the few free antivirus applications that does as good a job as any of the big boys.
avast! includes more than seven different kinds of shields, safe-surfing tools, and real-time virus protection for your OS, as well as Outlook.
avast! updates automatically and frequently and, avast! works with both Windows Vista and XP.
avast! gives you all this, in the free (Not for commercial use) version. More options are available in the Pro version.
avast! requires a simple on-line registration during or after the 60 day trial period to continue uninterupted updates.
avast! has been my anti-virus program for the past 3 years.
Version: 4.8.1335
Operating Systems: Windows XP, Windows Vista (Windows 7 Beta)
Go to the download page now:
avast! Home Edition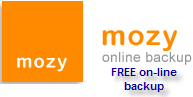 mozy

Free

Safe

Secure

online back-up


I use this every day to keep my important files safe

.


Vista Recovery Discs
Recover data from a damaged Vista system with this little-known Microsoft utility.
Not quite Google


Quick links to almost everything
http://www.allmyfaves.com/
or:
http://mysharedfiles.no-ip.org/AllMyFaves.url

Check out:
Giveaway of the Day

Thanks to ZDNet, PCWorld , Lockergnome.com and many other sources for this nice collection.

You'll find more FreeWare at MySharedFiles

A personal appeal: Please Click here to Help Support MySharedFiles. Thank You

Labels: Baylor, bob3160, clouds, Dallas, Free, freeware, giftoflife, Meadow Lake, MySharedFiles, reunion, Software,
sunset, transplant, weekly