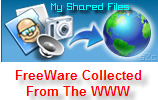 FreeWare 05-01-09
Click here to Help Support MySharedFiles
WinSCP v4.1.9
Free
This is an open source free SFTP client and FTP client for Windows.
Legacy SCP protocol is also supported. Its main function is safe copying of files
between a local and a remote computer.
File Size: 2.39M
OS: Win2k/XP/Vista
AnalogX Script Defender v.1.03
Free
Malware authors use a variety of underhanded ways of trying to infect your PC,
notably using scripts including Visual Basic Scripting (.VBS), Java Script (.JS) and
Windows Scripting (.WSH). AnalogX Script Defender is a free, simple way to get help thwarting them.
File Size: 340KB
OS: Windows NT, 2000, 9.x, XP, Vista
VLC V.0.9.9
Free
VLC media player is a highly portable multimedia player for various audio and video formats
(MPEG-1, MPEG-2, MPEG-4, DivX, mp3, ogg, ...) as well as DVDs, VCDs, and various streaming protocols.
It can also be used as a server to stream in unicast or multicast in IPv4 or IPv6 on a high-bandwidth network.
File Size: 15.97MB
OS: Windows 2003, Windows Vista, Windows 2000, Windows XP
Foto-Mosaik-Edda v.5.4.0
Free
You know those posters that have an overall image, but if you look closer, that image is made up
of hundreds of tiny photos? They're called photo mosaics, and Foto-Mosaik-Edda will generate them for you.
The program takes your photos and produces an impressive high-resolution mosaic, suitable for a poster.
File Size: 891KB
OS: Windows 2000, XP, Vista
AnalogX MaxMem v.1.04
Free
This program promises to make the most out of your RAM by regularly releasing memory
that your system no longer needs, and thereby improve performance. MaxMem monitors your system,
and when your free memory reaches a certain low threshold, it automatically frees up memory.
File Size: 326KB
OS: Windows 2000, 9.x, Me, XP, Vista
Smart Defrag v.1.11
Free
One of the simplest ways to make sure your PC runs as efficiently as possible is to defragment
your hard disk, and Smart Defrag is a great way to do it. This freebie analyzes your hard disk,
shows you the results, and then lets you decide whether to defragment. But it also offers extras
as well, such as several levels of defragmentation.
File Size: 2505KB
OS: Windows 2000, XP, Vista
Highly Recommended

FREE

Software
avast! Home Edition Free
Why choose a high-priced subscription antivirus program that bogs down your PC while protecting it, when avast! can do it better?
avast! is one of the few free antivirus applications that does as good a job as any of the big boys.
avast! includes more than seven different kinds of shields, safe-surfing tools, and real-time virus protection for your OS, as well as Outlook.
avast! updates automatically and frequently and, avast! works with both Windows Vista and XP.
avast! gives you all this, in the free (Not for commercial use) version. More options are available in the Pro version.
avast! requires a simple on-line registration during or after the 60 day trial period to continue uninterupted updates.
avast! has been my anti-virus program for the past 3 years.
Version: 4.8.1335
Operating Systems: Windows XP, Windows Vista (Windows 7 Beta)
Go to the download page now:
avast! Home Edition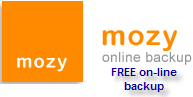 mozy

Free

Safe

Secure

online back-up


I use this every day to keep my important files safe

.


Vista Recovery Discs
Recover data from a damaged Vista system with this little-known Microsoft utility.
Not quite Google


Quick links to almost everything
http://www.allmyfaves.com/
or:
http://mysharedfiles.no-ip.org/AllMyFaves.url

Check out:
Giveaway of the Day

Thanks to ZDNet, PCWorld , Lockergnome.com and many other sources for this nice collection.

You'll find more FreeWare at MySharedFiles

A personal appeal: Please Click here to Help Support MySharedFiles. Thank You

Labels: Baylor, bob3160, clouds, Dallas, Free, freeware, giftoflife, Meadow Lake, MySharedFiles, reunion, Software,
sunset, transplant, weekly