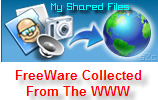 FreeWare 05-08-09
Click here to Help Support MySharedFiles
TreeSize Free v.2.1
Free
If you're finding your 10GB hard drive is starting to strain at the seams, you're not alone.
This utility accounts for the girth of your burgeoning data, helping you figure out where it
could use a nip or a tuck. Open the program from a context menu of a folder or drive to learn
the size of the folder and all its subfolders
File Size: 1561 KB
OS: Windows NT, 2000, 9.x, XP
Cucku Backup v.1.21.30208.889
Free
Automate local and remote backups. Set it to backup data to a local drive,
external drives and network storage.
File Size: 6355 KB
OS: XP/2003 Server/Vista,
Skype 3.0
Everything Search Engine v.1.2.1.371
Free
This tiny download quickly creates an index database of all your files (but not their contents)
and displays them in a simple, no-nonsense search window. Search results display as you type,
and techie types can construct advanced searches using wildcards, Boolean operators,
and regular expressions. Non-experts can still get plenty of use out of basic searches such as
"family*jpg"--which will quickly display any file that starts with "family," ends with "jpg,"
and has anything in between (represented by the "*" wildcard).
File Size: 334 KB
OS: Windows 2000, XP, Vista; Windows Server 2003
2 Pic
Free
This is a graphical program that you can use to edit your images (like photographs and drawings).
There are already several famous programs that you can use for this, like PaintShop Pro,
PhotoShop and Picture Publisher. Why should you use 2 Pic instead? Because 2 Pic is much easier to use.
OS: Win/All
Windows 7 Release Candidate
Free
Windows 7 is the updated version of the Vista operating system from Microsoft.
File Size: 3.05 Gig
OS: Vista
For some Tips, Tweaks and helpful instructions on the instalation and running of this new OS check out:
Windows7Beta
at
MySharedFiles
Floola v.5.0
Free
Lightweight and full-featured, Floola is a comprehensive replacement for Apple's iTunes
software,capable of performing virtually all of the functions of the official management utility.
The program, with versions available for Windows, Linux, and the Mac OS, can even run from a
thumbdrive or the iPod itself.
File Size: 7319KB
OS: Windows 98, 2000, Me, XP, Vista
CPU Mhz Speed Meter v.1.0.2
Free
This shows CPU Clock Speed. This is helpful for checking if your laptop or desktop is really
conserving power by lowering clock speed.
File Size: 44 KB
OS: Windows/All
Update Notifier 1.1.5.133
Free
The Update Notifier is a small utility that scans your computer for installed software and
displays a list of updates. Also you can see the latest updates for applications from your Watch List.
File Size: 452 KB
Windows XP, Windows 2000, Windows Vista
AppRemover v.1.5.0.5
Free
A free, wizard-driven application that specializes in the removal of stubborn,
clingy security applications.
File Size: 2,647 KB
OS: Windows
Highly Recommended

FREE

Software
avast! Home Edition Free
Why choose a high-priced subscription antivirus program that bogs down your PC while protecting it, when avast! can do it better?
avast! is one of the few free antivirus applications that does as good a job as any of the big boys.
avast! includes more than seven different kinds of shields, safe-surfing tools, and real-time virus protection for your OS, as well as Outlook.
avast! updates automatically and frequently and, avast! works with both Windows Vista and XP.
avast! gives you all this, in the free (Not for commercial use) version. More options are available in the Pro version.
avast! requires a simple on-line registration during or after the 60 day trial period to continue uninterupted updates.
avast! has been my anti-virus program for the past 3 years.
Version: 4.8.1335
Operating Systems: Windows XP, Windows Vista (Windows 7 Beta)
Go to the download page now:
avast! Home Edition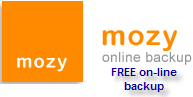 mozy

Free

Safe

Secure

online back-up


I use this every day to keep my important files safe

.


Vista Recovery Discs
Recover data from a damaged Vista system with this little-known Microsoft utility.
Not quite Google


Quick links to almost everything
http://www.allmyfaves.com/
or:
http://mysharedfiles.no-ip.org/AllMyFaves.url

Check out:
Giveaway of the Day

Thanks to ZDNet, PCWorld , Lockergnome.com and many other sources for this nice collection.

You'll find more FreeWare at MySharedFiles

A personal appeal: Please Click here to Help Support MySharedFiles. Thank You

Labels: Baylor, bob3160, clouds, Dallas, Free, freeware, giftoflife, Meadow Lake, MySharedFiles, reunion, Software,
sunset, transplant, weekly