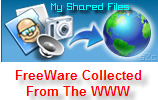 FreeWare 06-19-09
Click here to Help Support MySharedFiles
SSuite Office - The Fifth Element v.2.1
Free
The Fifth Element is a collection of office applications with a wider range than those in Microsoft Office.
Any decent suite can do word processing, spreadsheets, presentations, and e-mail.
The Fifth Element includes a browser, tools for managing LANs, holding chats and making calls using VoIP,
and more--all for free.
File Size: 38652
OS: Windows NT,Windows 2000,Windows Me,Windows XP,Windows Vista
AnyBizSoft PDF to Word v.1.0.0.7
Free
Take your read-only PDF files and convert them into editable Microsoft Word documents with one click.
File Size: 2,275 KB
OS: Windows
WirelessNetView v.1.21
Free
This is a small utility that runs in the background, and monitor the activity
of wireless networks around you.
For each detected network, WirelessNetView will display the following information:
Last Signal Quality, Average Signal Quality, Authentication Algorithm, SSID, Detection Counter,
Cipher Algorithm and much more.
File Size: 41.1 KB
OS: Win XP/Vista
TED Notepad v.5.42
Free
This is a freeware editor for true plain text. It looks like a small Notepad, but is more fertile
in innovative features, text-processing functions, and other tools. The lightweight portable application
fits on a USB drive and loads instantly with no installation required. TED Notepad is designed especially
for daily writing of notes, lists, scripts, and HTML files.
File Size: 162 KB
OS: NT/200x/XP/Vista/Win7
Hawkscope v.0.6.1
Free
This is a productivity tool that allows you to access your hard drive contents quickly via system tray icon
with dynamic pop-up menu. It allows you to configure your favorite locations for quick opening.
File Size: 2,094 KB
OS: Windows/All
First Impression v.1.02
Free
This is free and minimal image viewer with a focus on maximizing the space used for viewing your images
by doing away with command bars and buttons.
License: Free
OS: Windows
Highly Recommended

FREE

Software
avast! Home Edition Free
Why choose a high-priced subscription antivirus program that bogs down your PC while protecting it, when avast! can do it better?
avast! is one of the few free antivirus applications that does as good a job as any of the big boys.
avast! includes more than seven different kinds of shields, safe-surfing tools, and real-time virus protection for your OS, as well as Outlook.
avast! updates automatically and frequently and, avast! works with both Windows Vista and XP.
avast! gives you all this, in the free (Not for commercial use) version. More options are available in the Pro version.
avast! requires a simple on-line registration during or after the 60 day trial period to continue uninterupted updates.
avast! has been my anti-virus program for the past 3 years.
Version: 4.8.1335
Operating Systems: Windows XP, Windows Vista (Windows 7 Beta)
Go to the download page now:
avast! Home Edition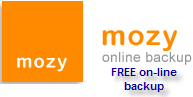 mozy

Free

Safe

Secure

online back-up


I use this every day to keep my important files safe

.


Vista Recovery Discs
Recover data from a damaged Vista system with this little-known Microsoft utility.
Not quite Google


Quick links to almost everything
http://www.allmyfaves.com/
or:
http://mysharedfiles.no-ip.org/AllMyFaves.url

Check out:
Giveaway of the Day

Thanks to ZDNet, PCWorld , Lockergnome.com and many other sources for this nice collection.

You'll find more FreeWare at MySharedFiles

A personal appeal: Please Click here to Help Support MySharedFiles. Thank You

Labels: Baylor, bob3160, clouds, Dallas, Free, freeware, giftoflife, Meadow Lake, MySharedFiles, reunion, Software,
sunset, transplant, weekly