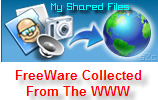 FreeWare 07-18-09
Click here to Help Support MySharedFiles
FormatFactory v2.00 Multilingual
Free
This is a multifunctional media converter. Provides functions below:
All to MP4/3GP/MPG/AVI/WMV/FLV/SWF. All to MP3/WMA/AMR/OGG/AAC/WAV.
All to JPG/BMP/PNG/TIF/ICO/GIF/TGA. Rip DVD to video file , Rip Music CD to audio file.
MP4 files support iPod/iPhone/PSP/BlackBerry format. Source files support RMVB.
File Size: 21.54MB
OS: Win 2000/XP/2003/Vista/Win 7
Filezilla Multilingual + Portable v3.2.6.1
Free
FileZilla Client is a fast and reliable cross-platform FTP, FTPS and SFTP client
with lots of useful features and an intuitive graphical user interface.
File Size: 10.2 Mb
OS: Windows 2000/XP/Vista/Win 7
Panda USB Vaccine 1.0.0.50
Free
This a free utility from Panda Security which helps prevent malware infections due to the autorun feature of Windows.
Once executed the user can choose two types of vaccinations: Computer Vaccination or USB Drive Vaccination.
File Size: 737 KB
OS: Windows2000,WinXP,Windows2003
LSN Password Safe v2.2.0.0
Free
This utility helps you keep track of your plethora of passwords with a free encrypted 'safe' on your PC.
Once you have it set up, it's easy to add a new record to your safe, with entries such as login, password,
URL or e-mail. LSN Password Safe is likely best suited to power-users who wants strong security features
and don't need much instruction.
File Size: 848
OS: Windows XP,Windows Vista, Win 7
NoScript V1.9.5 for Mozilla Firefox or SeaMonkey; or Flock browser
Free
Javascript is a very useful type of Web programming, but many online attacks exploit it.
Use this plug-in to block sites from running JavaScript in Firefox until you explicitly say it's okay.
You can give one-visit or permanent approval for the sites you trust.
File Size: 848
OS: Windows 98,Windows 2000,Windows Me,Windows XP
G.ho.st Virtual Computer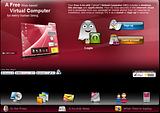 Click to enlarge
To signup and get your own
Free
Virtual PC, please
click here
Here's a screen capture of the desktop on the "Virtual PC" in use while
accessing a post at the avast! General forum: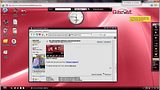 Click to enlarge
Highly Recommended

FREE

Software
avast! Home Edition Free
Why choose a high-priced subscription antivirus program that bogs down your PC while protecting it, when avast! can do it better?
avast! is one of the few free antivirus applications that does as good a job as any of the big boys.
avast! includes more than seven different kinds of shields, safe-surfing tools, and real-time virus protection for your OS, as well as Outlook.
avast! updates automatically and frequently and, avast! works with both Windows Vista and XP.
avast! gives you all this, in the free (Not for commercial use) version. More options are available in the Pro version.
avast! requires a simple on-line registration during or after the 60 day trial period to continue uninterupted updates.
avast! has been my anti-virus program for the past 3 years.
Version: 4.8.1335
Operating Systems: Windows XP, Windows Vista (Windows 7 Beta)
Go to the download page now:
avast! Home Edition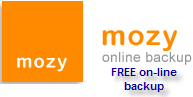 mozy

Free

Safe

Secure

online back-up


I use this every day to keep my important files safe

.


Vista Recovery Discs
Recover data from a damaged Vista system with this little-known Microsoft utility.
Not quite Google


Quick links to almost everything
http://www.allmyfaves.com/
or:
http://mysharedfiles.no-ip.org/AllMyFaves.url

Check out:
Giveaway of the Day

Thanks to ZDNet, PCWorld , Lockergnome.com and many other sources for this nice collection.

You'll find more FreeWare at MySharedFiles

A personal appeal: Please Click here to Help Support MySharedFiles. Thank You

Labels: Baylor, bob3160, clouds, Dallas, Free, freeware, giftoflife, Meadow Lake, MySharedFiles, reunion, Software,
sunset, transplant, weekly