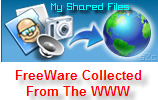 FreeWare 09-26-09
Click here to Help Support MySharedFiles
BattCursor v1.2
Free
It's harrowing when you race against your notebook PC's battery life. BattCursor helps ease this tension
by displaying the remaining battery percentage prominently, right under your cursor. This rather simple feature
is lightweight, so it won't accelerate battery drain. You can change the cursor color, text color, font, size,
and position, with different settings based on the power level.
File Size: 597
OS: Windows Vista,Windows 7
EASEUS Todo Backup v1.0
Free
For anyone who's willing to back up and cull backups manually, this free program has a lot to recommend it.
In addition to allowing a full restore, Easeus Todo Backup mounts (and un-mounts) the images it creates as
virtual hard drives. This allows you to easily browse and recover individual files and folders using Windows Explorer.
File Size: 36147
OS: Windows 2000,Windows XP,Windows Vista,Windows 7,Windows Server 2003,Windows Server 2008
Paglo RogueScanner v2.6.0
Free
Anyone with a network has reason to be concerned about intruders. It's especially a problem for wireless networks,
because someone can be across the street from your house, or in the parking lot of your business, and hop onto your
network undetected. The free Paglo RogueScanner identifies potential rogues.
File Size: 4122
OS: Windows XP,Windows Vista, Windows 7
InSSIDer v1.2.0.0708
Free
If you have a wireless network, you know the true meaning of frustration. You probably have dead spots where your wireless
network doesn't have a strong enough signal. In an apartment or an office in a shared building, you have problems with
competing networks. Trying to troubleshoot wireless networking can be nearly impossible. That's where InSSIDer comes in.
File Size: 1595
OS: Windows XP,Windows Vista

Highly Recommended

FREE

Software
avast! Home Edition Free
Why choose a high-priced subscription antivirus program that bogs down your PC while protecting it, when avast! can do it better?
avast! is one of the few free antivirus applications that does as good a job as any of the big boys.
avast! includes more than seven different kinds of shields, safe-surfing tools, and real-time virus protection for your OS, as well as Outlook.
avast! updates automatically and frequently and, avast! works with both Windows Vista and XP.
avast! gives you all this, in the free (Not for commercial use) version. More options are available in the Pro version.
avast! requires a simple on-line registration during or after the 60 day trial period to continue uninterrupted updates.
avast! has been my anti-virus program for the past 3 years.
Version: 4.8.1356
Operating Systems: Windows XP, Windows Vista, Windows 7
Go to the download page now:
avast! Home Edition
For additional features and added protection, try:
avast! 5 is coming . . . soon!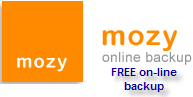 mozy

Free

Safe

Secure

online back-up


I use this every day to keep my important files safe

.


Vista Recovery Discs
Recover data from a damaged Vista system with this little-known Microsoft utility.
Not quite Google


Quick links to almost everything
http://www.allmyfaves.com/
or:
http://mysharedfiles.no-ip.org/AllMyFaves.url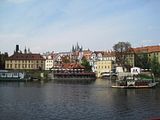 Click picture to enlarge
Click here for pictures of our trip to Prague - the capital of the Czech Republic.
Thank you Alwil (avast!) for making it possible.
Check out:
Giveaway of the Day

Thanks to ZDNet, PCWorld , Lockergnome.com and many other sources for this nice collection.

You'll find more FreeWare at MySharedFiles

A personal appeal: Please Click here to Help Support MySharedFiles. Thank You

Labels: Baylor, bob3160, clouds, Dallas, Free, freeware, giftoflife, Meadow Lake, MySharedFiles, reunion, Software, sunset, transplant, weekly