FreeWare W/E 01-02-10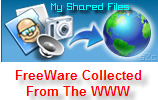 Click here to Help Support MySharedFiles
FreeWare for the week ending 01-02-10

Happy 2010
Migratr v1.06
Free
This is a desktop application which moves photos between popular photo sharing services.
Migratr will also migrate your metadata, including the titles, tags, descriptions and album organization.
Whether you want to copy your photos from Flickr to Faces, Picasa to Phanfare, or Zenfolio to Zooomr,
Migratr is the app for you. Migratr will copy your photos FROM any supported photo service,
TO any supported photo service.
Currently, Migratr supports the following services:


Flickr

,

Picasa Web

,

Photobucket
and other photo sharing services



FireFound v1.0.3
Free
(Firefox Required)
This is an add-on for Firefox and Fennec (mobile Firefox) that helps your find your computer
(or mobile phone, in the case of Fennec) if it is lost or stolen. Every time your computer's location changes,
FireFound sends a secure message to a central server with its current location. You can then log into the server
and see your computer's current location.

RUNit v2.0.1b
Free

This utility provides fast access to your most-used programs, via a menu you call up by right-clicking
on the edge of your screen. This tiny program doesn't require any installation, and it doesn't make any
changes to the Windows registry. Extract RUNit, double-click it and you're off.
File Size: 39 KB
OS: Windows / All



JetAudio Basic v8.0
Free

During installation, you have to be careful if you don't want to set JetAudio Basic
as the default application for audio and video files. However, the freeware application
gives you plenty of reasons to make it your only player.
File Size: 29.93 MB
OS: Windows / All

System Explorer v2.0.5
Free

This utility gives you detailed informations about Processes, Startups, Explorer, IE Addons, Uninstallers,
Windows, Services, Drivers, Connections and Opened Files.
File Size: 1,343 KB
OS: Windows 7/Vista/XP



TeraCopy v2.1
Free

This is a compact program designed to copy and move files at the maximum possible speed,
also providing you with a lot of features:
Copy files faster. TeraCopy uses dynamically adjusted buffers to reduce seek times.
Asynchronous copy speeds up file transfer between two physical hard drives.
Pause and resume file transfers. Pause copy process at any time to free up system resources
and continue with a single click.
Error recovery. In case of copy error, TeraCopy will try several times and in the worse case
just skips the file, not terminating the entire transfer.
Interactive file list. TeraCopy shows failed file transfers and lets you fix the problem
and recopy only problem files.
Shell integration. TeraCopy can completely replace Explorer copy and move functions,
allowing you work with files as usual.
File Size: 1533KB
OS: Win2000/XP/2003/Vista/7

ZDNet Readers' Choice: Top 25
Free
, lightweight apps:
01.)

VLC


02.)

FoxIt Reader


03.)

Pidgin


04.)

IrfanView


05.)

Firefox


06.)

7-Zip


07.)

Opera


08.)

Revo Uninstaller


09.)

Evernote


10.)

Notepad++


11.)

CCleaner

**




**

To avoid the ASK Toolbar always choose the Slim or Portable version available

here


12.)

Skype


13.)

InfraRecorder


14.)

TextPad


15.)

CutePDF Writer


16.)

FileZilla


17.)

Malwarebytes Anti-Malware


18.)

Audacity


19.)

KeepPass


20.)

AbiWord


21.)

GIMP

&

Paint.NET


22.)

Belarc Advisor


23.)

Everything


24.)

TrueCrypt


25.)

Launchy



Highly Recommended

FREE

Software
avast! Home Edition
Free

Why choose a high-priced subscription antivirus program that bogs down your PC while protecting it, when

avast!

can do it better?

avast!
is one of the few
free
antivirus applications that does as good a job as any of the big boys.


avast!

includes more than seven different kinds of shields, safe-surfing tools, and real-time virus protection for your OS, as well as Outlook.


avast!

updates automatically and frequently and,

avast!

works with both Windows Vista and XP.


avast!

gives you all this, in the
free
(Not for commercial use) version. More options are available in the Pro version.

avast!
requires a simple on-line registration during or
after
the 60 day trial period to continue uninterrupted updates.

avast! has been my anti-virus program
for the past 3 years.
Version: 4.8.1356
Operating Systems: Windows XP, Windows Vista, Windows 7

Go to the download page now:
avast! Home Edition
For additional features and added protection,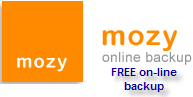 mozy

Free

Safe

Secure

online back-up


I use this every day to keep my important files safe

.


Vista Recovery Discs
Recover data from a damaged Vista system with this little-known Microsoft utility.
Not quite Google




Check out:
Giveaway of the Day

Thanks to ZDNet, PCWorld , Lockergnome.com and many other sources for this nice collection.