FreeWare W/E 01-23-10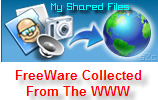 Click here to Help Support MySharedFiles
FreeWare for the week ending 01-23-10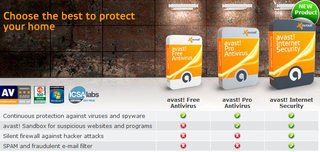 The new avast! 5 now comes in Three flavors.



For the new avast! 5 Free, here are the Key Technologies:

Antivirus and anti-spyware engine
avast! Intelligent Scanner
Silent/Gaming Mode
Behavior Shield
Real time anti-rootkit protection
Smart virus updates
avast! Community IQ


Please click here If you're interested in either of the 2 Paid versions of avast! 5



Hotspot Shield v1.34
Free

Do you feel safe when you connect to a hotspot at a public location? You shouldn't.
There are plenty of dangers lurking there, including hackers who may try to snoop at
what you're doing online. Particularly dangerous is if you visit any Web sites and type
in your user name and password--they could be hijacked. Hotspot Shield promises to solve the problem.
File Size: 5029
OS: Windows XP,Windows 2000,Vista / 7

SUPERAntiSpyware v4.33.100
Free

This useful program does a thorough job of scanning your system for dangers, and then whacks any it finds.
SuperAntiSpyware scans not just your files and memory, but your Registry as well in search of potential dangers.
It doesn't offer real-time protection, but it's a worthy addition to your anti-spyware arsenal.
File Size: 7345
OS: Windows XP,Windows 2000,Windows Vista,Windows Server 2003,Windows 7



Recuva v1.34.60
Free

Chances are that if you've accidentally erased a file, or malware has done it for you,
Recuva will find it. If it hasn't been overwritten, it will be recovered. Recuva works on
both FAT and NTFS file systems so you can undelete files on virtually any Windows PC ever made.
File Size: 3675
OS: Windows XP,Windows 2000,Windows Vista,Windows Server 2003



RegScanner v1.80
Free

This is a small utility that allows you to scan the Registry, find the desired Registry values
that match to the specified search criteria, and display them in one list. After finding the Registry values,
you can easily jump to the right value in RegEdit, simply by double-clicking the desired Registry item.
You can also export the found Registry values into a .reg file that can be used in RegEdit.
This utility is designed to work with Regedit not to replace it.
OS: Win / All



Win7 Library Tool v.1.05
Free

Windows 7's Libraries make it easy to find files scattered across your hard drive--but they don't support
network locations. Enter Win7 Library Tool, a handy little utility that lets you add network folders to your
Libraries and provides a centralized location for tweaking your Library settings.
File Size: 486
OS: Windows 7



JetAudio v8.0.1.300
Free

This is integrated multimedia software made of a single compact rack. Not only does it play various music
and video files, it also has features such as CD burning, recording, and conversion to other file formats.
You get the ability to create your own Internet broadcast by using JetCast, provided with JetAudio.
FileSize: 30.5 MB
OS: Win 2000/03/08/XP/Vista/7

Trillian v4.1.0.23
Free

This IM (Instant Messenger) application lets you connect to multiple IM and social networks at the same time,
managing contacts and real time status feeds efficiently.

AVAILABLE FOR ALL EDITIONS
Astra, AIM, Yahoo!, ICQ, Windows Live (MSN)
MySpaceIM, Google Talk. Jabber/XMPP

Additional Modules ONLY AVAILABLE FOR WINDOWS CURRENTLY
Facebook, Twitter, Skype, Bonjour, IRC, POP3 Mail, IMAP Mail



BitMeter 2 v3.5.8.28529
Free

This is a bandwidth meter that allows you to visually monitor your Internet connection by displaying
a scrolling graph that shows your upload and download speed over time.
File Size: 1 MB
OS: Win XP/2003/Vista/Windows7

Highly Recommended

FREE

Software
avast! 5 Free Edition
Free

Why choose a high-priced subscription antivirus program that bogs down your PC while protecting it, when

avast!

can do it better?

avast!
is one of the few
free
antivirus applications that does as good a job as any of the big boys.


avast!

includes more than seven different kinds of shields, safe-surfing tools, and real-time virus protection for your OS, as well as Outlook.


avast!

updates automatically and frequently and,

avast!

works with Windows XP, Vista and Windows 7.


avast!

gives you all this, in the
avast! 5 Free
version. More options are available in the Premium versions.
avast! has been my anti-virus program
for the past 6 years.
For additional features and added protection,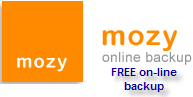 mozy

Free

Safe

Secure

online back-up


I use this every day to keep my important files safe

.


Vista Recovery Discs
Recover data from a damaged Vista system with this little-known Microsoft utility.
Not quite Google




Check out:
Giveaway of the Day
Windows '
God Mode
' for Vista and Windows 7

Thanks to ZDNet, PCWorld , Lockergnome.com and many other sources for this nice collection.