FreeWare W/E 02-06-10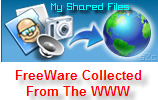 Click here to Help Support MySharedFiles
FreeWare for the week ending 02-06-10
Malwarebytes' Anti-Malware Free Version v1.44
Free

You can't depend on just one program to protect you from rootkits, Trojans, viruses, worms,
and other malware. So supplement your regular antivirus program with an extra scanner,
such as Malwarebytes' Anti-Malware Free. Scanning your hard drive with the Anti-Malware every week
or so adds another layer of protection, finding whatever your main program missed.
File Size: 4996
OS: Windows XP,Windows 2000,Windows Vista,Windows 7

HouseCall v.7.1 (32-bit version)
Free

Respected security company Trend Micro offers HouseCall, a free Web-based utility that scans for and cleans
your computer of viruses, Trojans and other malware. Unlike previous versions, which ran completely online,
this newest iteration uses a downloadable launcher--you no longer have to worry about browser compatibilities
or having the latest Java installed
File Size: 1798
OS: Windows XP,Windows Vista,Windows 7



Word Reader v5.6
Free

With this you can read docx,doc,html,rtf,txt,etc formats.
File Size: 7034 KB
OS: Win7/XP/2003/Vista

Speak-A-Message Free Home Edition v5.1.0
Free

This enables you to send voice emails, using your default email client. The program provides a simple
recording interface and automatically attaches the WMA compressed recording to an outgoing message.
The program also includes a Speech-to-text features that can automatically transcribe a voice message to text.
If you are using Outlook, Speak-A-Message will integrate directly with your email toolbar.
File Size: 8959 KB
OS: Win7/XP/2003/Vista

Network Activity Indicator for Windows 7 v1.2
Free

Windows 7 users, do you miss the two-monitor icon in Vista's system tray that flashed to show when you
there was network activity? If so, you'll want to download the small utility Network Activity Indicator
for Windows 7. This nifty freebie does more than just add a familiar blinking icon--it gives you capabilities
that the Vista feature didn't have.
File Size: 66
OS: Windows 7

ShellFolderFix v1.0
Free

Here's one annoyance about Windows 7: It doesn't remember the position of your Windows Explorer windows.
Here's the fix: ShellFolderFix. This simple tool remembers the position of all of your Windows Explorer windows
and starts them in that position when you reopen them. It also remembers the position of windows in other apps.
File Size: 1733
OS: Windows 7

Spamihilator v0.9.9.53
Free

This email utility works between your email-client-software and the Internet and examines every incoming email.
Useless spam mails will be filtered out. This process works completely in the background.
File Size: 2.07M
OS: Win95/98/Me/2k/XP/Vista/7



Photoscape v3.4
Free

This remarkable free piece of software is one that any self-respecting digital photographer needs on his or her
PC's hard disk. There's no possible way to begin to describe the wide range of tools and features this one has--
there's a file viewer to a photo editor, slide show creator, batch editor, screen capture program, and more.
File Size: 15826
OS: Windows XP,Windows NT,Windows 98,Windows 2000,Windows Me,Windows Vista



Highly Recommended Software
avast! 5 Free Edition
Free

Why choose a high-priced subscription antivirus program that bogs down your PC while protecting it, when

avast!

can do it better?

avast!
is one of the few
free
antivirus applications that does as good a job as any of the big boys.


avast!

includes more than seven different kinds of shields, safe-surfing tools, and real-time virus protection for your OS, as well as Outlook.


avast!

updates automatically and frequently and,

avast!

works with Windows XP, Vista and Windows 7.


avast!

gives you all this, in the
avast! 5 Free
version. More options are available in the Premium versions.
avast! has been my anti-virus program
for the past 6 years.
For additional features and added protection,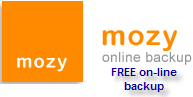 mozy

Free

Safe

Secure

online back-up


I use this every day to keep my important files safe

.


Vista Recovery Discs
Free
Recover data from a damaged Vista system with this little-known Microsoft utility.
Not quite Google




Check out:
Giveaway of the Day
Free
Windows '
God Mode
' for Vista and Windows 7
Free

Thanks to ZDNet, PCWorld , Lockergnome.com and many other sources for this nice collection.