FreeWare w/e 02-13-10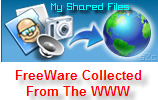 Click here to Help Support MySharedFiles
You'll find more FreeWare at MySharedFiles
FreeWare for the week ending 02-13-10
VisiPics v1.3
Free

If you spend any time with a camera, you're likely to have duplicate photo files
taking up disk space. Run VisiPics to ferret out duplicates--it doesn't rely on looking
for duplicate file names, but actually compares the photos themselves.
File Size: 1943
OS: Windows XP,Windows 2000,Windows Vista,Windows Server 2003



InstantMask v1.3
Free

Instant Mask is a quick and simple to use freeware background removing program.
File Size: 5470 KB
OS: Windows XP, Windows 2000, Windows Vista, Windows 7

XnView v1.97
Free

XnView lets you resize, crop, correct red eye, flip, rotate, and perform a wide variety of image adjustments,
including for brightness, contrast, and gamma. It also converts your pictures among many different image formats
File Size: 4287
OS: Windows XP,Windows 2000,Windows 9.x,Windows Me,Windows Vista,Windows 7

Photo Pos Pro v1.7.6
Free

Photo Pos Pro does a great job of balancing power and usability, and the array of editing tools that it offers is mind-boggling.
If you want powerful editing tools in easy reach, Photo Pos Pro is a great choice.
(I don't recommend instalation of their suggested Tool Bar.)
File Size: 46755
OS: Windows XP,Windows Vista, Windows 7



Prevent Restore v2.31
Free

The main purpose of the free Prevent Restore program is to make deleted files and folders unrecoverable.
File size: 1.95 Mb
OS: Windows XP, Windows Vista, Windows 7

STDU Explorer v1.0.96
Free

This is a file manager that offers you the opportunity to work with image files
(support psd, bmp, png, gif, jpeg, wmf formats) and e-books in DjVu and PDF formats.
This application helps you quickly view and find books or image files.
STDU Explorer is free for non-commercial uses.
File Size: 2.4 MB
OS: Microsoft Windows 2000/XP/2003/Vista/7



Quick Restore Maker v2
Free

Create Windows restore points faster and easier with the free Quick Restore Maker utility.
OS: Vista, Win7

Default Programs Editor v2.5
Free

It is a context menu editor, an autoplay editor, and default programs association editor;
essentially, the settings in the "Default Programs" Control Panel page. It's a replacement for the
"File Types" dialog in Windows XP, and brings some key features of TweakUI to Windows Vista/7.
Windows XP, Vista, and Win7

LookInMyPC
Free

Complete PC Profiling and Diagnostic Reports
OS: Windows 2000, XP, 2003, Vista, Win 7

EnhanceMySe7en v2.5
Free

With a clean and simple interface it brings you an All-in-One set of powerful and neatly classified tools,
settings and tweaks.
File Size: 8.45 MB
OS: Windows 7
Highly Recommended Software

avast! 5 Free Edition Free
Why choose a high-priced subscription antivirus program that bogs down your PC while protecting it, when avast! can do it better?
avast! is one of the few free antivirus applications that does as good a job as any of the big boys.
avast! includes more than seven different kinds of shields, safe-surfing tools, and real-time virus protection for your OS, as well as Outlook.
avast! updates automatically and frequently and, avast! works with Windows XP, Vista and Windows 7.
avast! gives you all this, in the avast! 5 Free version. More options are available in the Premium versions.
avast! has been my anti-virus program for the past 6 years.
For additional features and added protection,
Please click here for the avast! 5 Premium Products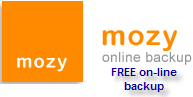 mozy

Free

Safe

Secure

online back-up


I use this every day to keep my important files safe

.


Vista Recovery Discs
Free
Recover data from a damaged Vista system with this little-known Microsoft utility.
Not quite Google


Quick links to almost everything Free
http://www.allmyfaves.com/
or:
http://mysharedfiles.no-ip.org/AllMyFaves.url
Check out:
Giveaway of the Day
Free
Windows '
God Mode
' for Vista and Windows 7
Free

Thanks to ZDNet, PCWorld , Lockergnome.com and many other sources for this nice collection.

You'll find more FreeWare at MySharedFiles

A personal appeal: Please Click here to Help Support MySharedFiles. Thank You

REMEMBER: ORGAN DONORS SAVE LIVES

Labels: Baylor, bob3160, clouds, Dallas, Free, freeware, giftoflife, Meadow Lake, MySharedFiles, reunion, Software, sunset, transplant, weekly