FreeWare for the week ending 02-20-10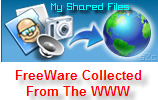 Click here to Help Support MySharedFiles
You'll find more FreeWare at MySharedFiles Continuosly Updated.
XXXXXXXXXXXXXXXXXXXXXXXXXXXXXXXXXXXXXXXXXXXXXXXXXXXXXXXXXXXXX
Remove Fake Antivirus 1.62
Free

This application removes Fake Antivirus Programs which are actually viruses or trojans.

Comodo Time Machine v2.5.129464.157
Free

Like Windows' own System Restore, Comodo Time Machine can roll back your PC to an earlier state.
However, this download does more than just protect the Registry and your system files:
It backs up files, folders, and programs, as well. Windows won't load?
Press while booting to access all of CTM's roll-back features
File Size: 20837
Operating System: Windows XP,Windows Vista,Windows Server 2003,Windows Server 2008,Windows 7

Q-Dir V4.04
Free

This utility makes your files and folder easy to manage.
Fast and easy access, with an amazing Quadro-View technique.
You don't have to renounce the usual, Drag and Drop, all Views, and other functions of your system.
File Size: 335K
OS: Win2k/XP/Vista/7



Earth Alerts v2010.1.62
Free

This program is a Windows-based application that allows you to monitor in near real-time
a variety of natural hazard events that are occurring anywhere around the world.
File Size: 2.7 MB
OS: Windows 2K / XP / Vista / 7


Highly Recommended Software

avast! 5 Free Edition Free
Why choose a high-priced subscription antivirus program that bogs down your PC while protecting it, when avast! can do it better?
avast! is one of the few free antivirus applications that does as good a job as any of the big boys.
avast! includes more than seven different kinds of shields, safe-surfing tools, and real-time virus protection for your OS, as well as Outlook.
avast! updates automatically and frequently and, avast! works with Windows XP, Vista and Windows 7.
avast! gives you all this, in the avast! 5 Free version. More options are available in the Premium versions.
avast! has been my anti-virus program for the past 6 years.
For additional features and added protection,
Please click here for the avast! 5 Premium Products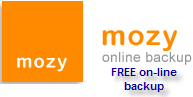 mozy

Free

Safe

Secure

online back-up


I use this every day to keep my important files safe

.


Vista Recovery Discs
Free
Recover data from a damaged Vista system with this little-known Microsoft utility.
Not quite Google


Quick links to almost everything Free
http://www.allmyfaves.com/
or:
http://mysharedfiles.no-ip.org/AllMyFaves.url
Check out:
Giveaway of the Day
Free
Windows '
God Mode
' for Vista and Windows 7
Free

Thanks to ZDNet, PCWorld , Lockergnome.com and many other sources for this nice collection.

You'll find more FreeWare at MySharedFiles

A personal appeal: Please Click here to Help Support MySharedFiles. Thank You

REMEMBER: ORGAN DONORS SAVE LIVES

Labels: Baylor, bob3160, clouds, Dallas, Free, freeware, giftoflife, Meadow Lake, MySharedFiles, reunion, Software, sunset, transplant, weekly