FreeWare W/E 02-27-10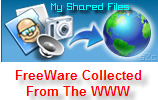 Click here to Help Support MySharedFiles
You'll find more FreeWare at MySharedFiles Continuosly Updated.
XXXXXXXXXXXXXXXXXXXXXXXXXXXXXXXXXXXXXXXXXXXXXXXXXXXXXXXXXXXXX
Dropbox Basic v0.7.97
Free

This application (Service) offers dead simple file syncing between any number of computers and the web.
It even supports file versioning so you can recover an old version of a file if it gets lost or corrupted.
There are Mac and Linux versions, too, so you can share with your friends and co-workers who aren't using PCs.
File Size: 13199 KB
OS: Windows XP, Windows Vista, Windows 7

Connectify V1.1
Free

Maybe you have a broadband card in your laptop, but no way to share its whiz-bang wireless connection
with your iPod Touch or another PC. Or maybe you've already paid for a hotel's Wi-Fi service and you don't
want to pay again just to connect other devices. You need Connectify, a clever utility that turns your
Internet-connected PC into the equivalent of a Wi-Fi hotspot.
File Size:900 KB
OS: Windows 7

PasteCopy.NET v0.9.7.2
Free

is a free portable Windows Clipboard Manager with multilingual support. It's fully automated and
has a (auto-) resizable preview pane. PasteCopy.NET enlarges the capacity of Windows Clipboard and
lets you organize csv (Comma separated values), html, rtf (Rich Text Format), text, unicode- text &
images into customizable categories.
File Size: 292.65 KB
OS: Windows 98/Me/2000/XP/2003/Vista/Server 2008/7

Nuance PDF Reader v6.0
Free

Nuance's first free PDF reader is a strong entry to the growing field of zero-cost Adobe Reader alternatives.
It has a reasonable set of features, including free document conversion via the Nuance Web site, and a crisp
interface that should be accessible to anybody.
File Size: 18.14 MB
OS: Windows XP/Vista/7

What's my computer doing
Free

This utility shows all programs (with details!), that are accessing your hard disk or using the CPU.
Furthermore you have the option to close these programs or even uninstall them.
File Size: 479 KB
OS: Windows 7, Vista, 2003, XP, 2000, NT

Easy Poster Printer v2.0.1
Free

Easy Photo Printer is a desktop app that lets you adjust and print any high-resolution digital photograph
as a poster (which, at its largest, can be 21 yards by 21 yards). You print your poster in sections and then
easily assemble the final product.
File Size: 5681 KB
OS: Windows XP, Windows Vista, Windows 7

Protect Me! 2010 v1.0.1.1
Free

This utility creates secure executable (.exe) container files to which you can add any files and directories you want.
Your files will be stored securely inside the container file. To ensure a maximum of security, Protect Me! 2010 uses
SHA1 for password validation and AES for encryption. The container file can either run or extract your files once
you've typed in the right password.
File Size 274 KB
OS: WinXP/Vista/7
Highly Recommended Software

avast! 5 Free Edition Free
Why choose a high-priced subscription antivirus program that bogs down your PC while protecting it, when avast! can do it better?
avast! is one of the few free antivirus applications that does as good a job as any of the big boys.
avast! includes more than seven different kinds of shields, safe-surfing tools, and real-time virus protection for your OS, as well as Outlook.
avast! updates automatically and frequently and, avast! works with Windows XP, Vista and Windows 7.
avast! gives you all this, in the avast! 5 Free version. More options are available in the Premium versions.
avast! has been my anti-virus program for the past 6 years.
For additional features and added protection,
Please click here for the avast! 5 Premium Products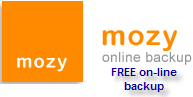 mozy

Free

Safe

Secure

online back-up


I use this every day to keep my important files safe

.


Vista Recovery Discs
Free
Recover data from a damaged Vista system with this little-known Microsoft utility.
Not quite Google


Quick links to almost everything Free
http://www.allmyfaves.com/
or:
http://mysharedfiles.no-ip.org/AllMyFaves.url
Check out:
Giveaway of the Day
Free
Windows '
God Mode
' for Vista and Windows 7
Free

Thanks to ZDNet, PCWorld , Lockergnome.com and many other sources for this nice collection.

You'll find more FreeWare at MySharedFiles

A personal appeal: Please Click here to Help Support MySharedFiles. Thank You

REMEMBER: ORGAN DONORS SAVE LIVES

Labels: Baylor, bob3160, clouds, Dallas, Free, freeware, giftoflife, Meadow Lake, MySharedFiles, reunion, Software, sunset, transplant, weekly