FreeWare W/E 03-06-10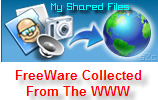 Click here to Help Support MySharedFiles
You'll find more FreeWare at MySharedFiles Continuosly Updated.
XXXXXXXXXXXXXXXXXXXXXXXXXXXXXXXXXXXXXXXXXXXXXXXXXXXXXXXXXXXXX
Ultimate Windows Tweaker v2.1
Free

Designed for advanced users (but worth a peek for ambitious novices), UWT gives you control
over more than 130 Vista settings, all of them conveniently grouped into seven categories
(Personalization, Security, Internet Explorer, and so on). Thankfully, you can get a description
of any given setting just by mousing over it.
The tweaker detects whether you have Windows 7 or Windows Vista installed and accordingly offers
you the relevant tweaks only.
File Size: 140 KB
OS: Windows Vista, Windows 7

SDExplorer v1.4
Free

SDExplorer isn't complex, but it's handy--greatly simplifying access to the storage
on your Windows Live account.
File Size: 1332
OS: Windows XP,Windows Vista,Windows Server 2003,Windows Server 2008,Windows 7

VirusTotal Uploader v2.0
Free

The VirusTotal.com Web site offers a free but invaluable security service.
It will scan any Web download, e-mail attachment or other file you send it with 40-odd different
antivirus scanners to let you know whether it's safe for your computer.
The VirusTotal Uploader utility makes sending a file to the site a breeze by adding a new
right-click option for any file.
File Size: 140 KB
OS: Windows XP, Windows Vista, Windows 7



speakershare v1.1
Free

Are you listening to music on your tinny, underpowered laptop speakers, while your PC's fancy speakers
sit unused? Download SpeakerShare to share the better equipment with other PCs on your home network.
File Size: 189
OS: Windows Vista, Windows 7



Shrink Pic v1.8
Free

Shrink Pic runs in the background and detects when you're trying to send a photo as an email
or IM attachment. When that happens, it intercepts the image and reduces its size.
File Size: 1263
OS: Windows XP,Windows 2000,Windows Vista, Windows 7


Click here

To download the program

directly from

MySharedFiles



Highly Recommended Software

avast! 5 Free Edition Free
Why choose a high-priced subscription antivirus program that bogs down your PC while protecting it, when avast! can do it better?
avast! is one of the few free antivirus applications that does as good a job as any of the big boys.
avast! includes more than seven different kinds of shields, safe-surfing tools, and real-time virus protection for your OS, as well as Outlook.
avast! updates automatically and frequently and, avast! works with Windows XP, Vista and Windows 7.
avast! gives you all this, in the avast! 5 Free version. More options are available in the Premium versions.
avast! has been my anti-virus program for the past 6 years.
For additional features and added protection,
Please click here for the avast! 5 Premium Products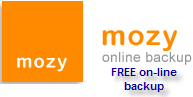 mozy

Free

Safe

Secure

online back-up


I use this every day to keep my important files safe

.


Vista Recovery Discs
Free
Recover data from a damaged Vista system with this little-known Microsoft utility.
Not quite Google


Quick links to almost everything Free
http://www.allmyfaves.com/
or:
http://mysharedfiles.no-ip.org/AllMyFaves.url
Check out:
Giveaway of the Day
Free
Windows '
God Mode
' for Vista and Windows 7
Free

Thanks to ZDNet, PCWorld , Lockergnome.com and many other sources for this nice collection.

You'll find more FreeWare at MySharedFiles

A personal appeal: Please Click here to Help Support MySharedFiles. Thank You

REMEMBER: ORGAN DONORS SAVE LIVES

Labels: Baylor, bob3160, clouds, Dallas, Free, freeware, giftoflife, Meadow Lake, MySharedFiles, reunion, Software, sunset, transplant, weekly