FreeWare W/E 03-20-10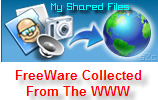 Click here to Help Support MySharedFiles
You'll find more FreeWare at MySharedFiles Continuosly Updated.
XXXXXXXXXXXXXXXXXXXXXXXXXXXXXXXXXXXXXXXXXXXXXXXXXXXXXXXXXXXXX
GreenPrint World v2.2
Free

Looking to cut down your printer ink and paper consumption? GreenPrint World removes unnecessary pages,
such as those with no text. It also lets you remove images or text, or to delete whole pages,
before printing. It also create PDFs.
File Size: 6966
OS: Windows Vista,Windows 7

Jet Screenshot v2.21
Free

This is a freeware utility enabling you to share screenshot via the internet in seconds.
It allows you to take a screen snap, edit it and send it to the Web, so that you can immediately
provide anyone with a link to the image.
File Size: 2489 KB
OS: Win7/XP/2003/Vista

Schirmfoto 2011
Free

This is the easiest way of creating screenshots. Schirmfoto integrates itself into your Windows system
by adding a new button in the title bar of each window. Clicking this icon will create a screenshot for you.
File Size 4.9 MB
OS: Windows XP, Vista and Windows 7

XDeskCover v1.1
Free

This is a free desktop widget program that shows the current song cover in a customizable skin.
It fully works with Windows Media Player, Foobar2000, Winamp,iTunes.
File Size: 2642
OS: Win7/XP/2003/Vista

Highly Recommended Software

avast! 5 Free Edition Free
Why choose a high-priced subscription antivirus program that bogs down your PC while protecting it, when avast! can do it better?
avast! is one of the few free antivirus applications that does as good a job as any of the big boys.
avast! includes more than seven different kinds of shields, safe-surfing tools, and real-time virus protection for your OS, as well as Outlook.
avast! updates automatically and frequently and, avast! works with Windows XP, Vista and Windows 7.
avast! gives you all this, in the avast! 5 Free version. More options are available in the Premium versions.
avast! has been my anti-virus program for the past 6 years.
For additional features and added protection,
Please click here for the avast! 5 Premium Products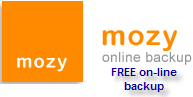 mozy

Free

Safe

Secure

online back-up


I use this every day to keep my important files safe

.


Vista Recovery Discs
Free
Recover data from a damaged Vista system with this little-known Microsoft utility.
Not quite Google


Quick links to almost everything Free
http://www.allmyfaves.com/
or:
http://mysharedfiles.no-ip.org/AllMyFaves.url
Check out:
Giveaway of the Day
Free
Windows '
God Mode
' for Vista and Windows 7
Free

Thanks to ZDNet, PCWorld , Lockergnome.com and many other sources for this nice collection.

You'll find more FreeWare at MySharedFiles

A personal appeal: Please Click here to Help Support MySharedFiles. Thank You

REMEMBER: ORGAN DONORS SAVE LIVES

Labels: Baylor, bob3160, clouds, Dallas, Free, freeware, giftoflife, Meadow Lake, MySharedFiles, reunion, Software, sunset, transplant, weekly