FreeWare W/E 04-03-10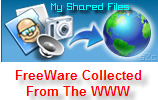 Click here to Help Support MySharedFiles
You'll find more FreeWare at MySharedFiles Continuosly Updated.
XXXXXXXXXXXXXXXXXXXXXXXXXXXXXXXXXXXXXXXXXXXXXXXXXXXXXXXXXXXXX
ZeuApp v1.3
Free

Pick software that you want, start download and install it.
One click download the application you want to install, ZeuAPP in its list contains 82 applications.
All applications are freeware or open source, and you are free to download them.
ZeuAPP has 12 categories:
Archivers, Audio, Video, Chat-IM, Internet, CD Burners, P2P-File sharing, Games, Graphic, Office, Security, Utility.
Click Here http://mysharedfiles.no-ip.org/ZeuAPP1.3.exe
to download directly from MySharedFiles http://home.comcast.net/~mysharedfiles/

Capture .NET 7.1.3737
Free

Capture screen/Capture color/Screen ruler/Font Manager/Windows Spy/
Privacy eraser/Converter/BackupExpert/Alarm Clock/Post It/Screen Calender/
World Clock/System Tweak... and much more.
A standalone tool that does not require installation.
File Size: 606 KB
OS: Win XP/2003/Vista/Windows7

Screenshot Captor V2.78.01
Free

Screenshot Captor takes control of the Windows PrintScreen key and gives you fine control over
the screenshot process. This tool can grab a region, a window, or an entire screen.
It can even piece together a big screenshot from a scrolling window.
File Size: 8920 KB
OS: Windows XP,Windows 2000,Windows Vista,Windows 7




4 kids Of All Ages

These programs are also available at MySharedFiles in the Kidz Korner Section

Tux Paint V0.9.21
Free

If you have children in your life, then you know how much they love to draw and paint--and they love computers.
It's a sure bet, then, that they'll love Tux Paint. The program is easy to use, though small children might need
a little guidance at first.
File Size: 9992 KB
OS: Windows XP,Windows 2000,Windows Vista,Windows 7

ZAC Browser V1.5
Free

This well-designed children's Web browser was designed to help children on the autism spectrum
benefit from the educational sites that other kids enjoy.
Nonetheless, young children who are not on the spectrum will also find this browser very entertaining.
File Size: 13094
OS: Windows XP,Windows 2000,Windows Me,Windows Vista,Windows 7


Highly Recommended Software

avast! 5 Free Edition Free
Why choose a high-priced subscription antivirus program that bogs down your PC while protecting it, when avast! can do it better?
avast! is one of the few free antivirus applications that does as good a job as any of the big boys.
avast! includes more than seven different kinds of shields, safe-surfing tools, and real-time virus protection for your OS, as well as Outlook.
avast! updates automatically and frequently and, avast! works with Windows XP, Vista and Windows 7.
avast! gives you all this, in the avast! 5 Free version. More options are available in the Premium versions.
avast! has been my anti-virus program for the past 6 years.
For additional features and added protection,
Please click here for the avast! 5 Premium Products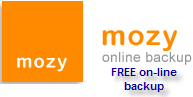 mozy

Free

Safe

Secure

online back-up


I use this every day to keep my important files safe

.


Vista Recovery Discs
Free
Recover data from a damaged Vista system with this little-known Microsoft utility.
Not quite Google


Quick links to almost everything Free
http://www.allmyfaves.com/
or:
http://mysharedfiles.no-ip.org/AllMyFaves.url
Check out:
Giveaway of the Day
Free
Windows '
God Mode
' for Vista and Windows 7
Free

Thanks to ZDNet, PCWorld , Lockergnome.com and many other sources for this nice collection.

You'll find more FreeWare at MySharedFiles

A personal appeal: Please Click here to Help Support MySharedFiles. Thank You

REMEMBER: ORGAN DONORS SAVE LIVES

Labels: Baylor, bob3160, clouds, Dallas, Free, freeware, giftoflife, Meadow Lake, MySharedFiles, reunion, Software, sunset, transplant, weekly