FreeWare W/E 04-24-10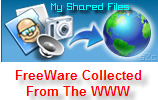 Click here to Help Support MySharedFiles
You'll find more FreeWare at MySharedFiles Continuosly Updated.
XXXXXXXXXXXXXXXXXXXXXXXXXXXXXXXXXXXXXXXXXXXXXXXXXXXXXXXXXXXXX
TeamViewer Portable v5.0.8081
Free

This is a remote PC support/control and screen-sharing tool. You can remote control a partner's desktop
to give online assistance, or you can show your screen to a customer without worrying about firewalls,
IP addresses and NAT. It's packaged as a portable app so you can work on the go.
File Size: 3 MB
OS: Win98/Me/2k/XP/Vista/7

PMW (Process Manager For Windows) v2.0.886
Free

This is highly customizable freeware that lets you perform the following operations on any application
with two clicks or a shortcut: kill, change/remember priority, always on top, minimize to tray, hide,
hide others. You can also hide all, unhide all, kill all, change language.
File Size 383.3 KB
OS: WinXP/Vista/7

Speccy v1.01.132 Final Release
Free

This is an advanced System Information tool for your PC.
OS: Windows 7, Vista, XP and 2000

Alice and I arrived in Dallas, Texas last night.
We'll be spending the next week with other transplant recipients celebrating the gift of life.




For all those of you who haven't yet signed up to be organ donors,
Please let this serve as a reminder to sign up as soon as possible.



Remember

, "

Organ Donors Lead Extended Lives

"

Organ donation is one of the most unselfish gifts you are able to make and,
It can help extend the lives of many others who without this gift have no future.

Alice and I where able to celebrate our 50th wedding anniversary earlier this year
because somone cared enough to give the ultimate gift four years ago.

Signing up is painless and in most cases, so is the donation process.
For more information go to:
http://www.organdonor.gov/

Highly Recommended Software

avast! 5 Free Edition Free
Why choose a high-priced subscription antivirus program that bogs down your PC while protecting it, when avast! can do it better?
avast! is one of the few free antivirus applications that does as good a job as any of the big boys.
avast! includes more than seven different kinds of shields, safe-surfing tools, and real-time virus protection for your OS, as well as Outlook.
avast! updates automatically and frequently and, avast! works with Windows XP, Vista and Windows 7.
avast! gives you all this, in the avast! 5 Free version. More options are available in the Premium versions.
avast! has been my anti-virus program for the past 6 years.
For additional features and added protection,
Please click here for the avast! 5 Premium Products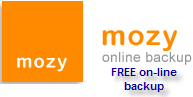 mozy

Free

Safe

Secure

online back-up


I use this every day to keep my important files safe

.


Vista Recovery Discs
Free
Recover data from a damaged Vista system with this little-known Microsoft utility.
Not quite Google


Quick links to almost everything Free
http://www.allmyfaves.com/
or:
http://mysharedfiles.no-ip.org/AllMyFaves.url
Check out:
Giveaway of the Day
Free
Windows '
God Mode
' for Vista and Windows 7
Free

4 kids Of All Ages

Safe programs just for Kids available at MySharedFiles in the Kidz Korner Section.

Thanks to ZDNet, PCWorld , Lockergnome.com and many other sources for this nice collection.

You'll find more FreeWare at MySharedFiles

A personal appeal: Please Click here to Help Support MySharedFiles. Thank You

REMEMBER: ORGAN DONORS SAVE LIVES

Labels: Baylor, bob3160, clouds, Dallas, Free, freeware, giftoflife, Meadow Lake, MySharedFiles, reunion, Software, sunset, transplant, weekly