FreeWare W/E 05-15-10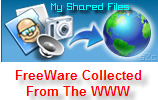 Click here to Help Support MySharedFiles
You'll find more FreeWare at MySharedFiles Continuosly Updated.
XXXXXXXXXXXXXXXXXXXXXXXXXXXXXXXXXXXXXXXXXXXXXXXXXXXXXXXXXXXXX
Dmailer Backup v3.1
Free

This backup utility is a bit unusual for a backup program in that it won't back up to an internal drive,
only to external storage. If you think about it, you shouldn't really be backing up to an internal drive anyway,
as it's subject to the same physical dangers--shock and electrical, mostly--as the rest of your system.
The program also includes 2GB of free online storage which, unlike with popular freebies Mozy Home and
Fabrik Ultimate Backup Home, you can access via a Web browser.
File Size: 22935 KB
OS: Windows XP, Windows Vista, Windows 7

Microsoft Pro Photo Tools 2
Free

This software provides a set of tools for photographers to perform various tasks with their images—
including RAW captures. The current version enables you to quickly geotag your photos, view and edit metadata, and more,
leveraging the power of Windows and Microsoft Live Local.
File Size: 4.99 MB
OS: Windows XP, Windows Vista, Windows 7

Fast Folder Eraser 1.1.0
Free

Application designed to quickly delete folders with a large number of files, without slowing down system performances.
The files are not sent to the recycle bin, but are deleted directly.
File Size: 783 KB
OS: Win7/XP/2003/Vista

WebShot v1.7.5
Free

This is a program that allows you to take screenshots and thumbnails of web pages or whole websites.
WebShot comes with a command line interface for advanced users. The following image formats are supported:
GIF, JPG, PNG, BMP.
File Size: 590 KB
OS: Win7/XP/2003/Vista



SIW v2010.05.12
Free

This is a System Information tool that gathers detailed information about your system properties and settings.
A utility that includes detailed specs for Motherboard, BIOS, CPU, Devices, Memory, Video, Drives, Ports, Printers.
SIW displays information about Operating System, Installed Programs, Processes, Services, System uptime, Product Key (CD key),
Users, Serial Numbers, Open Files, Network, Users, Network Shares and more, as well as real-time monitors for CPU, Memory, Page.
SIW also displays currently active network connections, Passwords hidden behind asterisks, installed codecs, and more.
A standalone tool that does not require installation.
File Size: 1538 KB
OS: Windows XP, Windows Vista, Windows 7

Highly Recommended Software

avast! 5 Free Edition Free
Why choose a high-priced subscription antivirus program that bogs down your PC while protecting it, when avast! can do it better?
avast! is one of the few free antivirus applications that does as good a job as any of the big boys.
avast! includes more than seven different kinds of shields, safe-surfing tools, and real-time virus protection for your OS, as well as Outlook.
avast! updates automatically and frequently and, avast! works with Windows XP, Vista and Windows 7.
avast! gives you all this, in the avast! 5 Free version. More options are available in the Premium versions.
avast! has been my anti-virus program for the past 6 years.
For additional features and added protection,
Please click here for the avast! 5 Premium Products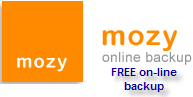 mozy

Free

Safe

Secure

online back-up


I use this every day to keep my important files safe

.


Vista Recovery Discs
Free
Recover data from a damaged Vista system with this little-known Microsoft utility.
Not quite Google


Quick links to almost everything Free
http://www.allmyfaves.com/
or:
http://mysharedfiles.no-ip.org/AllMyFaves.url
Check out:
Giveaway of the Day
Free
Windows '
God Mode
' for Vista and Windows 7
Free

4 kids Of All Ages

Safe programs just for Kids available at MySharedFiles in the Kidz Korner Section.

Thanks to ZDNet, PCWorld , Lockergnome.com and many other sources for this nice collection.

You'll find more FreeWare at MySharedFiles

A personal appeal: Please Click here to Help Support MySharedFiles. Thank You

REMEMBER: ORGAN DONORS LIVE EXTENDED LIVES

Labels: Baylor, bob3160, clouds, Dallas, Free, freeware, giftoflife, Meadow Lake, MySharedFiles, reunion, Software, sunset, transplant, weekly