FreeWare W/E 05-22-10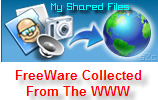 Click here to Help Support MySharedFiles
You'll find more FreeWare at MySharedFiles Continuosly Updated.
XXXXXXXXXXXXXXXXXXXXXXXXXXXXXXXXXXXXXXXXXXXXXXXXXXXXXXXXXXXXX
XMedia Recode v2.2.2.0
Free

This Audio/Vidio utility can convert almost all known formats, including 3GP, 3GPP, 3GPP2, AAC, AC3, AMR, ASF, AVI,
AVISynth, DVD, FLAC, FLV, H.261, H.263, H.264, M4A , m1v, M2V, M4V, Matroska (MKV), MMF, MPEG-1, MPEG-2, MPEG-4,
TS, TRP, MP2, MP3, MP4, MP4V, MOV, OGG, PSP, (S) VCD, SWF , VOB, WAV, WMA and WMV.
XMedia Recode can only convert unprotected DVDs.
File Size: 4.61 MB
OS: Win 2K/03/XP/Vista/7



Double Driver v4.0
Free

This is a very simple and useful tool which not only allows you to view all the drivers installed on your system
but also allows you to backup, restore, save and print all chosen drivers.
One of the main reasons why you would want to collect installed drivers is if you don't have the Driver CD that came
with the computer or they are unavailable online. This comes in quite handy if you purchase a computer and want to backup
the initial set of drivers. It can be quite difficulty for example to find drivers for hardware installed in a notebook
if the operating system has to be setup again. Luckily Double Driver can now lend you a hand with that and
save you a lot of time.
File Size: 2075 KB
OS: Windows XP, Windows Vista, Windows 7

DesktopOK v1.86
Free

Save and restore the positions of icons.
DesktopOK is a small but effective solution for user that have to change the screen resolution often.
:::: Features :::::
# Save your favorite icon locations for each screen resolution.
# Each user can then have his own arrangement.
# Minimises to tray area for easy access.
# Launch at Windows startup.
# Autosave
# Portable
File Size: 39 KB
OS: Windows / All



EssentialPIM v3.53
Free

This is an absolutely free personal information manager can store, manage, and encrypt data:
day/week/month/year schedules, to do lists for keeping all your tasks up-to-date, notes
(pictures, tables, any formatted text), and contacts.
File Size: 4.9 MB
OS: Win2k/XP/Vista/7



save2pc v3.58
Free

Formerly called YouTube Downloader, is a free tool that downloads videos from YouTube or Google Video and saves it
as an AVI or MPG or FLV file to your local computer.
File Size: 2.94MB
OS: WinXP/Vista/7

Highly Recommended Software

avast! 5 Free Edition Free
Why choose a high-priced subscription antivirus program that bogs down your PC while protecting it, when avast! can do it better?
avast! is one of the few free antivirus applications that does as good a job as any of the big boys.
avast! includes more than seven different kinds of shields, safe-surfing tools, and real-time virus protection for your OS, as well as Outlook.
avast! updates automatically and frequently and, avast! works with Windows XP, Vista and Windows 7.
avast! gives you all this, in the avast! 5 Free version. More options are available in the Premium versions.
avast! has been my anti-virus program for the past 6 years.
For additional features and added protection,
Please click here for the avast! 5 Premium Products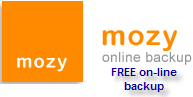 mozy

Free

Safe

Secure

online back-up


I use this every day to keep my important files safe

.


Vista Recovery Discs
Free
Recover data from a damaged Vista system with this little-known Microsoft utility.
Not quite Google


Quick links to almost everything Free
http://www.allmyfaves.com/
or:
http://mysharedfiles.no-ip.org/AllMyFaves.url
Check out:
Giveaway of the Day
Free
Windows '
God Mode
' for Vista and Windows 7
Free

4 kids Of All Ages

Safe programs just for Kids available at MySharedFiles in the Kidz Korner Section.

Thanks to ZDNet, PCWorld , Lockergnome.com and many other sources for this nice collection.

You'll find more FreeWare at MySharedFiles

A personal appeal: Please Click here to Help Support MySharedFiles. Thank You

REMEMBER: ORGAN DONORS LIVE EXTENDED LIVES

Labels: Baylor, bob3160, clouds, Dallas, Free, freeware, giftoflife, Meadow Lake, MySharedFiles, reunion, Software, sunset, transplant, weekly