FreeWare W/E 07-03-10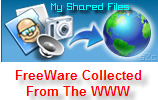 Click here to Help Support MySharedFiles
You'll find more FreeWare at MySharedFiles Continuously Updated.
XXXXXXXXXXXXXXXXXXXXXXXXXXXXXXXXXXXXXXXXXXXXXXXXXXXXXXXXXXXXX
Trillian Astra v4.2b20
Free

This is a fully featured, stand-alone, skinnable chat client that supports chatting on Astra,
Windows Live, Facebook, Yahoo, MySpace, AIM, Email, Google Talk, Skype, ICQ, Jabber, IRC, Bonjour
and others. It also helps manage your social networks such as Facebook and Twitter.
It simplefies your online IM by only having one interface to handle multiple services.
File Size 15.5M
OS: WinMe/2k/XP/Vista/7

BB FlashBack Express v2.7.5.1572
Free

This is a screen recording software that enables you to capture desktop activity in real-time,
like a movie, and then export it to Flash (FLV and SWF) or AVI file. You can choose to capture
the entire desktop, a specific window or a framed region, and also include sound from a microphone
and even the video from an attached webcam as PIP image. Other features include one-click upload to
YouTube and other video sharing sites, cursor highlighting and support for Vista Aero effects.
BB FlashBack Express requires no-cost registration after 30 days to remove a trial watermark.
File Size: 8576 KB
OS: Win7/XP/2003/Vista



UltraFileSearch v1.0.0.10178
Free

This is a Search Utility which is able to find quickly Files, Folders and Text on your Local, Network,
DVD, CD-ROM, USB Hard or Flash Drives. Ultra File Search allows you to specify several File Mask and
multiple Drives and/or Folders at the same time; it is able to sort out files and folders according to
their properties (e. g. Modified Date) and find files which contain one or more specific words or sentences.
This Utility does not use background indexing, does not waste system resources and does not use extra
space on the disk.
Here are some key features of "UltraFileSearch":
· Easy User friendly interface.
· Search for Files or Files and Folders or only Folders.
· Can search on the basis of several File Masks at the same time.
· Can search in multiple Drives and/or Folders at the same time.
· Search of files which contain one or more words or sentences.
· Filter for Files Newer than or Older than or within a specific Date range.
· Filter for Files Larger than or Smaller than or within a specific Size range.
· The results can be put in order by column: upward, downward or neither of them.
· Specific actions can be carried out on the results (e.g. Open Folder, Open Containing Folder).
· The results can be exported in various formats (Plain TXT, Tabbed TXT, CSV, HTML, XML)
· Shows search statistics as found Files and Folders, Search Time, controlled Objects, Speed.
File Size: 1578 KB
OS: Win7/XP/2003/Vista

Patriotic Theme for Windows 7 v1
Free

Celebrate the U.S. Independence Day in style. This free Patriotic Windows 7 theme pack gives you three
very attractive and artistic wallpapers, featuring a colorful drawing of the American flag, a beautifully
rendered Declaration of Independence, and an abstract stars-and-stripes graphic. Very nice.
The only other changes to your interface are a pleasant sounds package ("Garden") and blue window treatments.
The theme is very easy to install: Just double-click the themepack file once you've unzipped it.
File Size: 1683
OS: Windows 7



World Cup 2010 Theme for Windows 7 v1
Free

World Cup fans, take note: A soccer-loving techie has a present for you. This free World Cup 2010 Theme
for Windows 7 includes wallpaper in five different colors adorned with the FIFA logo, turns your Recycle Bin
into a little soccer field, and offers the World Cup itself as a replacement for your Start icon.
The themes are very easy to install; just unload the zip archive and click on a color theme you'd like to try.
File Size: 12440
OS: Windows 7

Highly Recommended Software

avast! 5 Free Edition Free
Why choose a high-priced subscription antivirus program that bogs down your PC while protecting it, when avast! can do it better?
avast! is one of the few free antivirus applications that does as good a job as any of the big boys.
avast! includes more than seven different kinds of shields, safe-surfing tools, and real-time virus protection for your OS, as well as Outlook.
avast! updates automatically and frequently and, avast! works with Windows XP, Vista and Windows 7.
avast! gives you all this, in the avast! 5 Free version. More options are available in the Premium versions.
avast! has been my anti-virus program for the past 6 years.
For additional features and added protection,
Please click here for the avast! 5 Premium Products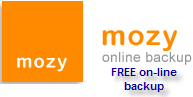 mozy

Free

Safe

Secure

online back-up


I use this every day to keep my important files safe

.


Vista Recovery Discs
Free
Recover data from a damaged Vista system with this little-known Microsoft utility.
Not quite Google


Quick links to almost everything Free
http://www.allmyfaves.com/
or:
http://mysharedfiles.no-ip.org/AllMyFaves.url
Check out:
Giveaway of the Day
Free
Windows '
God Mode
' for Vista and Windows 7
Free

4 kids Of All Ages

Safe programs just for Kids available at MySharedFiles in the Kidz Korner Section.

Thanks to ZDNet, PCWorld , Lockergnome.com and many other sources for this nice collection.

You'll find more FreeWare at MySharedFiles

A personal appeal: Please Click here to Help Support MySharedFiles. Thank You

REMEMBER: ORGAN DONORS LIVE EXTENDED LIVES

Labels: Baylor, bob3160, clouds, Dallas, Free, freeware, giftoflife, Meadow Lake, MySharedFiles, reunion, Software, sunset, transplant, weekly