FreeWare W/E 07-10-10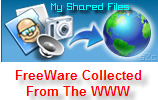 Click here to Help Support MySharedFiles
You'll find more FreeWare at MySharedFiles Continuously Updated.
XXXXXXXXXXXXXXXXXXXXXXXXXXXXXXXXXXXXXXXXXXXXXXXXXXXXXXXXXXXXX
360Amigo System Speedup v1.2.0.3226
Free

If you think your PC is slow, help is at hand. Detect and remove all bad entries from your PC,
optimize Windows for faster start-up times and stop runaway processes that may take up all of your
processors' cycles. It also includes a Junk Files Cleaner to remove unused files.
File Size: 2,660 KB
OS: WinMe/2k/XP/Vista/7

Predator Free Edition v2.3.0.581
Free

This utility locks your PC when you are away, even if your Windows session is still opened.
It uses a regular USB flash drive as an access control device, and works as follows:
* you insert the USB key * you run PREDATOR (autostart with Windows is possible)
* you do your work...
* when you're away from your PC, you simply remove the USB flash drive:
once it is removed, the keyboard and mouse are disabled and the screen darkens
* when you return back to your PC, you put the USB flash drive in place:
keyboard and mouse are immediately released, and the display is restored.
File Size: 1.1 MB
OS: Windows 2K / XP / 2003 / Vista / 7



ProcNetMonitor v2.6
Free

This is the free tool to monitor the network activity of all running process in the system.
It displays all open network ports (TCP/UDP) and active network connections for each process.
It has advanced color based auto analysis system to make it easy to distinguish network oriented
processes from others with just one glance at the list.
File Size: 547 KB
OS: Windows XP / 2003 / Vista / 7

Q-Dir v4.29
Free

This utility makes your files and folder easy to manage. Fast and easy access, with an amazing
Quadruped-View technique. You don't have to renounce the usual, Drag and Drop, all Views,
and other functions of your system. No!
Q-Dir gives you other nice functions, that make you happy. One can save many hand moves and also time!
Q-Dir does not have to be installed and can be executed easily from the desktop.
Rename Q-Dir_Installer.exe to Q-Dir.exe and GO. Q-Dir is a small famous utility for your operating system
and also a USB-stick friend
File Size: 374 KB
OS: Windows / All


Highly Recommended Software

avast! 5 Free Edition Free
Why choose a high-priced subscription antivirus program that bogs down your PC while protecting it, when avast! can do it better?
avast! is one of the few free antivirus applications that does as good a job as any of the big boys.
avast! includes more than seven different kinds of shields, safe-surfing tools, and real-time virus protection for your OS, as well as Outlook.
avast! updates automatically and frequently and, avast! works with Windows XP, Vista and Windows 7.
avast! gives you all this, in the avast! 5 Free version. More options are available in the Premium versions.
avast! has been my anti-virus program for the past 6 years.
For additional features and added protection,
Please click here for the avast! 5 Premium Products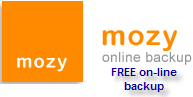 mozy

Free

Safe

Secure

online back-up


I use this every day to keep my important files safe

.


Vista Recovery Discs
Free
Recover data from a damaged Vista system with this little-known Microsoft utility.
Not quite Google


Quick links to almost everything Free
http://www.allmyfaves.com/
or:
http://mysharedfiles.no-ip.org/AllMyFaves.url
Check out:
Giveaway of the Day
Free
Windows '
God Mode
' for Vista and Windows 7
Free

4 kids Of All Ages

Safe programs just for Kids available at MySharedFiles in the Kidz Korner Section.

Thanks to ZDNet, PCWorld , Lockergnome.com and many other sources for this nice collection.

You'll find more FreeWare at MySharedFiles

A personal appeal: Please Click here to Help Support MySharedFiles. Thank You

REMEMBER: ORGAN DONORS LIVE EXTENDED LIVES

Labels: Baylor, bob3160, clouds, Dallas, Free, freeware, giftoflife, Meadow Lake, MySharedFiles, reunion, Software, sunset, transplant, weekly