FreeWare Period Ending 10-20-10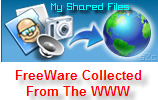 Click here to Help Support MySharedFiles
You'll find more FreeWare at MySharedFiles Continuously Updated.
XXXXXXXXXXXXXXXXXXXXXXXXXXXXXXXXXXXXXXXXXXXXXXXXXXXXXXXXXXXXX
AVERT v2.0
Free

This is an application designed to help facilitate the removal of malware on an already
infected machine.
AVERT comes loaded with tons of features and more are constantly added:
7 Scanners from some of the top security companies
Automatic EVERYTHING - Scanning, logging, quarantine/removal
Simple and easy to use, Customizable, Auto updates
Temp file cleaning with Piriform's CCleaner.
File Size: 3.38 MB
OS: Win7/Vista/2K/XP



Emsisoft Emergency Kit v1.0.0.22
Free

This utility contains a collection of programs that can be used without a software installation
to scan and clean infected computers for malware.
* Your emergency kit for infected PCs!
* Detects and removes Malware
* Over 4 million known dangers
* 100% portable - perfect for USB sticks
* HiJackFree and BlitzBlank included
File Size:98.89 MB
OS: Windows XP/Vista/7


Remove Fake Antivirus v1.69
Free

This utility is capable of removing 65 Fake Antivirus programs.
What is fake antivirus? This is a type of virus/malwares which disguises itself to be an
antivirus. It infects your computer when you accidentally click a link in a website which will
download the malware into your computer and run automatically when your windows boot.
File Size: 232 KB
OS: Win2k/XP/Vista/7
Media Cope v2.0.0.0
Free

This is the first ever multimedia software to provide almost all functions needed by a regular
home user under one interface including:
Audio/Video Player - Can play almost all formats.
Audio/Video Cutter – Can cut and save in almost all formats.
Audio/Video Joiner – Can join and save in almost all formats.
Audio/Video Converter – Can convert almost all formats.
Photo Cutter – Can cut 100s of photos in minutes due to its design.
Photo Resizer – Can do batch resizing operations.
Slide Show – Lets you view your photos with movie effects (zoom + music) in real time. Can save
slide shows in 1/10th of time taken by any other maker and of size 1/10th of the file made in
other formats like WMV by movie maker.
Speak Text – Can speak any text on any Web page.
Web Image Full Screen Viewer – Can view any image on any Web page in full screen with just a
click.
File Size: 10.4 MB
OS: WinXP/Vista/7

System Explorer v2.3.8
Free

This utility shows detailed infromation about Processes, Startups, Explorer, IE Addons,
Uninstallers, Services, Drivers, Connections and Opened Files.
File Size: 1.41MB
OS: Windows XP/Vista/7



SUPER v2010.build.38
Free

Simplified Universal Player Encoder & Renderer.
A GUI to FFmpeg, MEncoder, MPlayer, x264, ffmpeg2theora,
MusePack, Monkey's audio, Shorten audio, TAK audio, True audio,
WavPack, the libavcodec library & the theora/vorbis RealProducer's plugIn.
If you need a simple, yet very efficient tool to convert (encode) or play any Multimedia file,
without reading manuals or spending long hours training, then SUPER © is all you need.
It is a Multimedia Encoder and a Multimedia Player, easy-to-use with 1 simple click.



Eusing Free Video Converter v1.1
Free

This is a free video converter software to convert video files between many formats with ease.
It uses the free FFmpeg encoder and supports most any video file that FFmpeg will convert.
The output video files can be used on popular multimedia devices such as iPad, iPod, iPhone,
PSP, MP4 player, mobile phone, Zune, etc. It can also convert video files to audio formats such
as AC3, M4A, MP3, OGG, WAV or WMA.
File Size: 4.08MB
OS: Windows/All
zFTPServer Suite v2010-10
Free

This FTP Server Suite is a user friendly and easy to use FTP server, that allows you to run
your own file sharing or download service from your home PC. It offers all the standard FTP
features, as well as support for SSL/TLS, transfer limits, real-time monitoring, virtual
directories, user groups and more. You can also kick a selected user, monitor selected user
activity, and set per-user restrictions for logins, transfer limits and speed limits.
Additional features include statistics, support for passive connections and customizable
logging.
File Size: 4720 KB
OS: Windows / All
Highly Recommended Software

avast! 5 Free Edition Free
Why choose a high-priced subscription antivirus program that bogs down your PC while protecting it, when avast! can do it better?
avast! is one of the few free antivirus applications that does as good a job as any of the big boys.
avast! includes more than seven different kinds of shields, safe-surfing tools, and real-time virus protection for your OS, as well as Outlook.
avast! updates automatically and frequently and, avast! works with Windows XP, Vista and Windows 7.
avast! gives you all this, in the avast! 5 Free version. More options are available in the Premium versions.
avast! has been my anti-virus program for the past 7 years.
For additional features and added protection,
Please click here for the avast! 5 Premium Products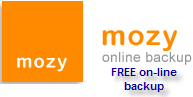 mozy

Free

Safe

Secure

online back-up


I use this every day to keep my important files safe

.


Vista Recovery Discs
Free
Recover data from a damaged Vista system with this little-known Microsoft utility.
Not quite Google


Quick links to almost everything Free
http://www.allmyfaves.com/
or:
http://mysharedfiles.no-ip.org/AllMyFaves.url
Check out:
Giveaway of the Day
Free
Windows '
God Mode
' for Vista and Windows 7
Free

4 kids Of All Ages

Safe programs just for Kids available at MySharedFiles in the Kidz Korner Section.

Thanks to ZDNet, PCWorld , Lockergnome.com and many other sources for this nice collection.

You'll find more FreeWare at MySharedFiles

A personal appeal: Please Click here to Help Support MySharedFiles. Thank You

REMEMBER: ORGAN DONORS LIVE EXTENDED LIVES

Labels: Baylor, bob3160, clouds, Dallas, Free, freeware, giftoflife, Meadow Lake, MySharedFiles, reunion, Software, sunset, transplant, weekly